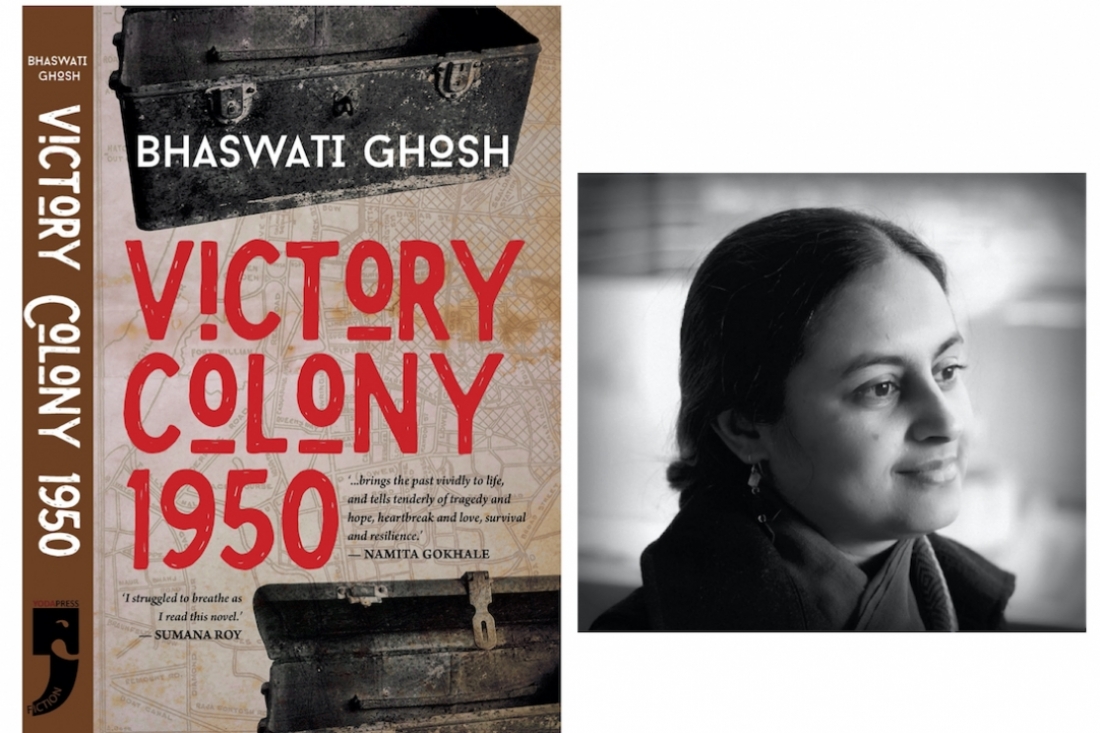 The Author
I can't put a finger on it but surmise that the environment I grew up in had something to do with how I was led towards literature and writing. My mother worked at the Arts Library in Delhi University and my grandmother was a writer in Bengali herself. Ours was a joint family, and for years, I was witness to a lot of books as well as the act of writing on a daily basis. This must have led to a natural love for literature, and later, for writing, as I began working in journalism.
My earliest literary influences came from Bengali literature — Rabindranath Tagore, of course, but also Bibhutibhushan Bandopadhyay, Sarat Chandra Chatterjee, Manik Bandopadhyay, Shankar, and even Satyajit Ray with his detective and science fiction stories. There was also world literature in Bengali translation such as the stories of One Thousand and One Nights and Charles Dickens, all of which I got to enjoy because of my mother's library connection. I began reading in English much later and came to admire the writing of Rohinton Mistry and Amitav Ghosh. Through all this, the feminist voices of my grandmother, Amiya Sen and that of Mahasweta Devi, remained strong influences.
The Book
A riveting fiction debut, Victory Colony, 1950 speaks of the resilience of refugees from East Pakistan — and specifically of Amala Manna — who found themselves mostly unwanted on either side of the border following Partition. In the face of government apathy and public disdain, they started anew their lives from scratch, and in the process, changed the socio‐cultural landscape of Calcutta, the city they claimed as home, forever.
My own roots impacted the writing of this book in an indirect, tangential way. My grandparents were themselves refugees from East Pakistan and had lost their ancestral property. However, they belonged to the middle class and had connections to Calcutta because of work and family reasons even before 1947. Victory Colony, 1950 attempts to look at the lives of people from lower economic backgrounds, who had neither the wherewithal nor any real inclination to cross borders but were forced to migrate when the situation at home became extremely hostile. Needless to say, Victory Colony has renewed resonance and significance in our current geopolitical climate.
The Inspiration
The idea for the novel came to me through a strange literary inheritance I can only interpret as a gift. I had become the typist for my now-deceased grandmother's short stories, all of which she wrote by hand on foolscap sheets of paper, stitched together with fragile threads. With time, these had started coming apart, and I wanted to preserve them with the objective of publishing them as anthologies.
As I typed them, in several of the stories, I could find impressions of my grandmother's life and persona. However, there was one story that struck me because of the completely different socio-economic milieu it was set in. This short story featured a destitute woman who was crossing over to India from (what was then) East Pakistan in 1947, shortly after Partition. The journey ended in a terrible tragedy for her. I wanted to imagine the life of such a woman after she had safely crossed over to West Bengal. That was the seed of my book.
The Process
I didn't write this book thinking of it as my debut work or anything like that. The story that emerged in my head was compelling enough that I had to write it. One reason for this was the disappointing lack of literature on the Partition of the East. The problems that took place along the Bengal border during the splitting of the nation were different in dimension, nature and scope than those that occurred on the Punjab border. There was a need to highlight these problems, which have continued to affect the succeeding generations of Partition victims such as myself, whose grandparents not only lost all their property and belongings post 1947, but had to completely sever their connection with the land of their birth and youth.
The creative process of writing the book involved years of research, digging out material — both academic and anecdotal in nature — speaking with subject-matter experts and trying to bring it all together via storytelling.
The Protagonist
Even before I thought of the plot for Victory Colony, 1950, I knew that Amala was going to be a strong character. Although she's thrown into the fire pit of the madness that followed Partition, I could see in her the determination to not consider herself a pathetic victim. While much of her journey is dictated by circumstances outside her control, she is able to withstand them with a quiet resolve I have seen in many women who largely remain in the margins of our lives. I'm thinking of the ladies who work as domestic helps in middle class households in Indian cities, for instance. Amala sprang from my imagination, but I'm certain I formed impressions about her from real-life examples I saw around me.
The Challenges
The challenges I faced were similar to what most first-time authors face, I presume. The biggest of these was writing the book itself — mapping out and advancing the plot line; finding authentic sources of information; time management (balancing work, home and writing). Once the draft was completed, the challenge became even more pronounced, as the actual work began only then. This included multiple rounds of editing, looking for agents and publishers, facing rejections and starting all over again. I'm glad that persistence ultimately paid off, as did listening to critical feedback. I can't forget a few writer friends who reviewed my draft manuscript, helped identify gaps in it and provided constant encouragement to take me to the finish line.
I'm grateful to my publisher and editors, Arpita Das and Tanya Singh for their excellent all-round support throughout the publishing journey of the book.
To The Reader
It's not for me to predict what each reader will take from this book, but I hope he or she finds in it a tribute to the extraordinary resilience humankind is capable of when faced with extreme hopelessness and deprivation. The book is also about friendship, love and finding loved ones in complete strangers.
The Pandemic and Beyond
I'm fortunate enough to be able to live and work through this time in an environment that allows me to protect myself and my partner. This is a blessing I don't take lightly as I adjust my routine around the new, evolving pattern. Personally, I haven't felt a whole lot of change, as working from home was always my dream. I feel that a lot of us are lucky to have access to technology and other tools that help us stay connected even when we can't meet in person. My reading and writing life has improved dramatically during this period, and I couldn't be more grateful for that. I'm currently working on a non-fiction book on Delhi, India, and a few essays and short fiction pieces.