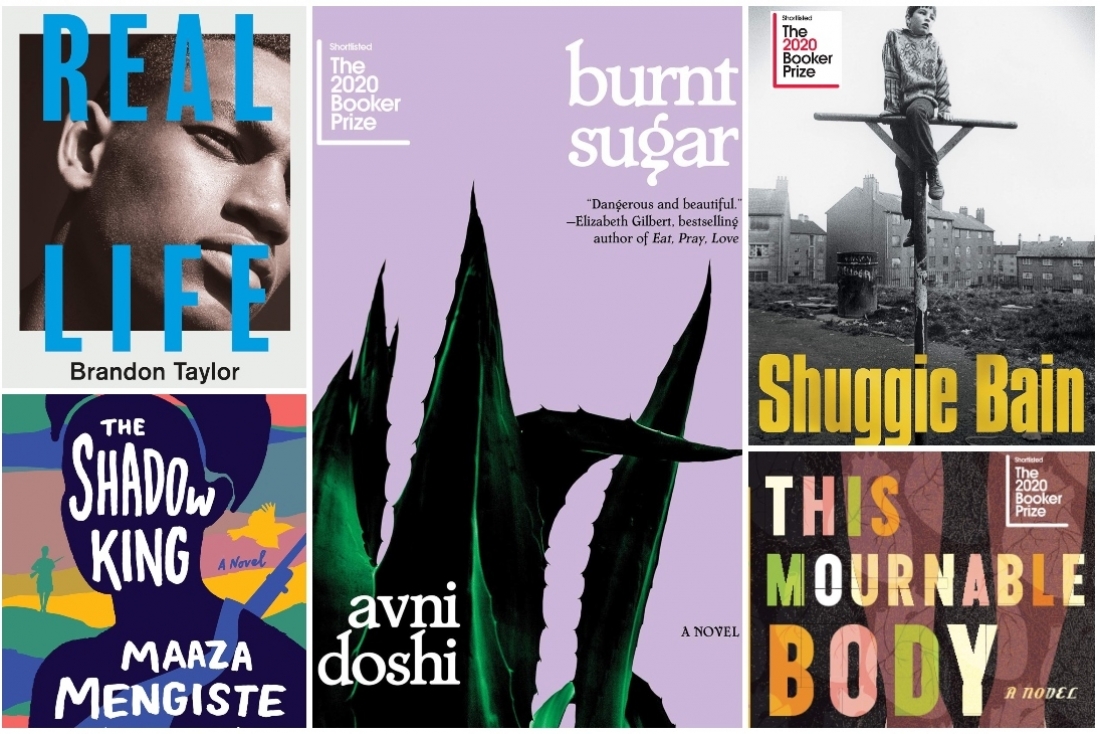 This year's Man Booker Prize shortlist is a rare occurrence, as there are four debut books in the running to win the coveted literary honour. The shortlist is a fascinating mix of voices and subjects, with each book exceptional in its own right. With the announcement of this year's Booker Prize winner just one week away, we take a quick look at the shortlist once more.
Burnt Sugar by Avni Doshi
In her youth, Tara was wild. She abandoned her loveless marriage to join an ashram, endured a brief stint as a beggar (mostly to spite her affluent parents), and spent years chasing after a dishevelled, homeless 'artist' - all with her young child in tow. Now she is forgetting things, mixing up her maid's wages and leaving the gas on all night, and her grown-up daughter is faced with the task of caring for a woman who never cared for her. This is a love story and it is a story about betrayal. But not between lovers - between mother and daughter. Sharp as a blade and laced with caustic wit, Avni Doshi tests the limits of what we can know for certain about those we are closest to, and by extension, about ourselves.
To read our interview with the author, click here.
Shuggie Bain by Douglas Stuart
1981. Glasgow. The city is dying. Poverty is on the rise. People watch the lives they had hoped for disappear from view. Agnes Bain had always expected more. She dreamed of greater things: a house with its own front door, a life bought and paid for outright (like her perfect – but false – teeth). When her philandering husband leaves, she and her three children find themselves trapped in a mining town decimated by Thatcherism. As Agnes increasingly turns to alcohol for comfort, her children try their best to save her. Yet one by one they have to abandon her in order to save themselves.
It is her son Shuggie who holds out hope the longest. But Shuggie has problems of his own: despite all his efforts to pass as a 'normal boy', everyone has decided that Shuggie is 'no right'. Agnes wants to support and protect her son, but her addiction has the power to eclipse everyone close to her, including her beloved Shuggie. Laying bare the ruthlessness of poverty, the limits of love, and the hollowness of pride, Shuggie Bain is a blistering and heartbreaking debut, and an exploration of the unsinkable love that only children can have for their damaged parents.
To read our exclusive interview with the author, buy a copy of our November 2020 bi-annual bookazine. Coming Soon.
The New Wilderness by Diane Cook
A daring, passionate and terrifying novel about a mother's battle to save her daughter in a world ravaged by climate change. Bea's five-year-old daughter, Agnes, is wasting away, consumed by the smog and pollution of the over-developed metropolis they call home. If they stay in the city, Agnes will die, but there is only one alternative - joining a group of volunteers in the Wilderness State. This vast expanse of unwelcoming, untamed land is untouched by mankind. Until now. Living as nomadic hunter-gatherers, Bea and Agnes slowly learn how to survive on this unpredictable, often dangerous land. But as Agnes embraces the wild freedom of her new existence, Bea realises that saving her daughter's life means losing her in a different way. At once a blazing lament of our contempt for nature and a deeply humane portrayal of motherhood, and what it means to be human, The New Wilderness is an extraordinary, compelling novel for our times.
This Mournable Body by Tsitsi Dangarembga
In this tense and psychologically charged novel, Tsitsi Dangarembga channels the hope and potential of one young girl and a fledgling nation to lead us on a journey to discover where lives go after hope has departed. Here we meet Tambudzai, living in a run-down youth hostel in downtown Harare and anxious about her prospects after leaving a stagnant job. At every turn in her attempt to make a life for herself, she is faced with a fresh humiliation, until the painful contrast between the future she imagined and her daily reality ultimately drives her to a breaking point.
The Shadow King by Maaza Mengiste
Ethiopia. 1935. With the threat of Mussolini's army looming, recently orphaned Hirut struggles to adapt to her new life as a maid. Her new employer, Kidane, an officer in Emperor Haile Selassie's army, rushes to mobilise his strongest men before the Italians invade. Hirut and the other women long to do more than care for the wounded and bury the dead. When Emperor Haile Selassie goes into exile and Ethiopia quickly loses hope, it is Hirut who offers a plan to maintain morale. She helps disguise a gentle peasant as the emperor and soon becomes his guard, inspiring other women to take up arms. But how could she have predicted her own personal war, still to come, as a prisoner of one of Italy's most vicious officers? The Shadow King casts light on the women soldiers written out of African and European history. It is a captivating exploration of female power, and what it means to be a woman at war.
Real Life by Brandon Taylor
Wallace has spent his summer in the lab breeding a strain of microscopic worms. He is four years into a biochemistry degree at a lakeside Midwestern university, a life that's a world away from his childhood in Alabama. His father died a few weeks ago, but Wallace didn't go back for the funeral, and he hasn't told his friends – Miller, Yngve, Cole and Emma. For reasons of self-preservation, he has become used to keeping a wary distance even from those closest to him. But, over the course of one blustery end-of-summer weekend, the destruction of his work and a series of intense confrontations force Wallace to grapple with both the trauma of the past, and the question of the future. Deftly zooming in and out of focus, Real Life is a deeply affecting story about the emotional cost of reckoning with desire, and overcoming pain.