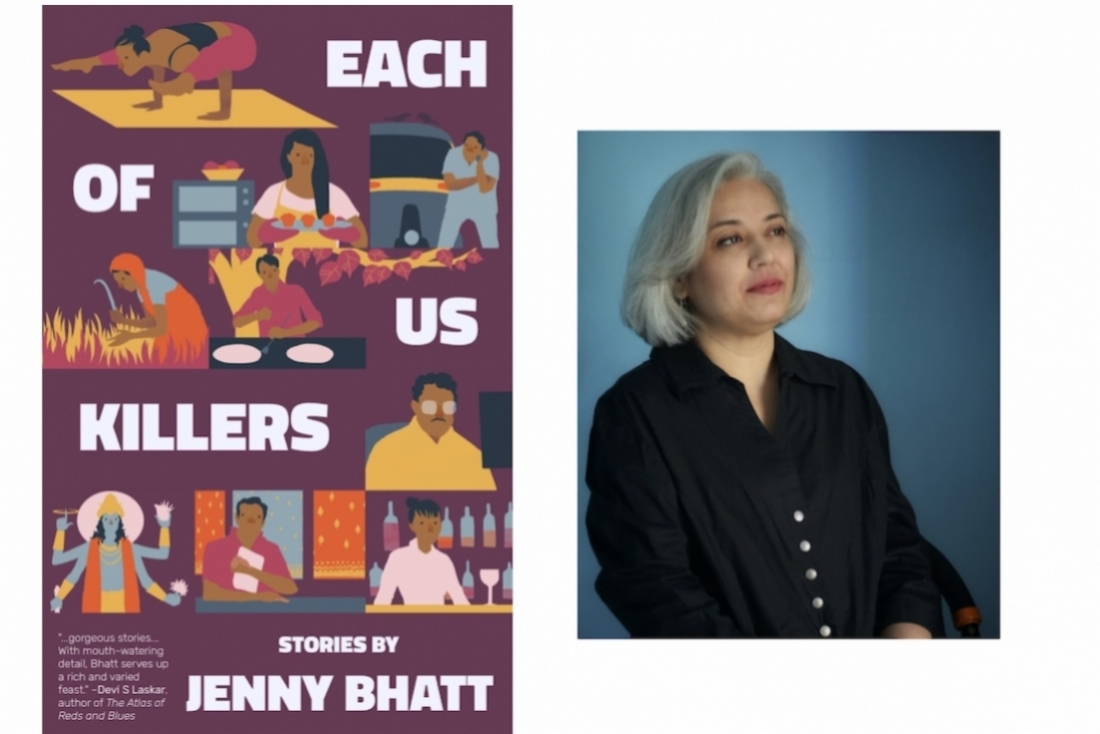 Each Of Us Killers
Jenny Bhatt
I recall my initial lectures as an undergraduate, where my professor made it clear that we were students of literature in English and not English literature. Some might consider this distinction inconsequential, but its implications are astounding. Literature is a dynamic, ever evolving being; one that encompasses multitudes in terms of languages, socio-cultural concerns and literary devices. However, one cannot ignore the fact that literature has been widely read and taught in English, various literary works having been translated to English and even non native-speakers of the language, writing in English. Over time, literature in English has seen a rise in works but very few books manage to comfortably tread the tricky tightrope of incorporating lingual reality of the context. In Jenny Bhatt's debut book, a collection of short stories titled 'Each of Us Killers', she manages to do exactly this, with extraordinary ease.
The steady theme of working people chasing their dreams and aspirations, through their jobs, is prevalent in every story in this book. Jenny masterfully uses this singular trope to explore a vast range of characters and cultural issues. The geographical terrain of the book spans from the American Midwest to England and India (Mumbai, Ahmedabad, rural Gujarat), while the array of characters include, auto-wallahs, housemaids, street vendors, journalists, architects, bakers, engineers, saree shop employees, professors, yoga instructors, bartenders and many more. When I speak to Jenny about this significant theme, she explains, "I've had various jobs my entire adult life. From tuition teacher to shop assistant to bartender to engineer to consultant to financial planner to editor. Our occupations and professions are as much a part of our identities as our place of origin or our relationship status or our religion. Yet, we don't see a lot of fiction centred on the workplace. Through this collection, I wanted to explore the lives of working men and women to see how the intersecting issues of gender, class, religion, caste, age, colour, ethnicity, race and nationality shape our lives and our luck."
This is where the aspect of 'multilinguality' also takes centerstage. Jenny does justice to all her characters and their socio-cultural contexts. "For this collection, my creative influences were Rohinton Mistry, Katherine Mansfield, Chimamanda Ngozi Adichie. However, while I learned the craft by studying their short stories, I wrote with my own sensibilities and language."
There are two other rather significant things I recognised as a reader— how essential the form of short story is to this book's success and also how, in its entirety, the sum of all these short stories feel like a full length postmodern novel. This dual nature makes the book even more intriguing. Each short story was not written for the sake of this book, but at different times, even for different publications. Because the scope of Jenny's ambition is so magnificent, the form of short story helps alleviate any tedium for the reader. Jenny sheds some more light on this aspect, "A short story must get about its business quick, sharp, potent. A short story is not about a complete arc of plot or character. It is like a framed photograph of a particular moment shown from a specific perspective versus a widescreen movie of a series of moments recorded from multiple angles. It is not even so much about the start or end of something as about 'that moment of experience from which to look back or from which to look ahead' (Graham Greene). Each story here aims to frame that individual moment of experience. So, of course, every detail and sentence within such a frame must be meaningful. This is, to me, the fun and pleasure of writing short stories."
"'Through this collection, I wanted to explore the lives of working men and women to see how the intersecting issues of gender, class, religion, caste, age, colour, ethnicity, race and nationality shape our lives and our luck.'"
The aspect of a postmodern novel emerging from the collection was very interesting for me because a collection of short stories allows the reader the space to put the book down and come back to it in a way that a novel does not. With a constant shift in narratives, characters and situations, there is respite. However, I devoured Jenny's book in a single sitting and it made me realise the structure, even with its vastly different narrated standpoints, made sense as a novel as well. In the first story, Return to India, set in the American Midwest, the clarity with which multiple people speak in their various accents and styles of English is staggering. Clearly, the author has an unflinching command over where to let lingual reality speak for itself and where to let it slide for the sake of the narrative. The precision and attention to detail is riveting. The reader is introduced to an Indian engineer working for a Midwestern firm, Dhanesh or Dan, through various recounted experiences shared during an investigation. In the last story, 'Each of Us Killers', Vishaal Parmar takes the stand of being the protagonist around whom accounts of his fellow villagers highlight him as the central character.
The two situations are vastly different, however, from a narratorial point of view, the parallels are visible. From the stories of the two men, emerge rather pressing socio-political issues. On the one hand, from Dan's situation, the fundamental paradox of American immigration arises; the demand that immigrants assimilate, yet are never accepted completely, giving rise to hate crimes; on the other, Vishaal's situation sheds light on the oppression of the minority, painted on a canvas of the present day Hindu practice of cow worshipping. There are many stories between these two that explore other characters and situations. The poignant struggles are omnipotent. This notion ties the whole book together, making it a rather tremendous read.

Among aspects of the book I enjoyed, the gustatory imagery and narrative techniques used in 12 Short Tales of Women at Work stood out. "In Indian society, food has such an important place. Food is culture, family, friendship, intimacy, communion, hospitality, ritual, tradition, symbolism, class, memory, sensuality, comfort, security, caste, even gender. In fiction, food is all of that and more because a character's meal and way of eating it tell us so much about them," reveals Jenny when I inquire about the recurring use of food in her work. In 12 Short Tales of Women at Work, her unique format of it being a mini collection of micro-flash fiction stories about workplace harassment of women in India or of Indian origin, made it feel like many short stories within one short story. "These tweet-length stories were an attempt to capture the rapid-fire way the #MeTooIndia movement was finally gaining ground in late 2018 primarily due to social media," she explains.
In 'Each of Us Killers', the reader takes an excursion around the world, getting to interact with multiple voices, listening to the struggles of various characters and enjoying cultural details through the incredible use of language and literary techniques. While each story might be a sojourn, the entire collection is an enlightening voyage. When asked about what the future holds for her, Jenny tells me, "I have a literary translation coming out in December with HarperCollins India. It's a selection of short stories by the Gujarati short story pioneer, Dhumketu. Excited about that. I've got a novel in progress, which I can't speak too much about. And I've got my Desi Books podcast, where I get to talk to amazing writers of South Asian origin about their books."

To read more in literature grab a copy of our all new Platform Bookazine here.
Text Nidhi Verma