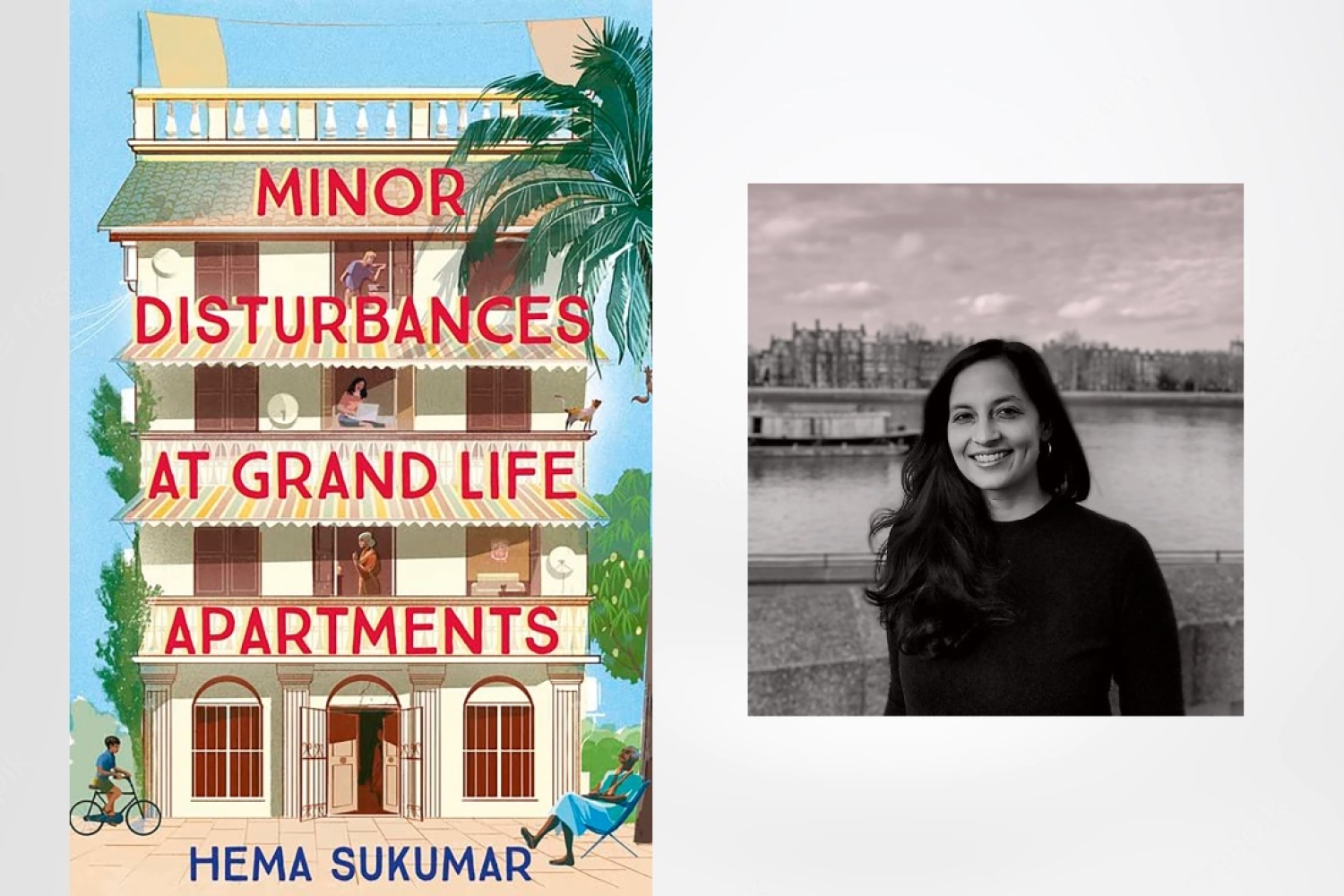 "As a child, there was nothing I loved more than being lost inside the pages of a good book. This led to making up stories of my own and I owe thanks to the children's magazine, Gokulam, for my first published story — a speculative piece about dinosaurs chomping on ships crossing the Bermuda Triangle," divulges Hema Sukumar of her formative experiences with reading and writing. After university, Hema got a job that involved a lot of travel and thus felt compelled to write about the interesting places that she had experienced. "It hasn't always been a wrinkle-free relationship with writing," she confesses, "however, there have been times, years even, when the demands of everyday living took me away from writing. I'm just glad that I somehow found my way back to it."
Hema's debut book, Minor Disturbances at Grand Life Apartments, is about a middle-class apartment block in the heart of the city of Chennai. It is the home of Kamala, a pious, soon-to-be-retired dentist, who spends her days counting down to the annual visits from her daughter, who is studying in the UK. Her neighbours are, Revathi, a thirty-two-year-old engineer who is frequently reminded by her mother that she has reached her expiry date in the arranged marriage market and Jason, a British chef, who has impulsively moved to India to escape his recent heartbreak in London. As the existence of the apartments they live in comes under threat, the residents find their lives taking further sharp turns with unexpected consequences…
The Book
The book is inspired by my time growing up in Madras, now Chennai, with the added perspective that comes from having moved away. At its core, the book is about relationships — the comfort that friendship brings in middle age, the push and pull between mothers and grown-up daughters, the unexpected connections sparked between relative strangers. The story is told from the perspective of three residents of Grand Life Apartments — Kamala, Revathi and Jason — who are very dissimilar people. This narrative structure helps bring out the humour and empathy in how each of us sees the world a little differently.
The City
The location of the book in Chennai seemed like a very natural thing to do, from the perspective of writing about what I know. The book features some of the iconic things about the city, such as its beaches and Carnatic concerts, in addition to less-talked-about aspects, such as its cappuccino spots that could be anywhere in the world and the residents' love for fiery Indo-Chinese food. My childhood in Chennai saw very little change — I lived in the same house on what is still a very bustling main road, took the same PTC bus every day to school and ate sundal in the same neighbour's houses every year during Navaratri. This entire experience was underlined by a strong sense of community, which has had a large influence on this story. In addition, moving away and exploring my own personal freedom has also made me view my roots with a different lens, which has helped shape the narrative as well.
The Influences
I owe inspiration to so many writers whose words have wandered in and out of my mind while writing this book. Limiting myself to listing just a few, I would say R.K. Narayan's playful and wise stories set in South India to be my earliest literary influence. Also, Arundhati Roy and Michael Ondaatje for their beautiful prose, where each sentence drives home a distinct pleasure. Armistead Maupin and Alexander McCall Smith for their witty stories that portray warmth with depth. Elizabeth Strout and Tessa Hadley for the skilfulness with which they map the human heart.
The Challenges
The first challenge was building the confidence that I could actually write the thousands of words that constitutes a novel and then be disciplined enough to do it. The next challenge was to remain optimistic in the face of numerous rejections and to keep re-writing my manuscript and query letters with renewed hope each time. I am still very thankful to have found my agent and consequently, my publisher.
This article is an all exclusive from August EZ. Out soon!
Words Nidhi Verma
Date 04-08-2023