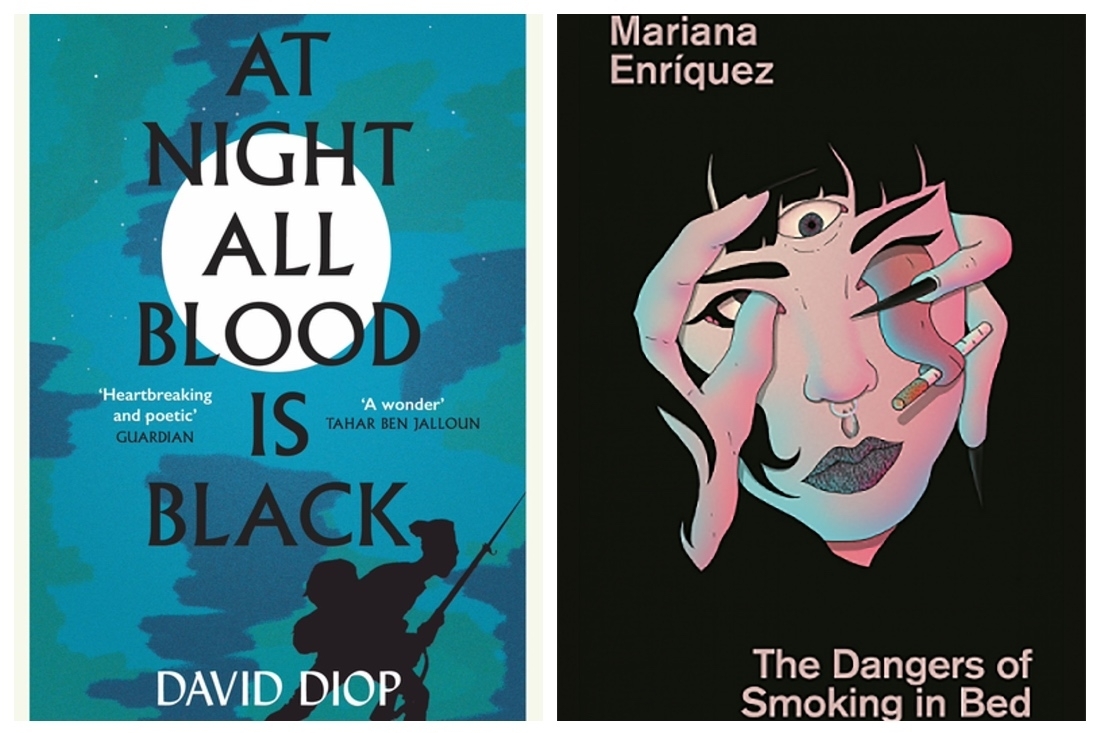 International Booker Prize Shortlist 2021
Last evening, the International Booker Prize, awarded annually to a work of fiction translated into English, revealed its shortlist of six books. In a markedly unorthodox selection, this year's shortlist not only pushes the boundaries, but also blurs them, with books that re-imagine, re-invent and radicalise the form, some landing strikingly closer to non-fiction than fiction. Alongside novels that remain hard to box, there are still more offbeat, dazzling narratives, that expand the elusive category of creative non-fiction to argue for a double negation, a 'non-non-fiction'. The shortlist is a testament to how fiction — and more broadly, stories — are being written today. We bring you a roundup of the books that make their case this year.

At Night All Blood is Black by David Diop, translated from French by Anna Moschovakis
David Diop's At Night All Blood is Black tells the little-known story of Senegalese soldiers, who fought for the French army during the First World War. The book blends journalistic acumen with myth and magic in a story, that pervades the deep recesses of a young African soldier's mind, as he finds himself grappling with the horrors and madness of war. Moschovakis's translation comes to grips with years of colonial lineage in its translation, from one language of Empire and resistance, to another.
The Dangers of Smoking in Bed by Mariana Enríquez, translated from Spanish by Megan McDowell
One of two collections on the shortlist, The Dangers of Smoking in Bed is a confluence of several literary modes. Enríquez's stories are set in contemporary Argentina, but they pursue their present-day concerns through a slant of magical realism and pulp horror. This is a world of sexual fetishes, festering rot, witchery and wandering ghosts, that stands out for both its treatment of the genre and its narrative flair.
When We Cease to Understand the World by Benjamín Labatut, translated from Spanish by Adrian Nathan West
Chilean writer, Benjamín Labatut's When We Cease to Understand the World strikes a fine balance between fact and fiction. Labatut breathes life into some of science's most defining moments, revealing the genius and eccentrics behind the field's greatest — from Albert Einstein to Werner Heisenberg. A gripping, genre-pushing work that mixes history, memoir and essay, this is a book that elevates the experience of reading fiction to a rigorously original plane.
The Employees by Olga Ravn, translated from Danish by Martin Aitken
The Employees marks the first Booker honour for Lolli Editions, a small London-based press that seeks to expand the form of the novel. The book is set in the near-distant future, on a spaceship with a crew that comprises both humans and humanoids. As the characters change after their interaction with stranger objects found on a planet called New Discovery, what unfolds is a story about the more poignant questions of existence — warmth and intimacy, grief and companionship. The Employees is a tenderly told narrative of a world that grows increasingly complex as we read.
In Memory of Memory by Maria Stepanova, translated from Russian by Sasha Dugdale
Russian author Maria Stepanova's account of a family history is a winning display of her powers as both a journalist and poet. Written in sublime, lyrical prose, In Memory of Memory narrates a seemingly ordinary Jewish family's life under the myriad persecutions and repressions of the last century. Stepanova recovers the story piece by piece, drawing from faded photographs, old postcards, letters, diaries and other souvenirs, thinking with writers like Roland Barthes, W. G. Sebald, Susan Sontag and Osip Mandelstam.
The War of the Poor by Éric Vuillard, translated from French by Mark Polizzotti
Éric Vuillard, arguably the highest profile author on the list, writes a sharp and elegant story that follows Thomas Müntzer, a complex figure who lived through the sixteenth-century Protestant Reformation. The book sifts through the lesser known history of a struggle against the bourgeoisie, where the poor, who were still being promised equality in heaven, found themselves asking — why not equality now, on Earth? The War of the Poor is a charismatic work of historical fiction, that stands topical.
Text Nikita Biswal
Date 23-04-2021