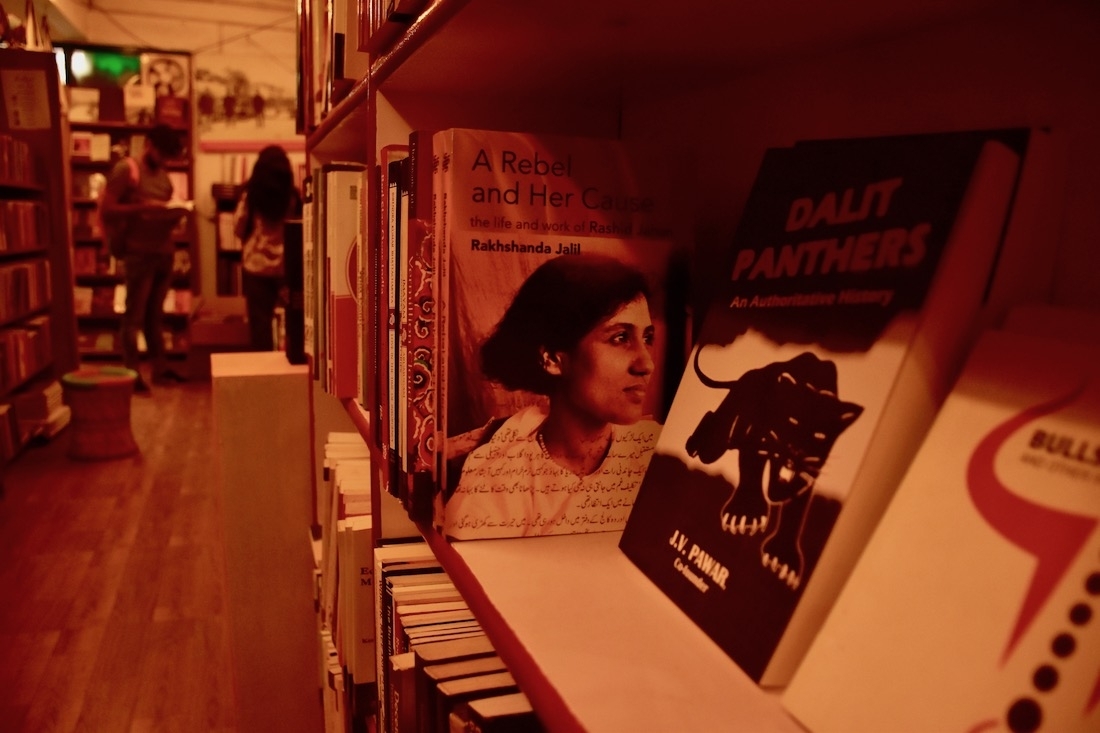 Photograph: Muskan Nagpal
Tucked away in an inconspicuous corner of a part of Delhi you wouldn't normally visit is a bookstore unlike any other in the city. May Day Bookstore is run and managed by LeftWord Books, a publishing house that seeks to reflect the views of the left in India and South Asia. The bookstore specializes in left-leaning literature, although that is not all that is on offer here. I have visited the bookstore on numerous occasions, and the biggest magnet to pull me and like-minded bibliophile friends of mine is undoubtedly the used books section of the store, where we have found absolute gems, like a first edition hardcover of Daphne du Maurier's Rebecca, for as less as Rs.100. One of his best discoveries, a very serendipitous one, a friend of mine maintains, is a a rare collection of the poems of the Pakistani poet Taufiq Rafat, whose books are not published in India at all.
Frequent visits to the bookstore, and a curiosity to talk to the person behind it all led me to approach Sudhanva Deshpande, the Managing Editor of LeftWord books and the first employee at the publishing house. The founding of the bookstore and its charming look is his doing. He, apart from being an editor, has worked extensively in theatre. Here are excerpts from the chat I had with him about the bookstore, its functioning, and books in general.
How did you go about setting up this space, making it like it is? Your website mentions how you went "against common sense" in setting up this bookstore. Why is that?
Well, we went against common sense in the sense that this is not the kind of area where you expect a bookstore. All over the world, bookstores make sense in places that have contiguous other establishments of a similar nature, like shopping options, restaurants, cultural spaces, art galleries – stuff like that. Or you have to have one in an airport or a train station, or around universities. It's only crazies like us who set up independent bookstores where there is nothing around. It was counterintuitive, it made no commercial sense to be in Shadipur. We just had a gut feeling that if we set it up in a place like this, those who would want to visit us would make the trip.

Apart from the obvious left-leaning nature of the books at May Day, are there any other criteria/ thought process you put into the books you stock here?
There are three or four things we focus on. One is, of course, its May Day Bookstore, so there's always going to be a leftist orientation to the books present. Within that, not every book we have is a leftist book, not every book is about Marx. Because another thing we are deeply committed to is the idea of independence. There are independent publishers, and we feel like supporting them because we are one too. One thing we hear astonishingly often is that people who come to the bookstore are like, "Oh my god, I've never seen these books anywhere else." They don't see these books at other places because the market works like that. A commercial bookstore won't be able to stock these books in the quantity and at the prices we do. We can do that because we aren't commerce-oriented. Secondly, we stock books in both Hindi and English. And while that's not unique, May Day focuses on books on theatre and the arts. The third thing that works for us is that we are also a used books store. While you get used books at the patris at Daryaganj, they are mostly commercial books, like thrillers. The range we have in the secondhand books section of the store too is astonishing. We often have people come up to me and say, "This is just crazy, how do you get these books?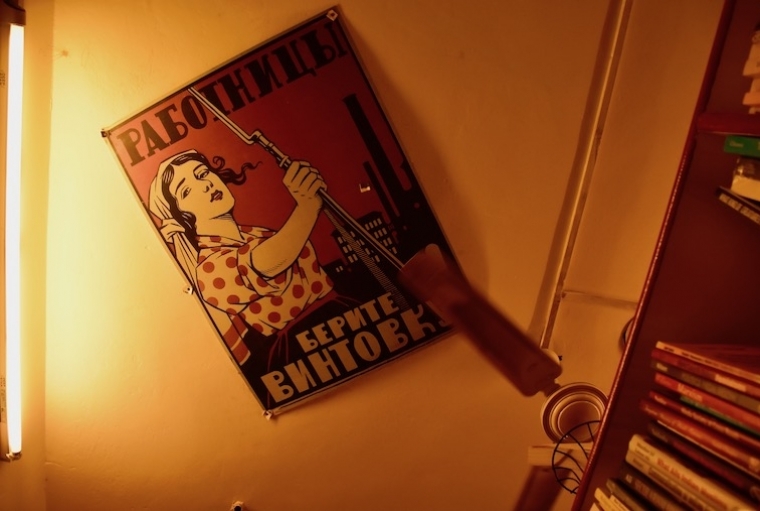 Photograph: Muskan Magpal
So, how do you get these books?
It's a secret! So how we acquire these books is that, we just ask people for books. It's that simple. And since we've been doing this for a while now, people come and ask us if they can also give books. And we welcome them with open arms. That we acquire books in this way usually travels by word of mouth. If you give us books, you get rid of books you don't want, you can delight in the fact that someone else will read and treasure the book, and also, you support an independent bookstore. And you're even happier because we offer to come to your place and pick up the books. Since we are making it possible for people to pass on their books to other people, they are really touched. They feel rather they doing something for us, we're doing something for them. Every month, we get a couple of calls from people wanting to give us their books. Then there are people whose parents have passed on, they don't know what to do with their books since they don't read. So we get whole collections sometimes, 200-300 books from a single person. That's how we end up getting the astonishing variety of books we get. We're just a holding place, for some people to leave their books and some people to find them. That's how I see our role as a used-books store.

How does the used books section of the store function?
We spend a lot of time with the books we get for this section. Deciding their prices and so on. Most of the books are on the cheaper side, popular, mass-market books are never priced over Rs. 100. If we come across something really valuable, we price it higher, not because we want to make money off of it, but just to say that yes, this is a valuable book, and not doing so would be a disservice to the book itself. So many times, we look at some books and wonder, "Who on earth is going to buy this?" Three months later, the book is gone. Another thing is that the used books section is a big magnet for the younger people, like yourself, who do not have a lot of money and cannot afford to buy books constantly at MRP.

There's a very interesting thing happening in the bookstore business. Twenty, twenty five years ago, independent and family-owned bookstores started shutting down, because of the emergence of chain bookstores. I'm talking at a worldwide scale here. Then, roughly fifteen years ago, online stores like Amazon came in, and started taking over, and it had advantages a chain bookstore will never have, and as a result, they started shutting down. Now the most interesting thing is that in the last 5-7 years, there has been a revival of independent bookstores. This has been because all these online bookstores work on a simple basic algorithm – that you will be interested in books of an author you've read, or books that other people who've read that author have also bought. This is a very simplistic understanding of the reader's mind. Who is to say that someone who reads novels by say, Chetan Bhagat or Salman Rushdie, are not going to be interested in the agrarian system of Punjab in 1930s, or ancient Sangam poetry? An online bookstore cannot give me recommendations like these, since they don't know me, the person. They know me, the consumer. When you buy off Amazon, you know what you want to buy. You don't come to an independent bookstore to buy something pre-decided. You go to one because you want to be surprised, you want to be delighted. You want to say, "Oh my gosh, I didn't even know such a book existed." The joy that a bibliophile has, of walking into a bookstore in anticipation of finding something that you never knew existed, that joy of serendipitous discoveries, that is the joy of an independent bookstore.
Photograph: Muskan Nagpal
What are some things you would say you have learnt after so many years of running a bookstore?
We had no experience of how to run a bookstore when we started out to do it. We were publishers. And these two things are entirely different. It's like saying a wicket-keeper will also be a good spinner. While a wicket-keeper understands what spin bowling is, and a spinner understands the job of a wicketkeeper, the skills required to do it yourself are totally different. We knew, as publishers, that we'd have to learn. Foolishly, we went into it; we kept making mistakes and kept learning, and we still are. But personally, a great discovery that I have made has been through the used books section. People are just happy to give away their books, because they want other people to read them. They don't want to make money out of the books that they have read. I too give so many books here, I simply don't have space in my house. The fact that people give us books and are happy that other people will read them, is enough. It doesn't have to be a commercial, profit-oriented activity. It's not for us. We charge for books partly because we feel books should be paid for, and partly because of the establishment costs we have to cover.

What books are you currently reading?
Oh, I'm reading all kinds of things. I read multiple books at one time. Coincidentally, both books on my mind right now that I am reading have been picked up from May Day itself. One is called the Sixth String of Vilayat Khan, by Namita Devidayal. The other thing I am reading is a book by the Hindi author Surendra Mohan Pathak. I read a lot of his books growing up, and practically learnt all my Hindi from his books. You must read him, if you go in for pulp-fiction kind of stuff. His memoir has come out this year, it's called Hum Nahi Changey, Bura Na Koi. I just started reading it yesterday, and loving it. The whole first chapter of the book is about drinking sessions he has, and I don't know anyone from the world of Hindi writers and publishers, and hence it's just fascinating to read about that world. I'm also reading The Return by Hisham Matar, and the poetry of Raymond Carver and Jan Nisar Akhtar.

Text Srishti Gupta