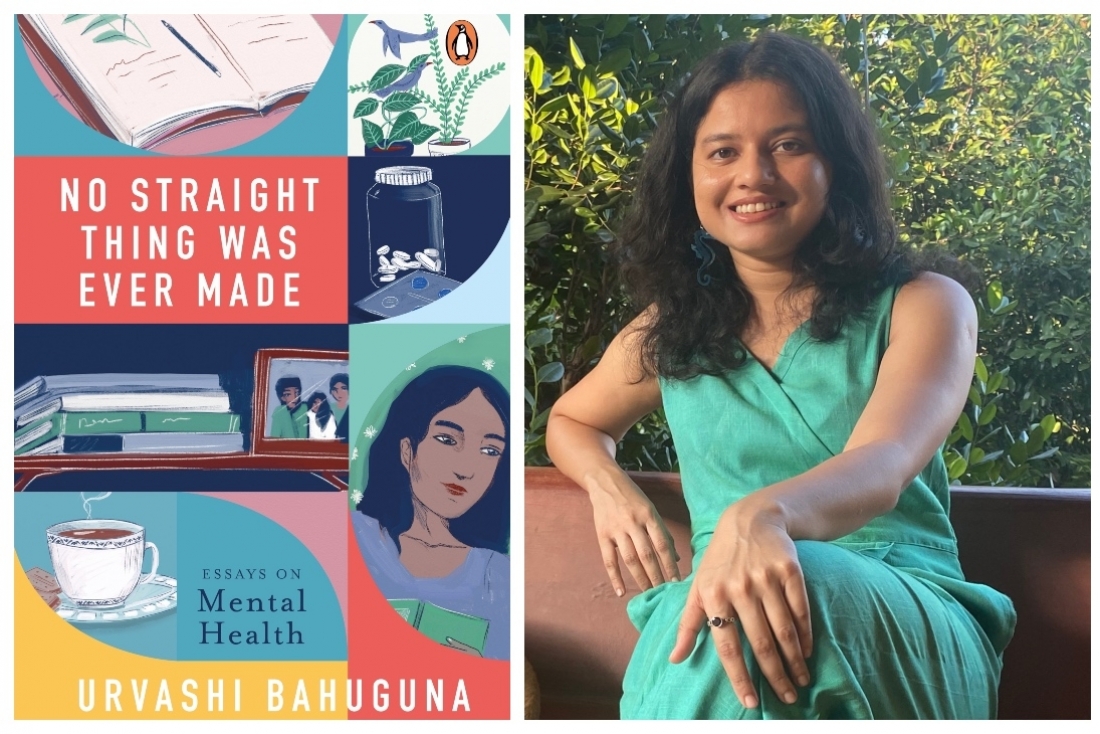 No Straight Thing Was Ever Made
The pandemic has certainly shed a necessary spotlight on mental health issues, and it is much brighter than ever. Poet Urvashi Bahuguna's new book, No Straight Thing Was Ever Made: Essays on Mental Health, takes that spotlight and imbues it with more intrinsic personal hues, to bravely discuss the many facets of living with mental illness. As a person with mood disorders that sprung up in her late teens, Urvashi had to navigate being the first person in her Indian family to admit to and seek help for a mental illness. The changes and challenges which came with this admission and the actions that followed not only impacted who she became as a person but also everything around her. Through deeply honest essays, she traverses the opportunities and roadblocks that come her way with the tools she has available to her.

In conversation with Urvashi about her journey and the book below.
Tell us a little bit about yourself and how you were led towards writing?
Reading and daydreaming, I think, is what led me to writing. I made up stories inside my head all day — holding conversations with people real and imagined, idly speculating on the alternate lives I could live, the life-changing people I may run into. I still do it, but I index those ideas often as skeletons for short stories or novels. But as a kid, it was about entertainment, about control, about spinning versions of the world I wanted or was curious about. Eventually some of that tumbled out in the form of writing. Obviously, my writing has changed a great deal from the stuff of daydreams, but I think that's one of the places where it began.
Which writers have been your early formative influences?
Alice Munro, Julie Orringer, Elizabeth Bishop, Margaret Atwood, Carol Ann Duffy, Alice Oswald, Seamus Heaney, Chimamanda Ngozi Adichie, Rohinton Mistry, Georgette Heyer, Anindita Sengupta, Sharanya Manivannan, these are the ones I can remember. But the real list would include everyone I read who told a story well, who made their world feel familiar, aspirational, tantalising.
How was No Straight Thing Was Ever Made conceived?
There were a number of poems I had written in Terrarium that I found myself wanting to expand upon. What would this relationship or feeling look like if I took them out of these compact snow-globes and laid them bare on a wide canvas instead? It felt like those pieces of writing wanted to evolve, say different things, even contrary things, to what they'd already said. I felt this especially around the works that had dealt with mental health. Around that time, Shreya Ila Anasuya asked me to write a personal essay for Skin Stories and I found the form very freeing. I found the reader response to that essay freeing, and a few months later, after conversations with other writers and friends, I started work on this linked essay collection.
Could you give us an insight into your process behind writing this book?
I wrote the essays over a couple of years, working on an essay at a time. I found it easiest to spend extended periods with each one exclusively, turning over the story, making sense of its various angles. I would start with disjointed notes, write in a million different directions at once, and slowly, over weeks, I would trim it down to a few promising strands that I would try to follow. Some of those paths led to dead-ends and some would become passages I could envision belonging in the book. I had a road-map that my commissioning editor, Aditya Mani Jha, helped me put together. I had imagined I would cling quite faithfully to it, but I found that over two years, who I was changed, what interested me changed, and that is reflected in the essays I think. I recognise in the text the varied handiwork of different versions of myself. It wasn't linear and it wasn't easy. The way I struggled with the writing of this had me questioning whether my mental health would ever allow the taking on of a large time-bound project.
How challenging was it for you to delve into your own experiences to write this book about something so personal?
It was challenging because I doubted myself as much as I did, doubted whether I should be taking up the space, doubted whether I could write this story well. Poetry had sheltered me thus far. With Terrarium, I knew poems had a handful of readers, that they were ambiguous shapeshifters that couldn't be peeled apart, only felt through or temporarily inhabited. The personal essay had a less amorphous quality. If I wrote about cruelty here, that's how it would read. If I wrote about pain here, I couldn't switch gears in a matter of lines, with the flick of a page, the way I could with poems. The resulting anxiety made it really, really hard to write. I wrote in fits and bursts of determination, courage, desperation. And when I wrote, I wrote for one reader: a close friend who helped me sift through my myriad thoughts and worries and actually write these essays.
Lastly, what do you hope the readers take away from this book?
I hope people feel seen and less ashamed. Imagine what it's like to struggle with tasks that come easily to people around you. It's alienating and it's embarrassing. It's confusing — Why can't I do this? Why am I unable to cope? One of the reasons I believe mental illness has a tough time being seen as a medical condition is because feelings are involved. People imagine that because they have experienced sadness, worry, anger (and so on) and still manage to carry on with life, they understand what a mood disorder does to a human body. I hope people feel moved to read about these illnesses. They can start with the NHS and Mayo Clinic websites. And I hope other people who want to write about mental illness feel emboldened to do so.
Text Nidhi Verma
Date 11-02-2021