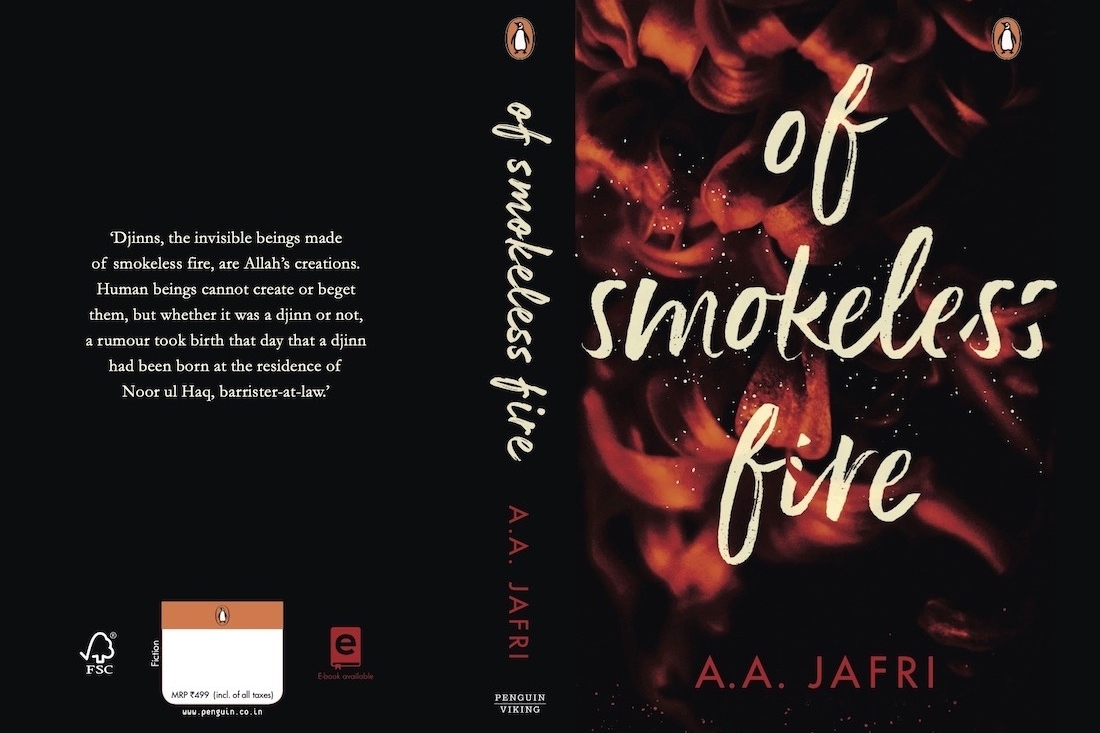 Of the many courses I was taught during my study of literature, voices from Indian Writing in English intrigued me the most, particularly their stories of exile, self-imposed and otherwise, both within and away from their country. The uprooting and displacement, and the resulting situation of belonging and un-belonging, proved to be one of the most complicated thematic explorations in literary history. These explorations make you question the boundaries that divide humanity today — geographical, ideological, economical and socio-cultural. While navigating the forces that create, propagate and bind the boundaries, the reality becomes increasingly jarring and disillusioning. As you dive deeper, the conundrum of those who seem to exist in the spaces where these boundaries are blurred, becomes even more complex.
A.A. Jafri's debut book Of Smokeless Fire, dives deep into these heavy issues, through the lives of its fascinating gamut of characters — Mansoor, Mehrun and Joseph. Each character occupies a unique space amidst the imposed, normative structures of the society, and transgresses. With rare and remarkable insight into the society and politics of Pakistan, the book traverses distinctively through questions of belonging and displacement. A.A. Jafri's debut venture is both enthralling and enlightening in equal measure, and most importantly, essential. It is a book that appeals to our empathy as humans, especially to rise above the schisms that lead to the notion of us and 'the others'.

We connected with the author to know more about him and his debut book.
You're an economist during day and writer by night. How were you led towards the world of fiction and writing?
I grew up in a family where books were treasured and discussed. We had a decent library at home. My parents and my siblings influenced my love of stories. When my father lived in India, he founded and edited a short-lived Urdu literary magazine, Shamim, from Patna in the early 1930s. The Urdu poet Majaz was his roommate at Aligarh University. My father's literary circle included writers and poets. He was part of the legal team that defended Faiz Ahmad Faiz and Sajjad Zaheer in the Rawalpindi Conspiracy Case in Pakistan. While my father and brother introduced me to Western literature, my mother told me tales of djinns, bhoots, and churails.
I had the good fortune to study under the eminent Pakistani social scientist Akhtar Hameed Khan who got me interested in Russian literature. And when I came to America for higher education, I gravitated towards professors and friends who also loved reading fiction and telling stories. So, I was a lover of fiction first before I became an economist.
Could you tell us about the writers and books that have informed or influenced your work?
There have been so many to whom I am indebted. I have always loved Russian writers such as Gogol and Dostoevsky. Turgenev's Fathers and Sons was a big influence. Among the 20th century writers, Marquez's Love in the Time of Cholera, Naguib Mahfooz's Cairo Trilogy, and all of Salman Rushdie's books fired my imagination. Saul Bellow, Philip Roth, Eugene Ionesco and Samuel Beckett have all informed my work. There were quite a few Urdu writers and poets whom I read voraciously, including Prem Chand, Krishen Chander, Manto, and Qurratulain Hyder. Urdu poetry is my passion, and I memorized Mir, Ghalib, and Faiz.
What inspired your debut book, Of Smokeless Fire?
I have lived in America since my post-graduate studies and made frequent trips to Pakistan during my parents' lifetime. Zia ul Haq's reign and the resulting intolerance troubled me deeply. I felt driven to write about that. At its core, Of Smokeless Fire tells the saga of a family torn apart by increasing religiosity, just as Pakistan undergoes a horrific political transmogrification. My novel foreshadows the intersection of personal, communal, and national violence as it explores the role of religion in the politics of belonging. It is a story for the soul of Pakistan, a country battered by its Faustian bargain with obscurantism. My novel is about this stinging feeling that you can be an exile in your land of birth. Just because you are born in a particular country doesn't mean that there is a demand on you to accept everything at face value. The word patriotism is bandied around so readily that it cheapens citizenship and demeans civic responsibilities.
What did your creative process comprise of in terms of the characters and plot?
This book has been a labour of love. I worked on it for more than twenty-five years, but I wrote the first draft feverishly, finishing it within a year. Since then, I have taken it out and tinkered with it periodically. As I have a day job, I write at night and on the weekends, often until two or three o'clock in the morning. The quiet time helps clarify my thoughts. I always go back the next day and re-read and edit what I have written.
Although the characters I have created are fictional, they are derived from my cultural memory and imagination about people I knew. Like many families in India and Pakistan, mine also employed servants. But they largely remained invisible to many. I don't know why, but I was always drawn to their lives and their stories. I was especially interested in a few who broke the cycle of poverty.
Was there a particular thematic intention that was driving or guiding you as you wrote this book?
I wanted to write about belonging, displacement, and rootlessness, even when one felt deeply rooted in a country. My family was uprooted from India, although they had generational roots there. And when they moved to Pakistan, they still referred to India as 'our India.' I was born and raised in Pakistan but was always called a Muhajir or immigrant, a term I hated. Outside Karachi, people who had migrated from India after 1947 were called Hindustanis.
One of my best friends is from a Sindhi Hindu family, who had to leave their ancestral Sindh for India during the Partition. So, I knew that in this novel, deracination would be a driving force. The character of Noor drank because he felt uprooted. Mansoor, my other main character, felt alienated because his country had moved in a direction that he could not recognize. Joseph, the sweeper's son, felt removed because he would never become an equal citizen, and Mehrun, the servant's daughter, would always face hurdles because she was an illegitimate child and called a churail.
Were there any challenges that came your way as you embarked on this debut endeavour?
During the writing phase, the main challenge was finding the time. I had young children and a full-time job. I couldn't have written this novel without the unstinting support of my wife and my kids. After I had finished it, the main question was how to get it published and not lose hope after tons of rejections. I'm so thankful to my brilliant editor Tarini Uppal for believing in me.
What do you hope the readers take away from your oeuvre?
I hope my readers can empathize with the characters I have created, their humanity, their yearnings, and their emotions. We all have similar desires, hopes, and fears. The 'others' are like us. We need to understand those who are different from us and stand with them when their citizenship rights are trampled. I also hope to show that patriotism is not about wrapping yourself in your country's flag and blindly believing in the political gospel. We need to engage, reflect, and reason about ideas thrown at us, rather than accept them blindly.
Since belonging and displacement are such important themes in the book, could you tell us more about your own relationship with your country today?
As I mentioned, I live in American now, but I have great love for my culture, language, literature, food, and people. Trips to Pakistan have become less frequent, but that is mainly because my parents have passed away. I sometimes get nostalgic about the Pakistan of my childhood when American jazz singers regularly visited, when diversity was celebrated, and religion was tolerant. That is displacement to me.
On the other hand, I also have a deep connection with India. Generations of my family lived there for centuries. My grandparents lived and died in India, and I have a brother buried there. My parents always referred to Bihar as their home. They remained placed and displaced at the same time, so I have always questioned the meaning of belonging.
How have you been coping with the pandemic and what will be the new normal for you post it?
We have been eating lots of comfort food, watching feel-good shows like The Office, binge-watching Agatha Christie, and Inspector Morse and Coke Studio songs. We've been spending time gardening and growing vegetables. Who knows what the new normal would be for any one of us? I have tried to stay positive and productive.
Lastly, what's next?
I have been busy writing a prequel to Of Smokeless Fire. It's about Noor's childhood and his life growing up in India, his politics, and his relationship with his father. Much of that is inspired by stories my parents told me about the India they lived in and the India they loved. I'm also working on a book of short stories and hope to publish it as well.
Text Nidhi Verma
Date 21-04-2021