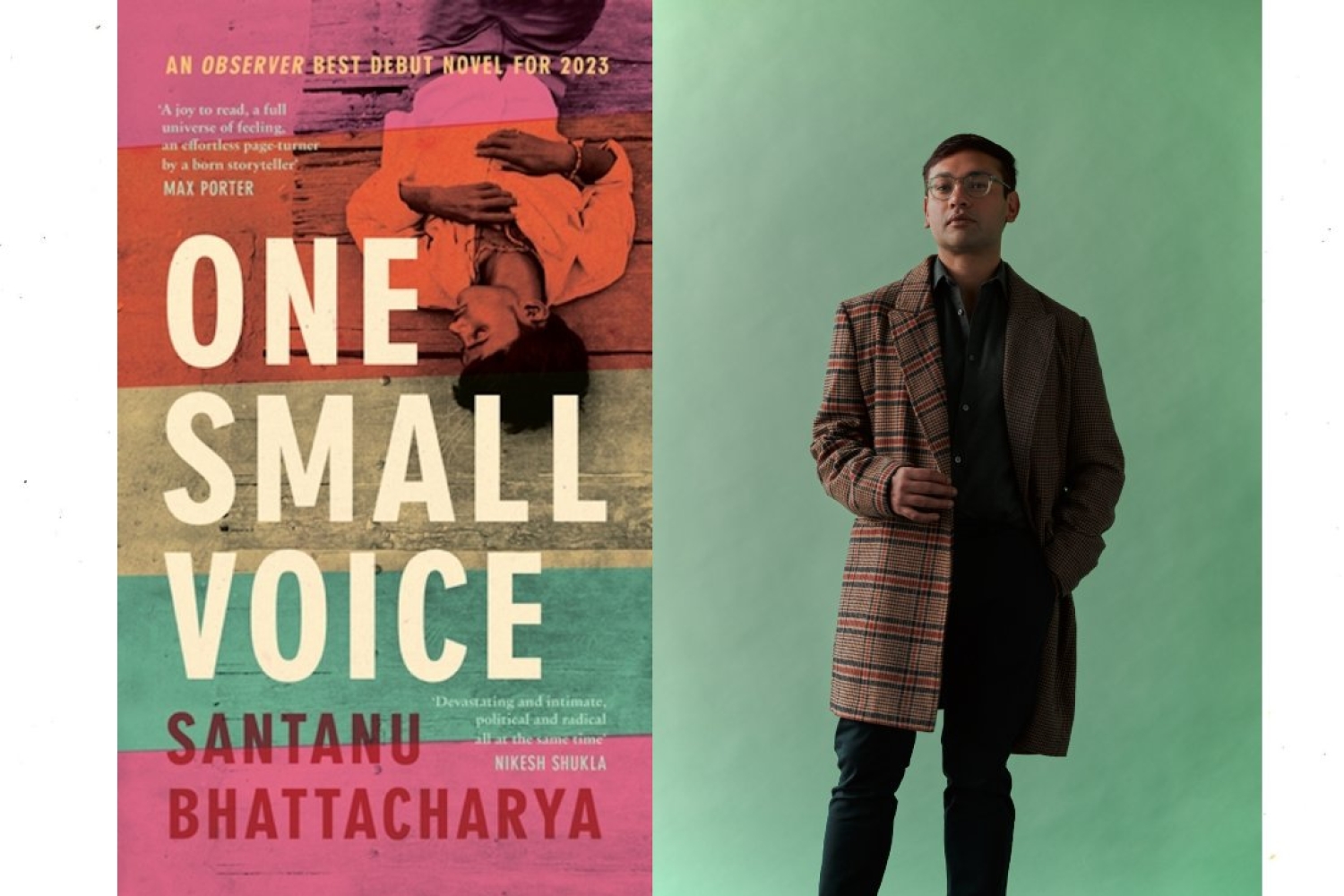 One Small Voice
Santanu Bhattacharya
"I've always been a big reader. And we were told a lot of stories in childhood; my mother is a really good storyteller. Books and movies served as portals to understanding the rest of the world, whether it's my own experience or someone else's. And at some point I felt I could try writing stories that could do something similar for others," tells me Santanu Bhattacharya of his movement towards writing and storytelling. His debut book, One Small Voice, is a modern Indian millennial novel. It begins in the early 1990s when Shubhankar Trivedi is ten years old. He witnesses an act of mob violence, and for various reasons, he decides not to talk about it. The story then follows him over the next twenty-five years as he grows up and moves from Lucknow to Mumbai.
"On the one hand, he is trying to find a way out of his trauma. On the other hand, he is experiencing life as a young person – making friends, exploring love, grappling with family expectations. Through his life, we're able to see some of the major changes that have taken place in the country over the last three decades, and how those have impacted the youth and their relationships," acquaints us Santanu to his debut novel. Below, he gives us further insight into his new book.
THE CORE
At the core of One Small Voice is an exploration of the youth of India – what they feel, the experiences they have, and how they find their place in a country that is ever-changing and yet standing still. I was going through similar questions (I still do) and so were my peers, and I wanted to capture that feeling before we all grew old and accepted the status quo!
THE CREATION
The world of One Small Voice is very similar to my world, in terms of lived experience. The novel takes place over thirty years, beginning in the early 1990s which is when I was growing up. I also lived in and travelled to different places across India, and that allowed me to draw on references from my observations. The protagonist Shubhankar grows up in a middle-class Hindu family – they have cer- tain privileges but they're also struggling in certain ways. There is a gap in world-view between generations. The experiences of the cosmopolitan big city is very different to those of smaller towns. I found these dichotomies fascinating. Because I knew this world so well, it helped me to situate my novel in it. That said, all the characters are fictional – they're probably an amalgamation of many different people I've met in my life, plus their own unique qualities that showed up while I was writing them.
THE INFLUENCES
Because I wrote this novel over ten years, I must have read hundreds of books during that time. Every book taught me something – how to do something well, as well as what not to do! My biggest inspirations were Mohsin Hamid's early books, and also Chimamanda Ngozi Adichie's Half of a Yellow Sun. Later influences include Elena Ferrante's My Brilliant Friend quartet, and Tstisi Dangarembga's This Mournable Body.
THE CHALLENGES
There were many. I didn't study the arts or creative writ- ing, so I had no formal instruction to lean on. A lot of what I was writing was self-taught, and maybe that is why the novel took so many years and drafts to shape up. I was also working the whole time, so finding the time to write was a big challenge. Being a complete outsider to the publishing industry meant that I didn't know whom to approach or how to start getting noticed. It's been a long and slow journey to publication.
THE FUTURE
There are so many ideas pinging around in my head. There are two concrete concepts for novels and a bunch of short stories. For some reason, I haven't been able to focus on any one of them, so I'm progressing all of these in parallel. Let's see which one sticks!

This article is an all exclusive from our March EZ. To read more such articles, follow the link here.

Words Nidhi Verma
Date 21-03-2023