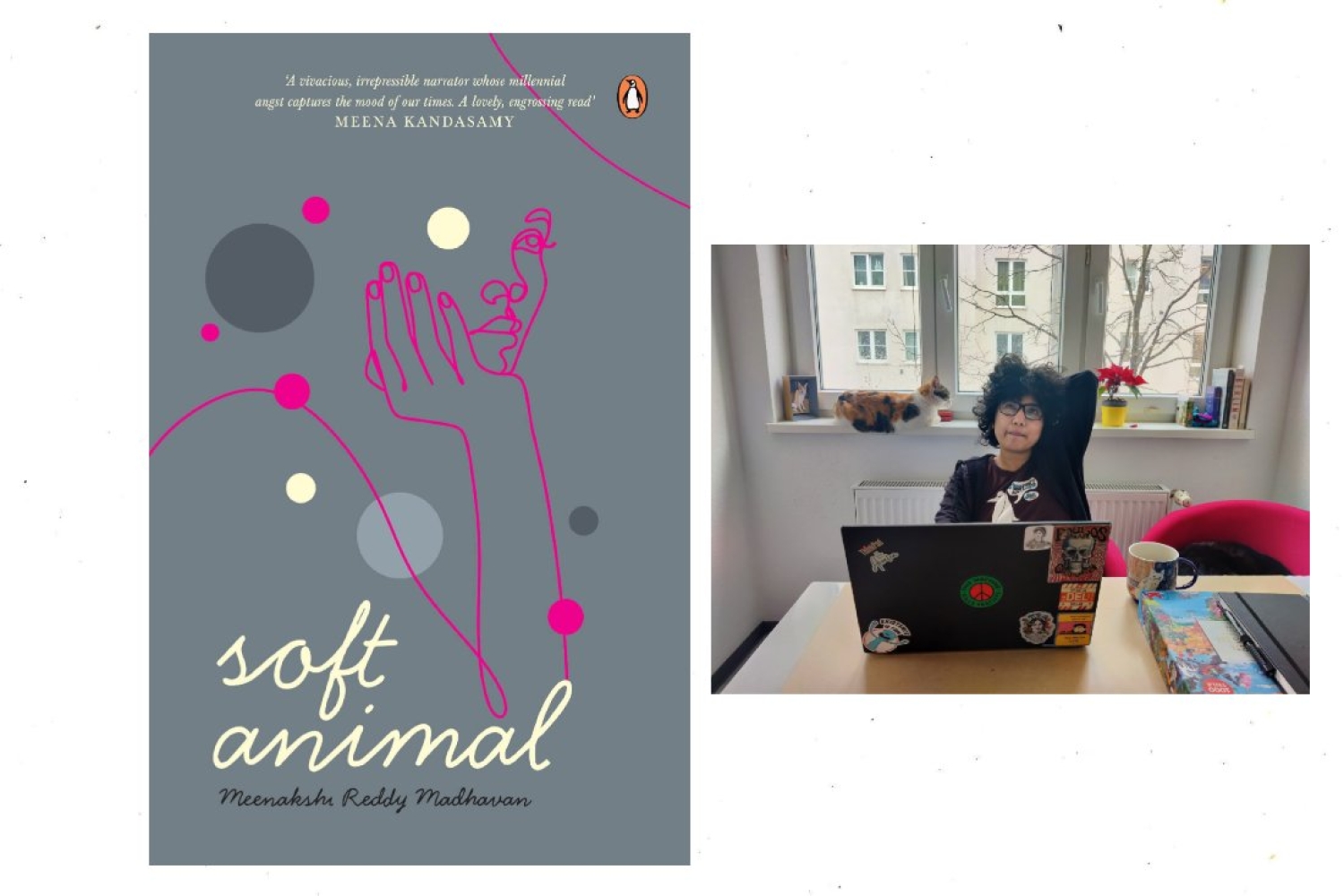 "With Soft Animal, I wanted to write about an unhappy millennial marriage, and in writing that I also wanted to offer shades of who this person is and how she fits into the world," acquaints us Meenakshi Reddy Madhavan to her new book and its protagonist, Mallika Rao. Along with portraying a millennial marriage, Meenakshi also employs her protagonist and her circumstances to paint a portrait of another less represented or minutely observed section of society. "It's about your urban Indian middle class, underrepresented in literature in general, with a feel of India that's not the India of usual literary fiction, India that maybe you'd recognise only if you live there," she shares.
Read more from our conversation with the author about her writing and new book below:
What is your first memory of writing?
I had this diary when I was about six, a gift from China. It had the most gorgeous embroidered cover, all red and gold with cranes on it. I used it to write about my life, mostly drawings and notes about my classmates, not very observant, things like, "Aishwariya smells bad!" with an illustration of the Aishwariya in question, smell lines radiating from her. For the longest time, I used pictures next to my words to make them stronger, but I think these were the first experiments I did with writing. My first story was a little after that, when I did a small story with chapters called "When My Mother Was A Little Girl." The school I was in helped us all to make our stories into little books, and I was very proud of mine.
After all these years, how has your craft as a writer evolved?
I feel like all these years later, I'm finally able to make a sentence do exactly what I want it to do. I'm still searching for the perfect words, to know exactly what to say that will take a vague thought in my head and turn it into an actual coherent line, but it takes many tries and several rounds of edits before a story is perfect. Or perfect-ish, anyway. One way I've evolved is to become a much better editor, so now I can tell a vast difference between my first draft and my last, which is the way you want it to be. Editing never came naturally to me, not like writing, so I'm glad I've learned how to do it well.
What inspired Soft Animal?
I wrote the first few chapters during the 2020 lockdown. I had actually finished another book in 2019, a crime novel, but with the pandemic upon us, I wasn't sure that the crime novel would still work. Then my mother suggested I record this strange time in some way, and I got to thinking about all the lives I hadn't lived: a bad ex, a move, a job I could have taken and so on. I wrote Mallika's story thinking about some of those choices, as though I had inhabited a different life, and what the consequences would be for me. Without giving too much away, I also wanted it to be about decisions I haven't made in my present-day life as well.
What, for you, constitutes the core of this book?
It's hard for me—the author—to decide for the reader what the core is. So many things resonate for people, that it's unfair to say it's this or that. I suppose, if I can be really vague about it: it's about your urban Indian middle class, underrepresented in literature in general, a feel of India that's not the India of usual literary fiction, India that maybe you'd recognise if you live there.
Could you give us some insight into your creative process behind this book?
I really wanted to use footnotes, so I worked them in as a way for Mallika to "talk to the camera" so to speak. I was worried that they might be a bit gimmicky, but people have written to me saying how much they enjoy them, so it's a gamble that has paid off. Other things: I had a list going on Google Keep Notes on my phone, of ideas and stories I could incorporate, so every time I was stuck, I just pulled out my list and picked an incident I had written down. It was extremely useful, and I've been using that same method ever since for my other writing as well.
Were there any challenges you faced while writing this book?
Writing about someone who is depressed but doesn't realise she's in depression was hard. I had to strike the right balance between her past and her present to make sure the reader could see the contrast, and also have a way for Mallika to work her way out of it. The book begins with her unemployed and on the couch, but as it progresses, you see her struggling to make her way out. I had to also figure out how to make her relatable — not quite likeable, but definitely someone you could see a little of yourself in.
What do you hope the readers take away from this book?
I hope they enjoy reading it. I'd love for it to be the sort of book you read and then you're all fired up to find your next great read because you loved this one so much. I also love re-readers, people who tell me they've read one of my books multiple times, it feels like the biggest compliment.
Lastly, what are you working on next?
I completely redid my crime novel from scratch! It's nearly done and now the heavy work of editing it and getting it into good enough shape to submit begins. It's been challenging because I'm very much a character driven writer and a crime novel hinges on plot, so it's this mammoth piece of work, but I'm hoping it works anyway. I'll find out once I've reread this draft from the beginning, something I've been putting off doing so far.
Words Nidhi Verma
Date 10-05-2023