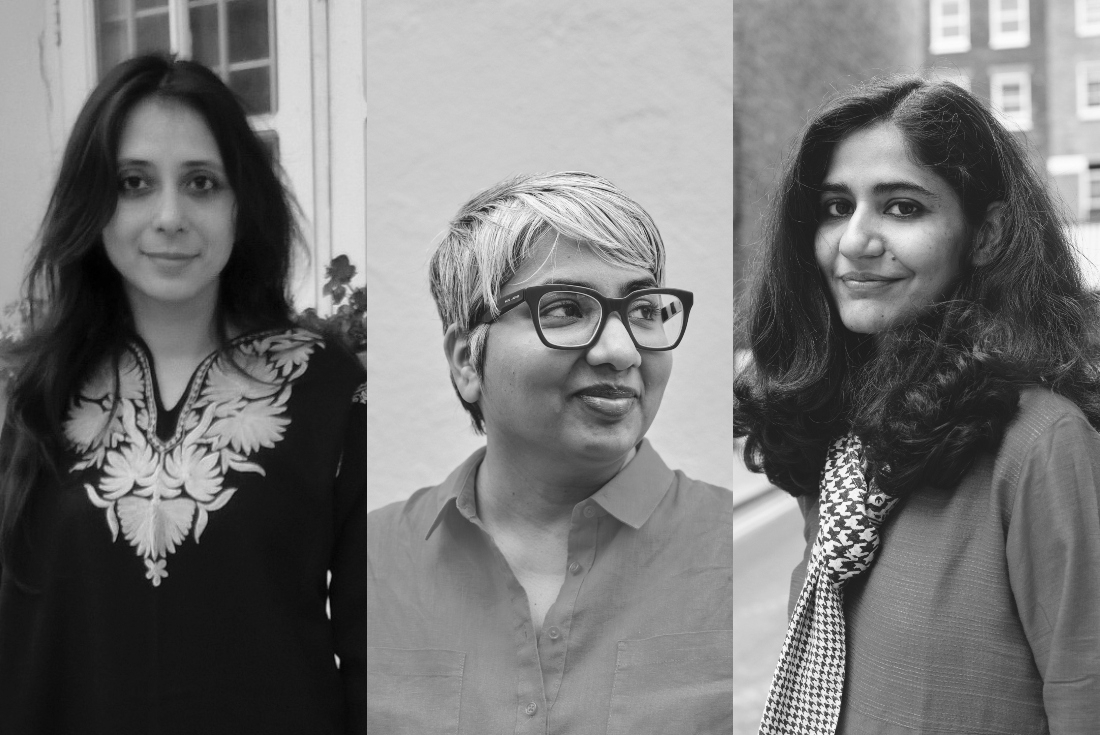 L to R: Annie Zaidi, Deepa Anappara, Taran N Khan
Tata Lit Live! Award Winners
2020 has been a tough year, but literature has managed to keep blooming, with many new voices at the forefront of this year's best books, alongside intriguing new titles by seasoned writers. At Tata Lit Live! Awards, many such books were celebrated and awarded last week. Revisit our interview with the award-winning authors below:
Ruskin Bond: Lifetime Achievement Award
Ruskin Bond, one of India's most cherished authors, has been conferred the Tata Literature Live! Lifetime Achievement Award for 2020. In almost every Indian reader's bookshelf, a book by Ruskin Bond is a constant. Delving in Ruskin Bond's work is like taking an excursion down the memory lane, filled with childhood innocence and nostalgia. A couple of years ago when we spoke to him, he told us about how he sometimes sings to himself while he writes, that his favourite literary genre is probably detective fiction and that the fictional character he most identifies himself with is Mr. Pickwick from Charles Dickens' first novel, The Pickwick Papers, amongst many other intriguing things about himself.
Read our interview with him here.
Annie Zaidi: Book of the Year - Fiction
In a peaceful southern town, amidst lush spice plantations, trouble is brewing. In the town live three generations of two families, one Hindu and the other Muslim, whose lives will be changed forever by the coming violence. At risk are Dada, the ageing grandfather who lovingly tends and talks to the plants on his estate; his strong-willed grandchildren, Abu and Fareeda; the newly married Devaki, who cannot fathom the forces that are turning her husband and her father into fanatics; Mariam, of the gifted hands, who kneads and pounds the fatigued muscles of tourists into submission; and Garuda, the high-school teacher who, in his own desperate way, is trying to impart the truth about the country's history to a classroom of uninterested students. Quietly but surely, the spectre of religious intolerance is beginning to haunt the community in the guise of the Self-Respect Forum whose mission is to divide the town and destroy the delicate balance of respect and cooperation that has existed for hundreds of years. Told with brilliance, restraint and extraordinary power, Annie Zaidi's book Prelude to a Riot is destined to become a classic.
Read our interview with Annie here.
Taran N. Khan: First Book Award - Non-Fiction
When Taran N. Khan first arrived in Kabul in the spring of 2006-five years after the Taliban government was overthrown-she found a city both familiar and unknown. Falling in with poets, archaeologists and film-makers, she begins to explore the city and, over the course of several returns, discovers a Kabul quite different from the one she had expected. Shadow City is an account of these expeditions, a personal and meditative portrait of a city we know primarily in terms of conflict. With Khan as our guide, we move from the glitter of wedding halls to the imperilled beauty of a Buddhist monastery, slip inside a beauty salon and wander through book markets. But as these walks take us deeper into the city, it becomes clear that to talk of Kabul's various wars in the past tense is a mistake.
Read our interview with Taran here.
Deepa Anappara: First Book Award - Fiction
Nine-year-old Jai drools outside sweet shops, watches too many reality police shows and considers himself to be smarter than his friends Pari and Faiz. When a classmate goes missing, Jai decides to use the crime-solving skills he has picked up from TV to find him. He asks Pari and Faiz to be his assistants, and together they draw up lists of people to interview and places to visit. But what begins as a game turns sinister as other children start disappearing from their neighbourhood. Jai, Pari and Faiz have to confront terrified parents, an indifferent police force and rumours of soul-snatching djinns. As the disappearances edge ever closer to home, the lives of Jai and his friends will never be the same again.
Drawing on real incidents and a spate of disappearances in metropolitan India, Djinn Patrol on the Purple Line is extraordinarily moving, flawlessly imagined and a triumph of suspense. It captures the fierce warmth, resilience and bravery that can emerge in times of trouble and carries the reader headlong into a world that, once encountered, is impossible to forget.
Read our interview with Deepa here.