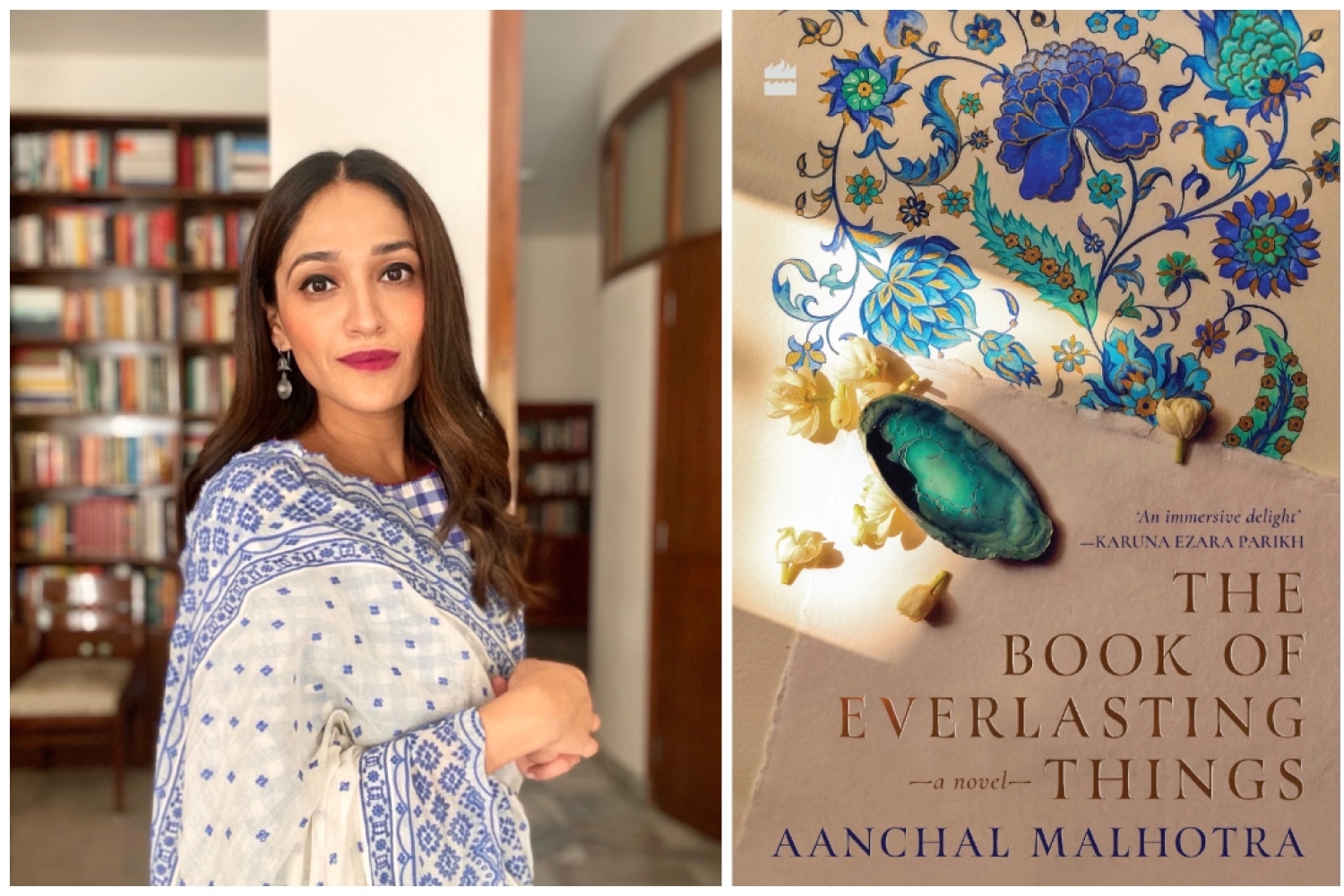 The Book of Everlasting Things
Belonging and Becoming. Aanchal Malhotra's debut fiction novel, The Book of Everlasting Things, operates in this incredibly precarious liminal space — between belonging and becoming. Told in five parts, the book navigates century-long timelines alongside expansive and ever-changing topographies, charting the history of some of the most turbulent times of our world's past, especially India's. However, in its telling of history, the people are always at the front and center.
"For me the entry point into writing this book was curiosity about perfumery," recollects Malhotra, before sharing an insightful anecdote that fostered this curiosity. A tale of personal history told to her by her mother, recounts how her maternal grandfather, who was a chemist by profession and worked for Dabur, used to receive little samples of scents for making products, like soaps. During summer, much before air conditioning became available in India, people relied on air coolers, and many still do, which require water to be filled inside them for providing cool air. Her grandfather would pour the scent samples in the water of the cooler and their house would be engulfed in different smells every day. "I became enchanted with this environment that smelled of one thing by one person's little act of beauty and mischief."
Ittar, naturally derived essential oils that are further used to make perfumes, becomes a predominant preoccupation of the book because of two of its main protagonists, Vivek and Samir Vij. The uncle-nephew duo's lives are suffused with smell, owing to their reckoning as ittar makers. For Malhotra's fictional enterprise, it is clear that the conception and creation of her characters was pivotal and her two fictional families, the Vij and Khans, both based in pre-partition Lahore, take centerstage. She acquaints us to the Vij family's history, going as far back to 1870, and the evolution of the members and physical traces of their ancestry — their house, Vij Bhawan, in the neighbourhood of Shahalmi Gate, and their ittar shop in the famed Anarkali Bazaar. The Khan family are introduced much later, but acquire equal significance as the narrative progresses, as it is in the lovelorn story of Samir Vij and Firdaus Khan, that the heart of the book lies and beats potently.
"Samir Vij was the anchor for me and still remains," reveals Malhotra, as she embarked on the epic, five-year-long journey that was the writing of The Book of Everlasting Things. "The boy who'd swallowed the monsoon" is how she uniquely introduces him to us on the very first page of the book. He is the reader's dominant companion as well since much of the book is told from his perspective. "He's such a complicated character and he's so unlikable at times, but the one thing that remains quite consistent for him is this desire to keep some part of home alive, even if he doesn't agree with keeping it alive," the author confides, connecting the dots between the book and its epigraph, a little excerpt from Joan Didion's The White Album, that speaks succinctly of the making and remaking of home as a place in actuality and in our imagination.
Through Vivek Vij's story, the author also assumes a monumental undertaking — to portray the life of an Indian sepoy during World War 1. She does so through contrasting narratives — Vivek's letters to his family while he was a sepoy, and later, in a peripeteia moment of the novel, through the revelation of the personal journals he kept during the war. "Not much is known about Indian sepoys that fought in WW1. There is no knowledge. We don't know what the soldiers felt. We don't know what they did. We don't know what they ate. We didn't even know that India factored into the war when we learned about it in school. I wanted to fill this lacuna of knowledge. And they deserve to be read about in their own voice," explains the author of her motivation behind this undertaking.
As I read The Book of Everlasting Things, its vastness had me stunned. It propelled me to inquire about the author's writing process, who disclosed deftly her methodical modus operandi. "It's very hard to tackle the idea of a novel. Harder still, if you've never done it before. And if it's going across continents, time zones, characters and aspects of life that you know nothing about, you require other people's help as well in doing your research. What is easy is to get down a sort of outline. I'm very, very organised. After making an outline, I divide it into parts, divide those parts further into chapters, divide those chapters further into sections. If I tackle one section at a time, then it's not so hard for me." While her method may seem almost mechanical, The Book of Everlasting Things is far from a mechanical read. It is emotionally taxing. However, unequivocally rewarding. Although thoroughly imbued with a heavy sadness, intrinsic hues of levity and beauty also emerge every now and then, soulful and redemptive.
To read our full review of the book, grab your copy of our November 2022 Bookazine here.

Text Nidhi Verma
Date 31-12-2022