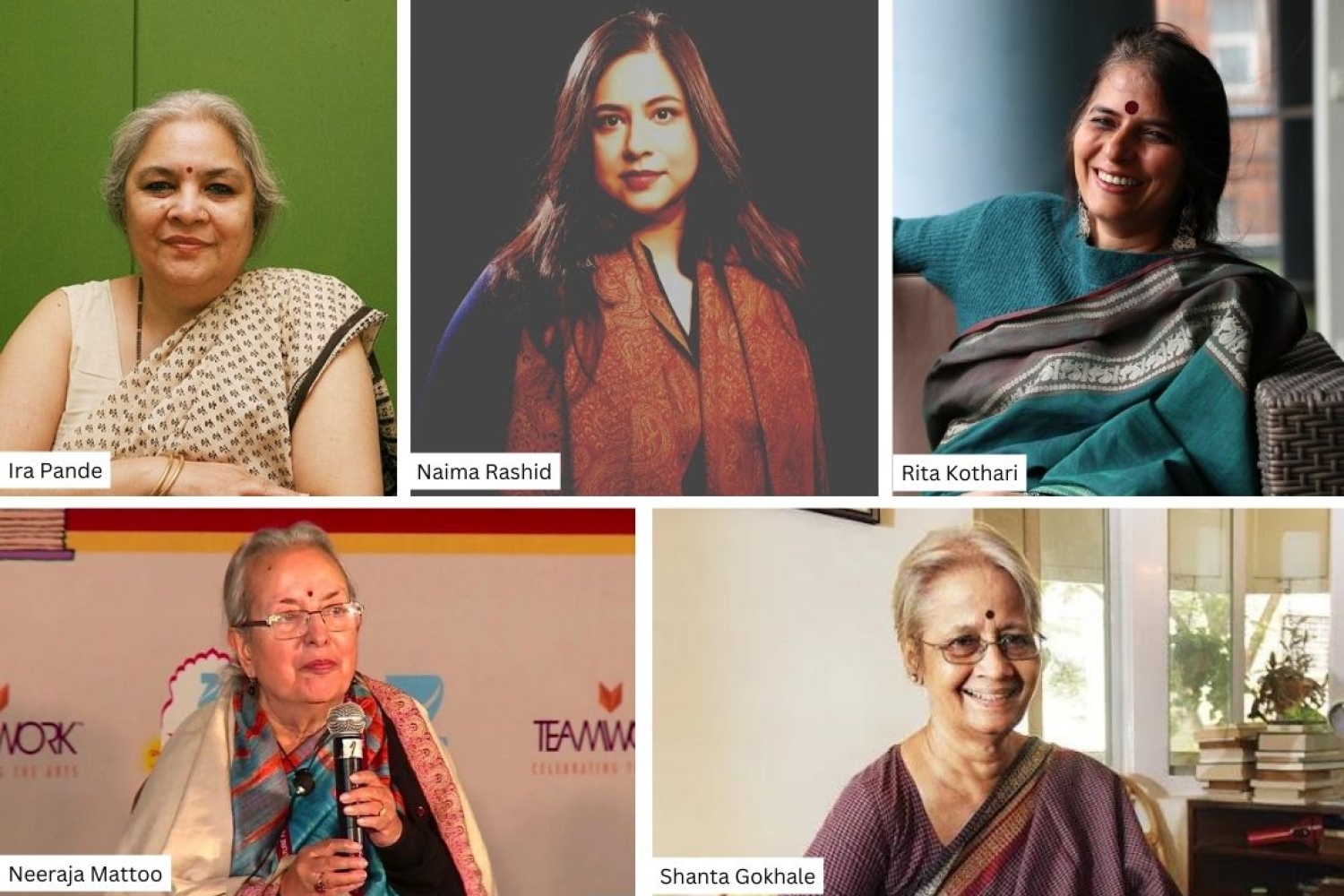 Women in Translation Month
Every year, the month of August is reserved to celebrate and uplift women in translation, essentially aiming to bridge gender disparity in non-English language literature. Translation is the language of democracy, and accessibility is the core of literature. Platform brings you a list of South Asian women translating works across languages.
Ira Pande
Ira Pande started off her career as a university lecturer for 16 years at Panjab University, Chandigarh. Shifting to Delhi in 1990, she delved into diverse roles of writing and editing. She briefly contributed to the Indian Express, later becoming Assistant Editor of Seminar. Progressing to Editor of Biblio, a book review journal, she regularly penned freelance articles and reviews. With roles at Dorling-Kindersley and Roli Books, she traversed managing and chief editorial positions. As Chief Editor of Publications Division at India International Centre, she shaped IIC Quarterly. Pande, a writer and translator, gained acclaim for works like Diddi: My Mother's Voice and translation feats, including Ta-ta Professor and Apradhini: Women Without Men. She's an adept commentator for Tribune.
Rita Kothari
Rita Kothari, a versatile scholar and translator, traverses literature, culture, anthropology, sociology, and history. Her focus centers on India's western regions—Gujarat, Kutch, and Sindh—sparking inquiries into communities. Through religion, caste, occupation, and gender, her ethnographic exploration delves into identity narratives, triggering queries on linguistic and cultural translation. Kothari adeptly translates between Gujarati, Sindhi, and English, enriching language politics and translation discourse. Navigating languages, cultures, and contexts, her passion lies in translation as an Indian prism. Her recent work, Uneasy Translations: Self, Experience and Indian Literature, melds academic journey with self, language, and the enigmatic realm of experience.
Naima Rashid
Naima Rashid is an author, poet and literary translator. Her work was longlisted for National Poetry Competition 2019 and Best Small Fictions 2022. Her published and forthcoming books include Sum of Worlds (Yoda Press, 2023-2024), Naulakhi Kothi (Penguin Random House India 2023), Chicanes (Les Fugitives, 2023) and Defiance of the Rose (Oxford University Press, 2019). Her writings have been widely published in journals of repute, including Asymptote, The Scores, Wild Court, Poetry Birmingham, RIC Journal and Litro among others. She is a collaborator with the UK-based translation collective, Shadow Heroes, which teaches young people to embrace all aspects of their linguistic and cultural heritage.
Neerja Mattoo
Neerja Mattoo taught English at Government College for Women in Srinagar, from where she retired as principal. She is a writer/translator, and apart from contributions to anthologies and academic journals, she has three books of Kashmiri short stories in English published: The Stranger Beside Me, Contemporary Kashmiri Short Stories, and Kath: Stories From Kashmir. She was awarded an HRD Ministry Senior Fellowship to work on four Kashmiri women poets. She is the chief editor of the quarterly journal Miraas, which is devoted to Kashmiri culture.
Shanta Gokhale
A writer and translator since 1960, Shanta Gokhale's work includes two novels, plays, short stories, film scripts, and countless newspaper articles. She has also contributed cultural columns to The Independent, The Sunday Times of India, Mid-Day, and Mumbai Mirror from 2006 onwards. Additionally, she's translated works by prominent playwrights like Vijay Tendulkar, Mahesh Elkunchwar, and others from Marathi to English, as well as works by Gieve Patel and Jerry Pinto from English to Marathi. Her experience also includes a history of Marathi theatre, edited books about directors Satyadev Dubey and Veenapani Chawla, and curated The Scenes We Made, an oral history of experimental Mumbai theatre.