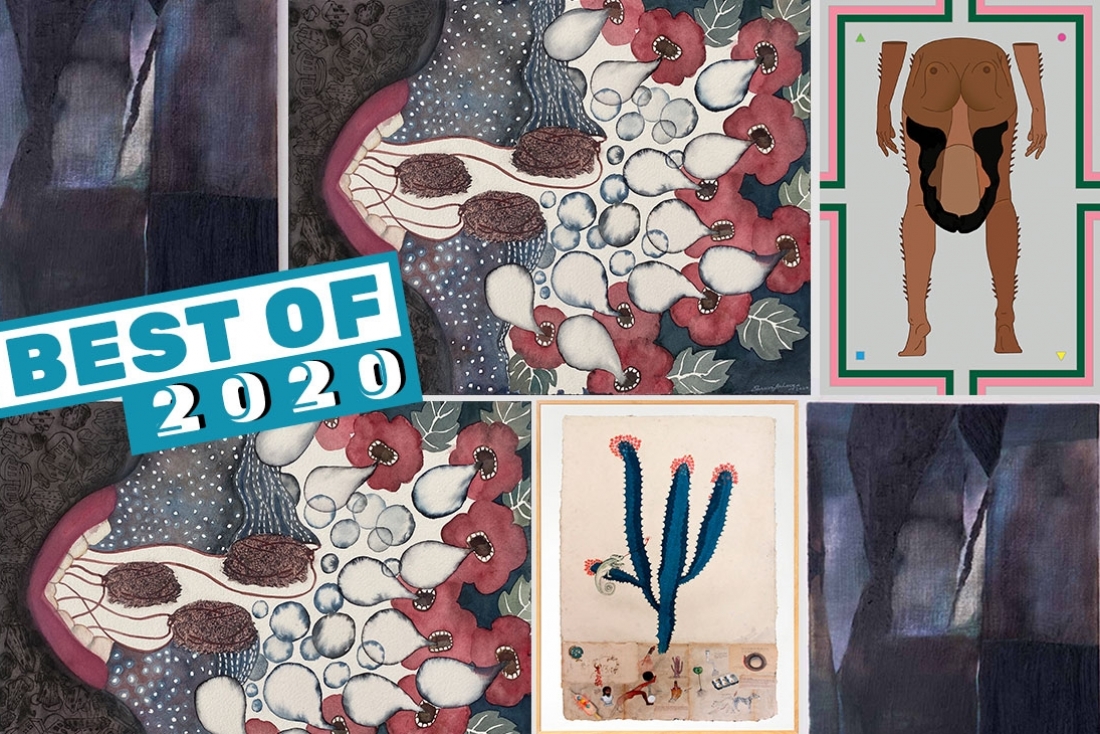 The art world saw magnanimous changes this year, with the shutting down of galleries paving way for virtual art shows and even virtual art festivals. Even the way artists have responded to the pandemic and how they've managed to keep creating art during this period of chaos, is a true testament to the resilience of art and creativity. We've had the privilege of featuring many such artists this year, and collectively their works encompass myriad concerns, mediums and sensibilities. In case you missed any of them, we present the best of art we have featured this year.
Meghana Gavireddygari
In this body of work, Meghana Gavireddygari takes inspiration from the tangible and intangible remnants of colonialism. Her focus is specifically on the educational, economic and political systems resulting from foreign rule in India. Gavireddygari draws parallels not only between the past and present, but vis-á-vis the means by which ownership was taken away from Indians at the time of colonisation and the autonomy withheld from Indian citizens today. She employs materials often utilised in the construction of functional spaces and objects (cement, stoneware and fabric) to create a conceptual body of work that critiques the way spaces are built and used in India. She is interested in exploring the themes of inclusion and exclusion in terms of physical spaces and social hierarchies.
To read more about the artist and see her work, buy a copy of our new Platform bookazine.
Biraaj Dodiya
Biraaj Dodiya presented her debut solo, Stone is a Forehead, this year. The title of the exhibition is a reference to The Laid Out Body - a part of the poem Lament for Ignacio Sanchez Mejias by Federico García Lorca commemorating the death of a friend. Referring to personal memory, loss and coming of age, the body of work takes the form of a lament; bringing together signifiers of youth and mortality, discomfort and relief, absence and distance through paintings and sculptures. The works in the exhibition explore stages of material proposition and cancellation. Like an excavation site, they are a result of processes of breakdown and repair, much like the urgent recalling of moments of crisis.
Read more about the artist and her work here.
Opashona Ghosh
Intrinsic hues of erotic femininity and queer symbolism tinge the work of artist and graphic illustrator, Opashona Ghosh. Born in Calcutta and a graduate of Central St. Martins, University of the Arts, London, Opashona's world was always visual but her vocabulary of dreams took plenty of detours before it could present itself in a more tangible form — a form that she could understand and share with the world. Ever since she was young, she was wired to do the exact opposite of what was expected of her. In that constant ebb and flow of acting, reacting, rejecting and being rejected, she found herself in the critical space between the desire to be seen and the desire to completely disappear. As a silent observer of the systemic oppression of patriarchy like most women and queer people face – one foot in misery and the other across a rainbow – dreaming up impossible exit strategies, in the hope of a less brutal reality, propelled her towards creating art.
Read more about the artist and her work here.
Dhruvi Acharya
Nature Morte announced an online Viewing Room with Dhruvi Acharya's new group of works on paper titled Evaporating Voices this year. Dhruvi Acharya had made these works during the period that has come to be known as 'the lockdown' due to the Covid-19 virus. Life, and all its convoluted dramas, is the main subject of Acharya's art, her characters only ciphers within which the viewer can recognize herself and her own foibles. It comes as no surprise, then, that Acharya's art during this period of isolation has become more abstract, her actresses disembodied and vanquished by repetition. The long period of silence and reflection has brought Acharya to a freedom which releases her from both herself and others, bringing her to a new reflection of the world. Gasps for help and evaporating voices seem lost within a clouded stream of consciousness.
Read our complete interview with the artist here.
Shailesh B.R.
Shailesh's visual language has an aura of iconography, with his ritualistic practice of drawing and collage work that invokes, mimetically, the act of forming connections between disparate observations, thoughts, moods, feelings – the internal world – and objects, places, animals, stories, food, landscapes – the outer world. While he strives to represent an immediate reality conjured through contemplation, his bent of mind evolves in a conversational way by scrutinizing the concept of thought in metaphor- ical, mythological and political terms, and then presenting it as an amalgamation of the monotony of routine activities and its minor but crucial elements in a political context. These preliminary drawings often ideologically serve as blueprints to explore the kinetic and sculptural nature of the imagination.

Read more about the artist and his work here.