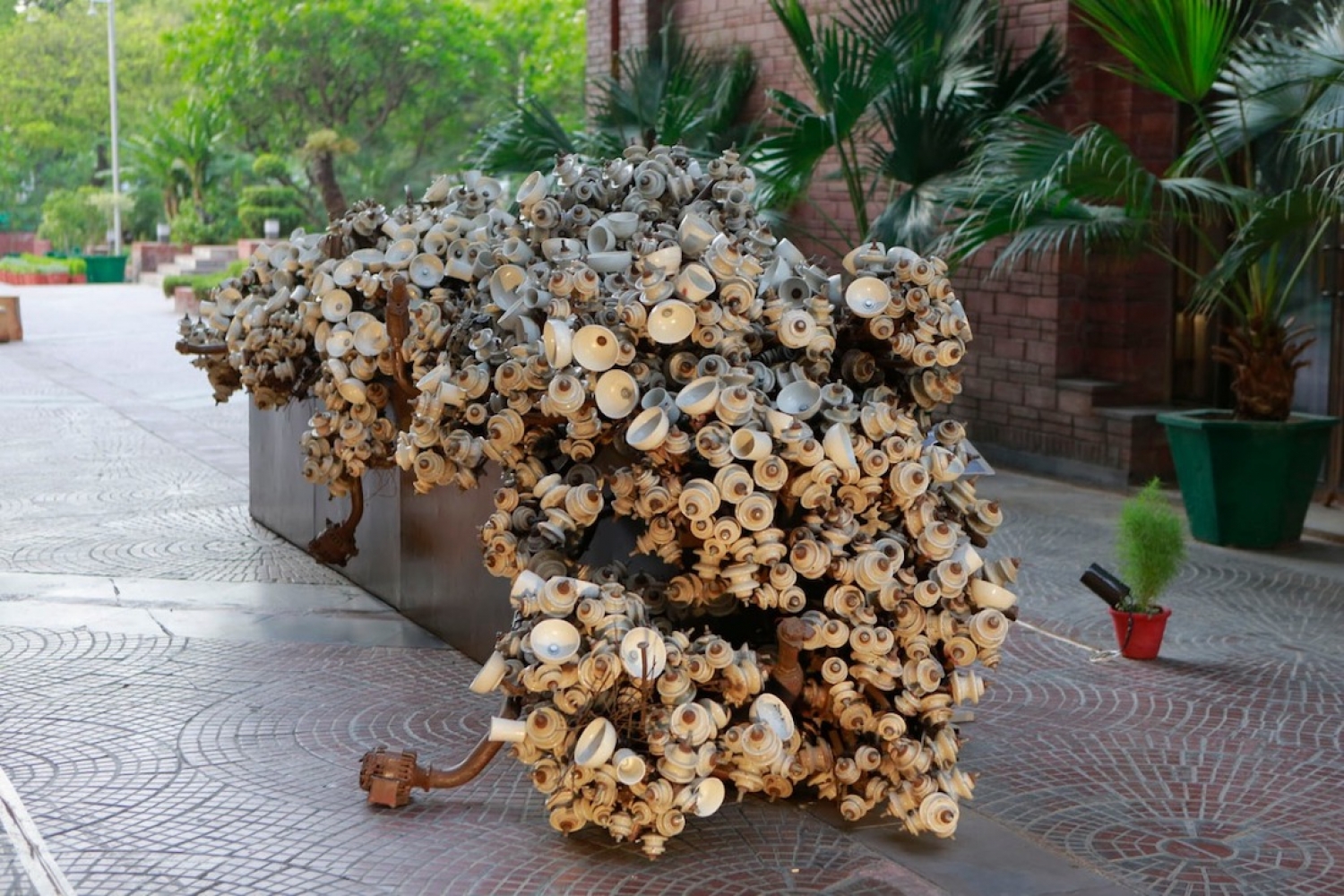 Art Ichol, the organization working for the cause of the Arts and artists through a space for creating, sharing and promoting the creative arts, in Ichol, an otherwise insignificant village near Maihar in Madhya Pradesh. Art Ichol proudly presents, Imbue- Solo Exhibition featuring recent works by artist Narayan Sinha. The Exhibition is curated by Ambica Beri, Curator and Founding Director of Art Ichol.
Ambica Beri shares, "Narayan rejoices in his discovery of who he is and who he wishes to be as he allows himself to flow beyond form, aspiring to inspire others in the process."
Title of the Exhibition: Imbue, Recent works by Artist Narayan Sinha
Dates of the exhibition: 27 April – 30th June , 2022
Venue: IHC India Habitat Center Open Spaces + Central Atrium
Timings: 11am – 8 pm

Narayan Sinha's sculptures explore ideas of desire and excess through materials of brass and stone. He imbues this series of works with a sensibility of deep formlessness and fluidity. He uses stone as sweeping as water and brass as pliable as clay creating forms that seem impossible in the material that they are in. His sculptures overlap, intertwine and unfold in multifaceted layers and dichotomies revealing his angst and passions culminating in the ultimate exultation of spirit. He meanders and traverses with nature's scheme of things and celebrates his belief in positivity with the hope that it will accomplish the realization of a purpose – a state of being that shuns all rigidities. "Imbue series" melts, merges and ultimately flows beyond form.

About Art Ichol
Art Ichol is a private organisation, working for the cause of the Arts and artists through a space for creating, sharing and promoting the creative arts, in Ichol, an otherwise insignificant village near Maihar in Madhya Pradesh. Situated in the heart of rural India, Art Ichol has successfully managed to bring art out of an elite space into the lives of ordinary people who have never been exposed to it. One of the parallel visions of Art Ichol is skill development through the arts. This exchange of knowledge is invigorating for both the artist and the community, whether it is through theatre, embroidery, music, painting, architecture or the art installations. They have, in the last 6 years, sponsored young Indian artists for art residencies in Australia and China.

Within 4 years of its inception, Art Ichol had won 5 State Tourism Awards and one National Award, for its contribution in art, tourism and social upliftment. In March 2018, its founder-director Ambica Beri had the honour of receiving the Nari Shakti Award from the Honourable President of India, for the work being done at Art Ichol .The centre has hosted artists from over 25 countries, in several residencies and workshops. It now hosts an annual Visual and Performing Arts Festival, and prides itself in its industriously creative associations with reputable local and International, creative and academic institutions and artists.

Date 20-05-2022