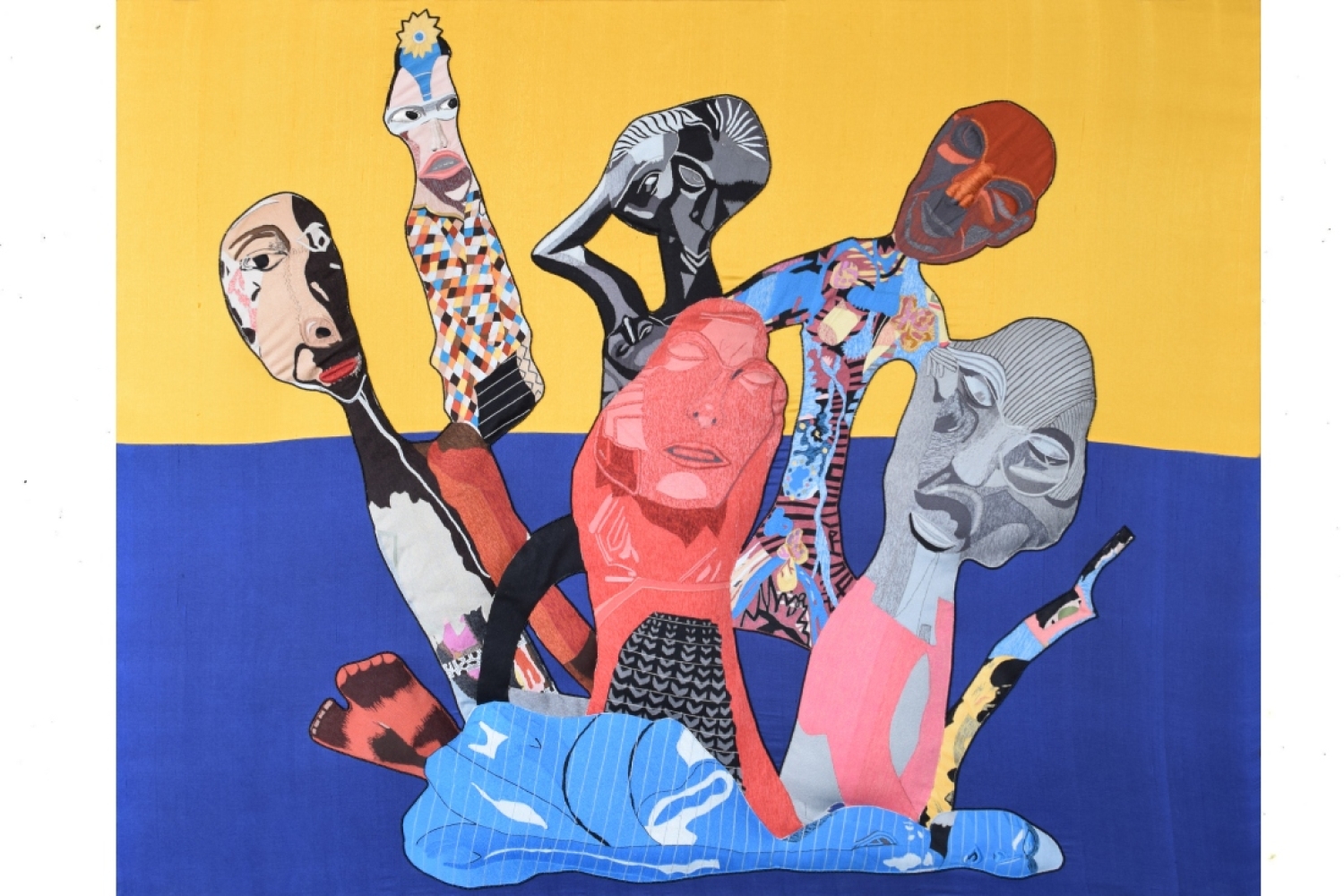 This India Art Fair marked the debut of many artists, but the one that left a significant mark was the work of Viraj Khanna. Every piece was evocative and stood out with its shape, size, colour and form. Ancient meets modern in his new work, with a contemporary take on traditional Indian techniques of Aari and Zardosi. We touched base with him to understand his process and more.
Can you deconstruct your practice and process in context of your new show?
Let me begin by telling you a little more about my process. I always create a paper collage first using various cut out elements from different magazines. The collage serves as a blueprint for me for whatever I make thereafter. For example, the structure of the collage is used to create a khakha (which is the pencil drawing on tracing paper) which is then transferred onto fabric to get embroidered. When I am creating my work, I think about the people who surround me. My practice is a reflection of the way I look at the world. The work is figurative in nature — but non-realistic — since I want the viewer to derive their views on the work. I want the viewer to think about people in their own lives — whoever they are reminded of, and why.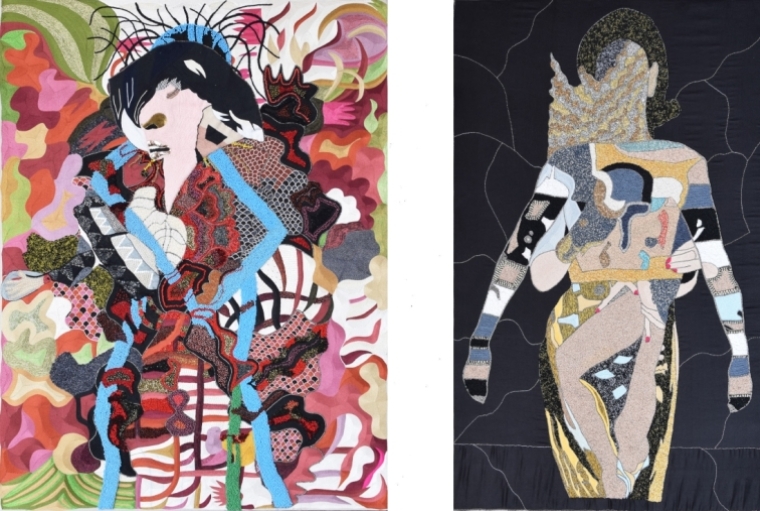 Can you tell us the different elements you've used this time around and what informed your decision to do so?
I have experimented heavily with different techniques of Ari and Zardosi depending on what I am trying to portray. Various elements, such as thread, resham, Kala dori, sequins, beads, metal thread, et cetera, are used in my practice. The different materials represent different energies for me. For example, the simple thread is more subtle, whereas sequins and other glitters would be more extravagant. The textile gets different energy depending on the material I use. The viewer needs to look at the work and think about people in their lives depending on the energy they feel from the work.
What do you want the audience to take away from it?
I am constantly interested in thinking about people's behaviours and actions. We are social animals heavily influenced by society and always trying to fit in. Because of this, everyone is always trying to create perceptions about themselves. The idea of seeming/being connected, wealthy, or powerful is something people are continuously trying to achieve. I want the viewer to think about all of this when they are reminded of someone after looking at my work. I want them to think about how everything can be circumstantial or necessary or not (in the end, we are all beautiful in our way). I have also tried to give a contemporary spin to the age-old embroidery practice by using it differently.
L: Viraj Khanna, Untitled (2023), Hand embroidery on textile (Image courtesy of Tao Art Gallery & th
This is your debut at the India Art Fair, what are you looking forward to from it?
First of all, I am very excited and nervous about my solo with Tao Art Gallery there. It is quite overwhelming, honestly. It has been only two years for me as an artist, and now I have a solo at the Fair! I am also a collector, and I cannot wait to see all the work everyone has done this year. I am also looking forward to gauging people's responses to my work.
Words Hansika Lohani
Date 14-02-2023