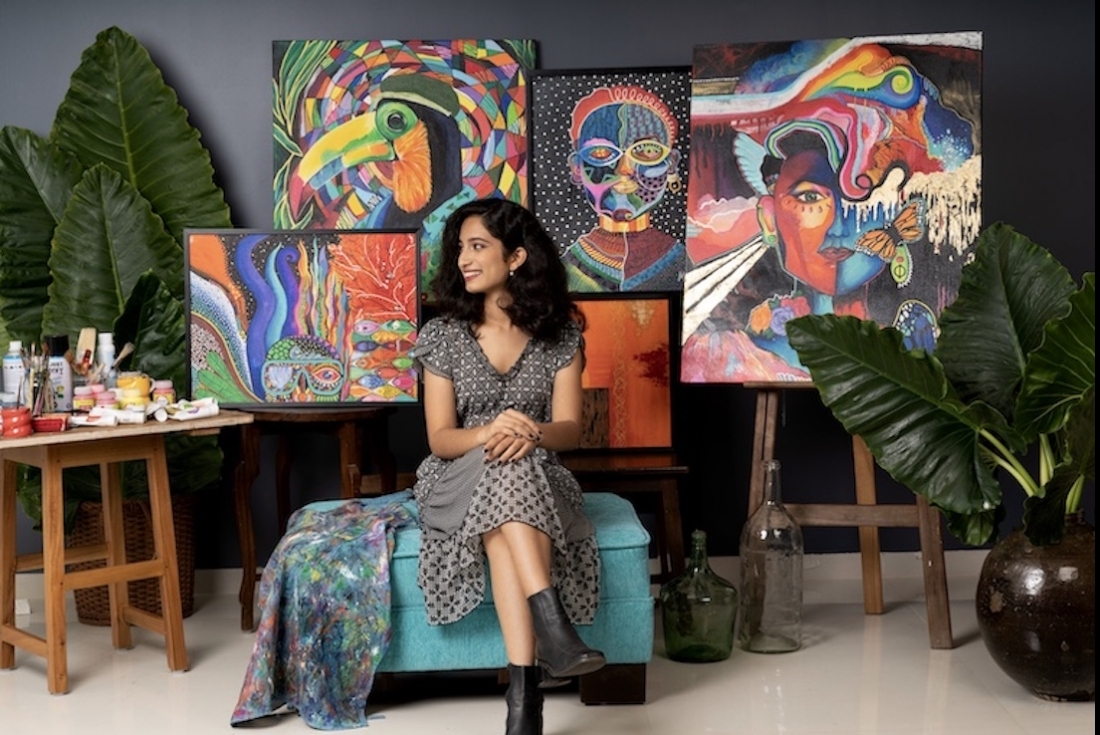 'My love for art has been deep-rooted in me from a very young age,' says Malaika Sequeira, a young, self-taught artist based in Mangalore. Influences from the surrealist and expressionist styles of art can be found in the works of the artist, who is still developing and discovering her own distinct voice. Vibrant colours and precise brush strokes coat her canvas, making each piece of her art truly mesmerising.
'Art is a form of self-expression that is not bound by rules. That's why I love painting so much: it's just me, my thoughts and emotions, on canvas. It's my safe place where I feel free to showcase my innate talent as an artist. I've always had a keen eye for art and have been inspired by the works of great contemporary artists such as Vincent Van Gogh, Tahlia Stanton, Dimitra Milan, Peter Terrin and Daniella Jones. Each has a story to tell and it is their individuality that draws me to their work. I'm also inspired by visual artists like Marcel Van Luit and photographers like my father, Vivek Sequeira, who have a knack for bringing captured moments to life in ways that the average person wouldn't notice,' explains Malaika.
Her journey with art however has not been a linear exploration. Initially, she indulged in the act of painting merely as a hobby, while believing that making a living as an artist is not an easy task. However, as she herself says, her deepest desire was to only produce art and fill colours on a canvas, rather than work under pressure, which would suppress her creativity. After a brief rendezvous with interior designing in college, she dropped out and began creating originals, eventually rediscovering her love for art. Giving us more insight, she shares, 'my early artworks were more about self-exploration and experimentation with various forms, styles, and techniques. I believe in individuality, and I aspire to be distinctive. My ambition is to carve out a niche for myself as an artist, who captures the essence of who I am."
'My father, a well-known Indian photographer, taught me to view life, the world, and beyond, through an artistic lens,' says Malaika, 'and the act of 'creating something new' and discovering a more authentic expression of myself through my work fascinates me the most.' Hence, the artist, along with her friends, have been trailblazers in establishing the very first modern street art mural in Mangalore. While looking to exhibit her artworks in Mangalore city, Mangalore Baking Company entered the scene. They offered to host an exhibition, but due to a spike in COVID-19 cases and protocols, the idea was shelved. Still determined, Mangalore Baking Company offered their street-facing wall to Malaika for a mural. 'Although unplanned and completely out of the box, it appeared to be a very interesting idea. I wanted to try something new and this seemed like a good opportunity to introduce modern street art to Mangalore. Since the wall was so big, I enlisted the aid of some like-minded college friends who assisted me in delivering the entire piece and bringing this art to life. TROPOUCAN, one of my original artworks, is now depicted on the wall, which is now known as TROUPOUCAN AT MBC,' Malaika delightfully reveals.
Street art or graffiti is sometimes looked at with scorn, being confused with vandalism. Defending this art form, Malaika asserts, 'Art in general makes people happy and can cheer them up. Street art, as I believe, wakes people up, inspires and motivates them and sometimes can even make them wonder. I believe art in this form leaves them in awe. It's one unique way to keep urban areas and their residents inspired and energised, and thus beautifies a space as well.' Naturally, when Gloria Viegas gave root to the idea of creating such a mural for Mangalore city, Malaika and her team didn't think twice before diving head first.
Believing, and now proving, that unplanned moments are always better than planned ones, Malaika Sequeira and her friends have brought the wall of Mangalore Baking Company alive by instilling it with hues of their own unique styles. The artist elucidates, 'Many graffiti and murals have been created on our city walls, with the primary purpose of conveying a social message. However, I wanted to do something different, such as creating modern art on the streets to beautify the city, which did not necessarily have any public expression. Without a doubt, our team members, well-wishers, and MBC owners received an overwhelming response and appreciation from locals, entrepreneurs, and established artists such as Sapna Noronha, among others. Moving away from our comfort zone of creating on canvas to a huge wall, using acrylic paints to wall paints was a challenge, but worth it in every way.'
Stepping into 2021, the artist decided to learn more about her chosen field and test her horizon by venturing into the unknown. Intent on discovering herself through the creative process, Malaika does not shy away from a challenge. She is currently working on a series called Vintage 2021, and expects to produce a lot more art than ever before.
Text Devyani Verma
Date 25-05-2021