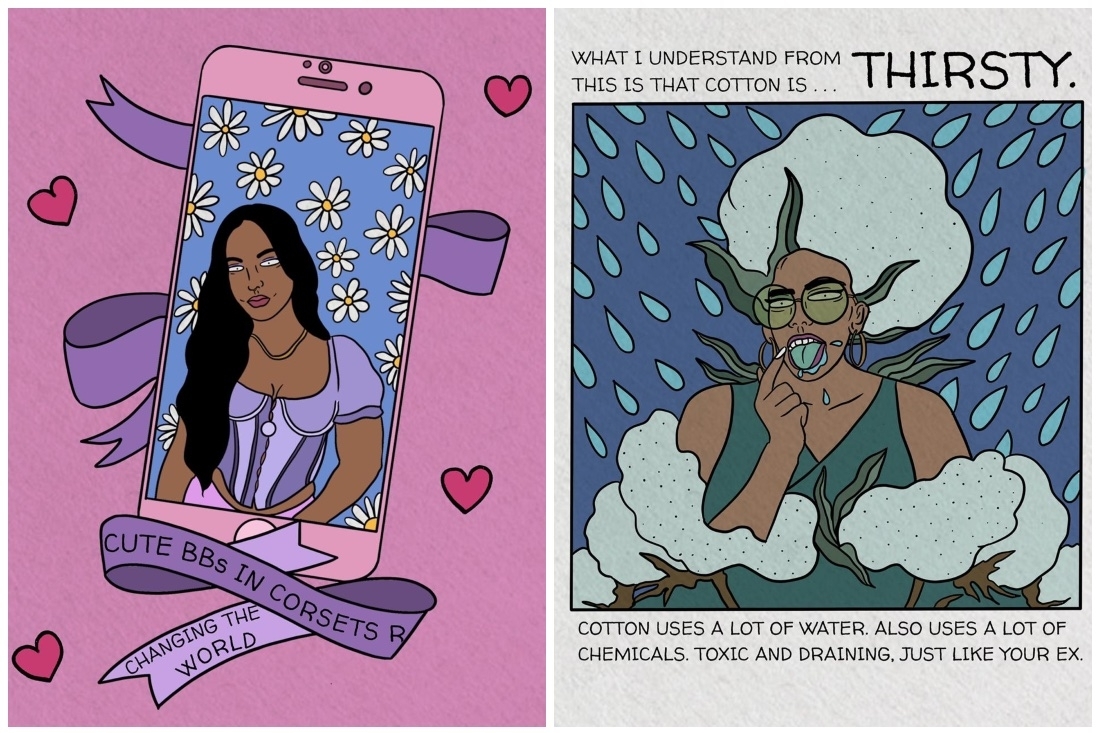 Image courtesy: The Artist and The ReFashion Hub
ReFashion Hub: Priyanka Paul
It is well established that the fast fashion industry is one of the most polluting on Earth. A single cotton shirt uses up to 3,000 litres of water to make and a denim jacket takes 7,500 litres — enough drinking water for one person for six years. Dynamic, youth-focused programmes conceptualised to create a conversation and a call to action around this pressing issue are the certainly need of the hour. ReFashion Hub, a collective working to bring together multiple stakeholders invested in wastewater reuse and management in the textile industry with long term positive climate impact, has hence collaborated with seven Indian artists and graphic designers to create a series of specially commissioned artworks and comic strips, that capture a sarcastic take on producing a T-shirt, and the resources that it drains, with a key focus on water wastage.
Of the seven artists, we are in conversation with Priyanka Paul, the artist behind the popular account Artwhoring on Instagram, to know more about her artistic sensibility and the collaboration.

How were you led towards the world of art?
I've always drawn, ever since I was a kid, but then the internet opened up to me a world of fantastic and brilliant illustrators from every corner of the world and I so desperately wanted to make art and illustrate, that I observed and observed and tried out art on whatever I could get my hands on, and at the moment it happened to be a raggedy old note phone with a stylus and I practiced and practiced and created and kept making and well, here I am.
What inspires you as an artist?
Everything. Everything that happens to me in a day. The food I eat, the music I hear, the history I come from, the people I meet, the other art and news I consume everyday. I believe I'm a storyteller first and so I've always wanted my work to tell my own stories. My work has always been about exploring the themes of social justice and self exploration, both of which I believe are thoroughly inspired by the ideas of love and life, and the fight for a better life and exploring the different ways of living and navigating this crazy world we live in.
Can you tell us about the artists that have influenced your work so far?
I don't think artists have influenced my work directly, they've influenced me perhaps, but I've always wanted my work to be a strong reflection of who I am. I'm in love with the work of so many artists who make my life worth it, who make me feel seen.
How would you define your artistic sensibility?
My artistic sensibilities have always been rooted in making art approachable, of starting a conversation through art, for my art to be something that you can connect with without it seeming intimidating. Which is why I talk about daunting topics — topics of marginalisation in pastel colours or poetry. I think the point of my art has always been to reach out, to create and to create a sense of diverse and alternate ways of understanding.
What was your creative process like behind the work you've made for your collaboration with the ReFashion Hub?
The creative process was super easy. I did a bunch of research and because it involved a lot of numbers and statistics (something my brain isn't very good at handling), I knew I had to make it funny. Humour comes easy to me. I think the world is scary and serious and bad things keep happening, and apart from being my favourite coping mechanism, humour, I believe, is the best way to get a point across and to tell a story, and that's what I did.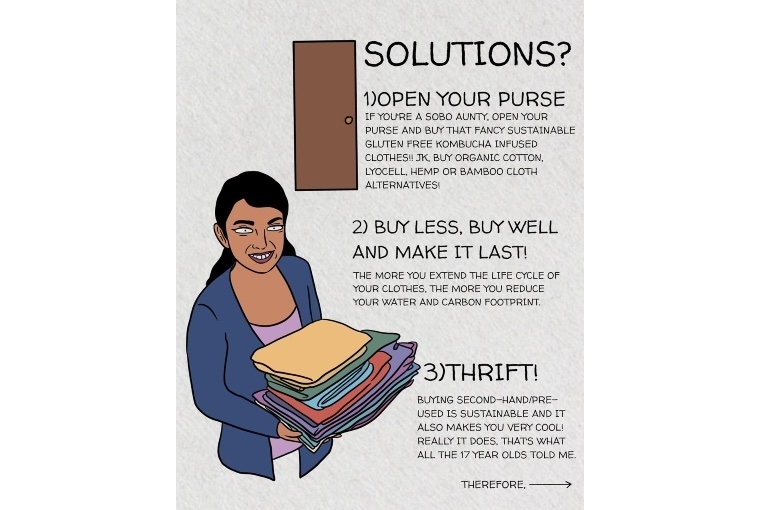 What are your views on the space an artist has in the society today?
I've always believed that artists are important voices of our times, today or in the past. And that in times of turmoil, we have the gift and also the duty of being able to make people feel, to make people think and I believe using that is paramount. I don't believe in art for the sake of eye-candy. I care for art and all it's revolutionary capacities, no matter how small.
Lastly, what are you working on next?
I never exactly know what I'm working on next, but as usual, my work will continue to talk about and document internet culture, caste and class in the country, queerness, understanding the different ways in which I feel and navigate this world because every day is a challenge and honestly anything that pops into my brain. As long as I'm creating something, I'll be okay.
Text Nidhi Verma
Date 18-02-2021