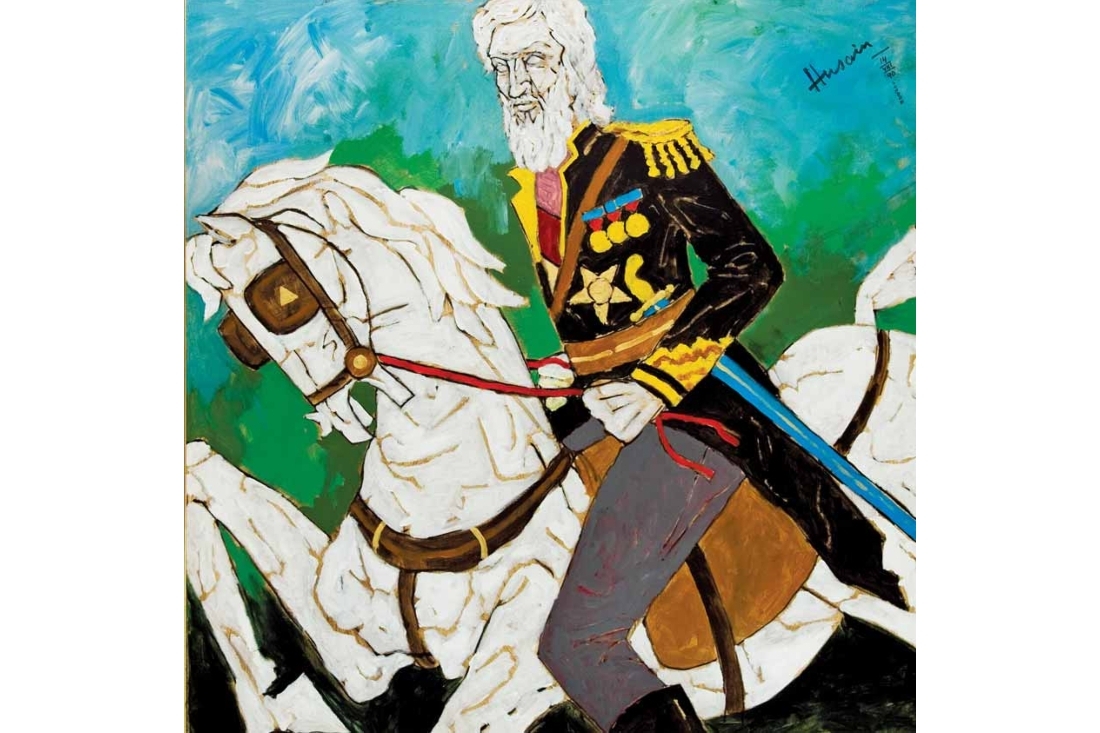 The Legend That is M.F. Husain
He Is known as Maqbool at home, red-Ferrari-wale-dada for his grandson and is M.F. Husain to the world. His superior virtuosity, enormous versatility and incredible originality elevate him to a stature very few have risen to. He is undoubtedly one of the foremost figures in 20th and 21st century art. An artist, a filmmaker, a writer and above all a complete human being–India is yet to see another legend that is Maqbool Fida Husain.
Since childhood I have been deeply fascinated by the sheer presence of Husain Sa'ab. Initially it was his demeanour and interesting quirks, be it walking around bare feet or carrying his signature paintbrush. Whenever he is around there's an air of intrigue and fascination. When he talks you can't help but listen. His stories span nine decades.Each leaf from his book of life drops with knowledge. Be it life under the British rule, celebrations in Mumbai post independence, the Progressive Art Movement, his various encounters with the press or a life in exile. The stories are never ending and will live on for eternity.
Born to a family that belonged to the Sulemani community whose ancestors came from Yemen, Husain lost his mother when he was just a year-and-a-half-old and found himself in a household filled with men. The prolonged absence of a woman in his life later reflected in his art, including his Mother Teresa series and to an extent his fascination for the female figure. His closeness with his grandfather is seen in his early paintings, where a recurring image of a bearded old man is present. This remains a motif in many of his works through the decades.
The love of art has been inherent in Husain since he was six 'I was crazy about images right from the beginning. At the age of 11 I realized that the paintbrush would be synonymous with me. My father was an accountant in a textile mill and I lived in Indore. There was no gallery and no museum. So there were no direct influences, there was just a streak of interest that made me paint.' He came to Bombay in the late 30s with no real job. To make ends meet he began painting cinema hoardings and later toys and furniture. Even though he was in Bombay for 18 years, he not once exhibited or sold his paintings as he felt he was not ready. Instead he attended shows, exhibitions, read books and soaked in a lot of what was happening. 'It was post independence in 1948 when I sold my first painting; I was 40-years-old at the time. When independence was declared I was in Bombay in the midst of all the celebrations. Like many others I went around the city dancing and singing, I was so inspired that our country is free!' It was then that he entered the art world, and was invited to join the Progressive Art Movement along with Francis Newton Souza and S. H. Raza. Others associated with the group included S.K. Bakre, Akbar Padamsee and Tyeb Mehta. Their only mission was to find the answer to a simple question – What should be the language of Indian art?
Husain's creativity manifested itself in numerous mediums, including painting, sculpture, drawing, film and writing. His revolutionary artistic accomplishments brought him universal renown throughout his life. Humanity and human beings were and have always been Husain's greatest inspiration. To discover the essence of the Indian woman has been his search. 'In my entire life I never cease to look at things as an art form. I don't see a stool as a stool; I see it as a form. My visual memory is very strong, many things get registered and get transformed in my art some way or the other. So far my mind has never gone blank. I don't know what getting bored means because I feel there is so much one has to and can do that one lifetime is not enough. I never plan; I keep doing things as they come. I am forever searching and forever working.'
Husain became an active participant in the colourful world of canvas and paint. He emerged from the unknown and into the spotlight, seamlessly. His distinctive artistic expression spread in India and soon flared across the globe. The 50s saw Husain step out of his home ground and travel the world. He interacted with artists in China, soaked in European art that he had only seen in books, became acquainted with Matisse and Cezanne. And simultaneously, exhibited in Paris at Salon de Mai, the Venice Biennale, Brazil at Sao Paulo Biennale and won the National Award from The Lalit Kala Academy and an award at the Tokyo Biennale. Husain was reigning and had proved his capability and talent. He was instrumental in leading Indian art into the contemporary world. Along with his achievements through his travels he experienced one of the strongest human emotions – love! In 1956 he visited Prague to exhibit and fell in love with his interpreter to whom he gifted his entire show. Forty years later in 2006, she returned his paintings to him. It was the love he felt for Maria that was expressed through the many woman figures in his paintings and art works.
To many he might just be known as an artist, however, his multi-disciplinarian interests spread far and wide. His love for beauty and his poetic expression made its presence felt in film and writing as well. 'People thought I only painted horses and lately nudes but this is all wrong. I seek beauty everywhere. I am known as an artist because painting made me famous but there are many other aspects to my life. I am very involved in economics, science and technology. Art constitutes only 10% of my being the rest of me is spread in various other directions. I don't think people will be able to comprehend such a vast vision, therefore I don't want to clarify or justify anything to anyone because I'm busy with my work and I'm happy even if 10% of the people get my work.'

Film is a medium that Husain has been fascinated with since childhood. He remembers his father's second marriage as a film. 'Film is a complete medium as it encompasses all the arts. Art is incomplete without film.' It was the intrigue and fascination for motion pictures that led Husain to direct his first film Through the Eyes of a Painter which went on to be screened at the Berlin Film Festival and even won a Golden Bear. The subject of his next film was a tribute to womanhood, and his muse Madhuri Dixit played the lead character. Gaja Gamini portrayed various forms of the female being through the different avatars that Madhuri impersonated. 'There is no actress as special as Madhuri. Even, Ashok Kumar had said, "that India over the past century had not seen such a complete actress."' She was one of his many muses but has remained an all time favourite. 'I love women, from 8 to 80. My muses have been many, including Mother Teresa and Indira Gandhi.' A visual delight, the film garnered praise more for its stunning canvas and artistic brilliance as opposed to its story.
Today Husain is one of the most celebrated figures of our time, be it for his famous art works or infamous encounters with the media. He defines this decade as one of exile. Even though his country, the one he lived in for eight decades whose contemporary cultural identity he helped build has misjudged him and his actions, yet he has no reservations against it. 'The essence of Indian civilization is celebration. Life and even death is a celebration. My feelings for India have not changed even the slightest. For me India is not the 20% who live in the cities it is the remaining 80% who reside in rural India – that is India for me and that is the strength of our country.' The love for his country, art and more importantly humanity made Husain express his concerns. 'Not that I love art less but I love humanity more. Whatever I have done I have done with deep conviction for love and humanity and if anyone's feelings are hurt, I apologize.' Living between Dubai and London, Husain is at a stage in his life where he seems to be living life on his own terms. His passion, interest and hobbies are all being fulfilled without scrutiny. Be it his love for cars or homes or travel, Husain is on the go.

'I am currently working on four major series and that's one of the reasons I left India as there it's difficult to find sponsors and the tax is heavy!' In London he is working on a series of artwork based on the History of Indian civilization from Mohendjaro to Manmohan Singh. And, he is creating artwork based on the history of Arab civilization for the Sheikha of Qatar. He is also working on a series on the Mahabharata and finally a massive piece on the 100 years of Indian cinema, which is being sponsored by the Abudabi Sheikh. 'I did a lot of research for it as I am a keen student of cinema. I have already done four to five panels of 30ft long artworks.'
No wonder then that even a thesis on M.F Husain wouldn't be able to do justice to the prolific artist and evolved human being he has become over the decades. His reputation has risen exponentially to a level where Indian art is unimaginable without him. The energy and quickness with which he attacks his work is fierce. In no time does he complete one that he moves on to the other. Every living artist feels his towering presence. An inspiration, an icon, a master, and the most prominent face of Modern Indian Art – Husain is our living legend!

On the occasion of the late virtuoso's birthday we revisit a conversation that was initially published in our January-February issue 2010 and is a part of our extensive archive.
Text Shruti Kapur Malhotra