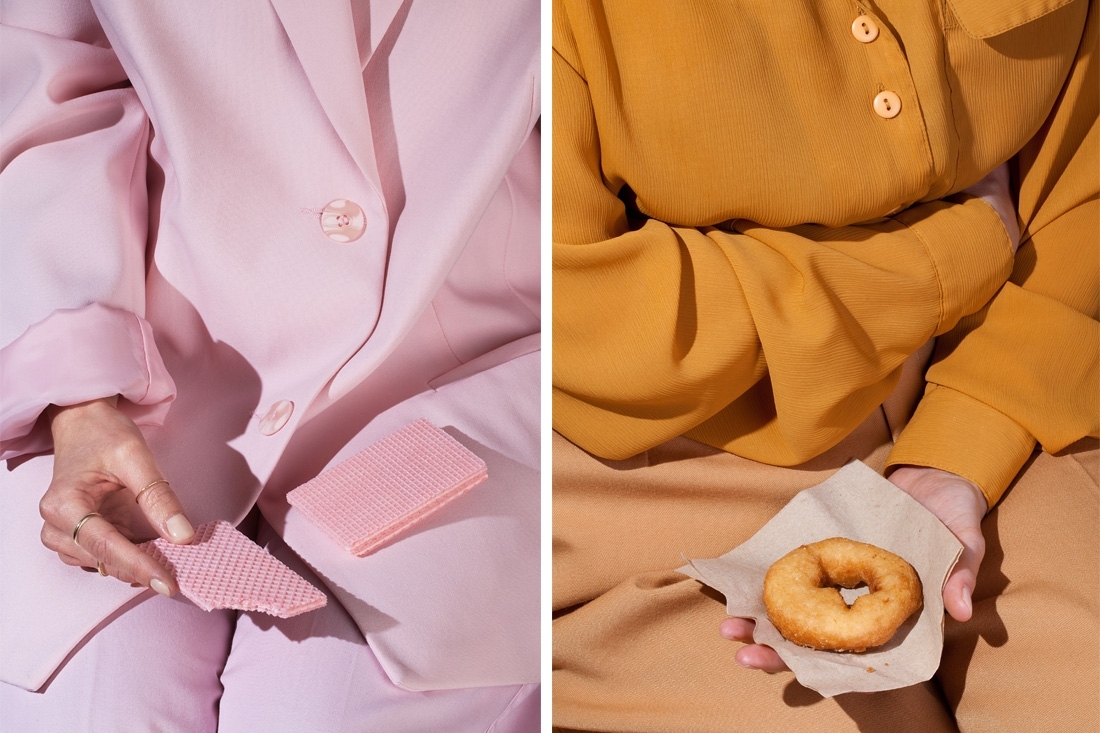 Photography by Kelsey McClellan | Art Direction by Michelle Maguire
Shuttling between work and home and stuck in our routines as our life passes by us at warp speed, sometimes sitting down at a table for a meal feels almost a luxury. When Kelsey McClellan and Michelle Maguire spotted a commuter here or a lunch-breaker there grabbing a snack on the go, they decided to capture these wonted moments and re-interpret them. Wardrobe Snacks, their strangely satisfying photo series, features striking and tasteful images that lend a certain character to the unnoticed mundanities of daily life. Simple yet compelling, the series is imagined in a considered colour palette with an array of snacks – from a hashbrown tucked in a pocket, a donut resting on a napkin, to a hand holding an oyster. Photographer Kelsey and art director Michelle walk us through the series, their aesthetic and their collective, Dusty.

Tell me a little about yourselves and your collective, Dusty. When and how did the both of you meet and start working together?
Michelle: We first met back in 2013 while working on Jeni Britton Bauer's Jeni's Splendid Ice Cream Desserts cookbook here in Columbus, Ohio — I prop-styled a portion of the photos and Kelsey shot. Since then, we've created our own projects to shoot every chance we get — it allows us freedom to experiment and it's always fun. We make a really great duo. Right now Dusty is cross-country, with Kelsey based in San Francisco and me in Columbus. We're constantly devising a plan to travel to each other's homebase or meet somewhere in the middle for a shoot. The ultimate goal is to live in the same city again.

Kelsey: We decided to form Dusty to showcase the growing collection of our joint projects. We wanted to create a name and space for the works that was more accessible to people - other than only sharing on our personal sites. We had been talking about it for awhile but we knew it was time once we had Wardrobe Snack prints to share!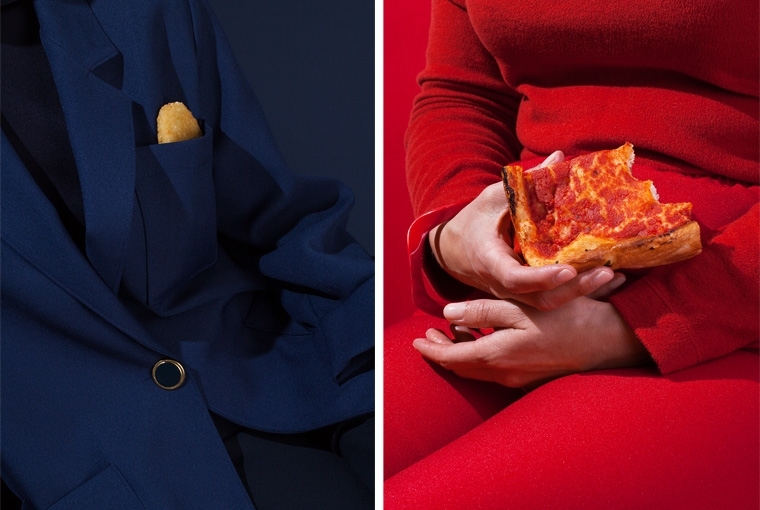 What inspired Wardrobe Snacks?
Wardrobe Snacks was inspired by diners lacking the luxury of being seated at a table: Michelle's stepdad who rests his sandwich on his thigh in between bites (hell with a plate!) while he blasts an action movie on his TV; a commuter cramped up on a crowded bus retrieving an item from a bag or pocket; a lunch-breaker on a park bench eating from her lap. They're informal — perhaps even a bit awkward — spaces as far as eating is concerned, yet the diners always appear to be comfortable and perfectly satisfied with their chosen snack, almost zen-like. The series was kickstarted by the desire to re-create and stylize these small moments I'd observed.
Wardrobe Snacks grabs one's attention with its clean, measured colour palette. How important is colour in your practise?
Michelle: It's everything, and in the case of this particular series, it is where each image begins. We start with a color — either muted or vibrant — then play around with subtle shifts in tint within the wardrobe, the edible prop, the backdrop. To be successful, the color palettes must feel good individually and also when paired with the rest of the group.

Kelsey: Color has always been a huge focus in our work. We were very careful to make sure the image accurately represented the true colors of the clothing and the food, while also being careful to keep skin tones consistent across the series.
What informs your sensibilities when it comes to your work? How similar or dissimilar are your individual aesthetics?
Michelle: I guess the same sensibilities that apply to my daily life: paying attention to details and finding beauty and humor and entertainment in even the most mundane goings-on.

Kelsey: Our aesthetics are very similar, as far as what we are drawn to in image-making as well as out in the world. We are both informed by what we observe and are drawn to, and both value humor within the commonplace.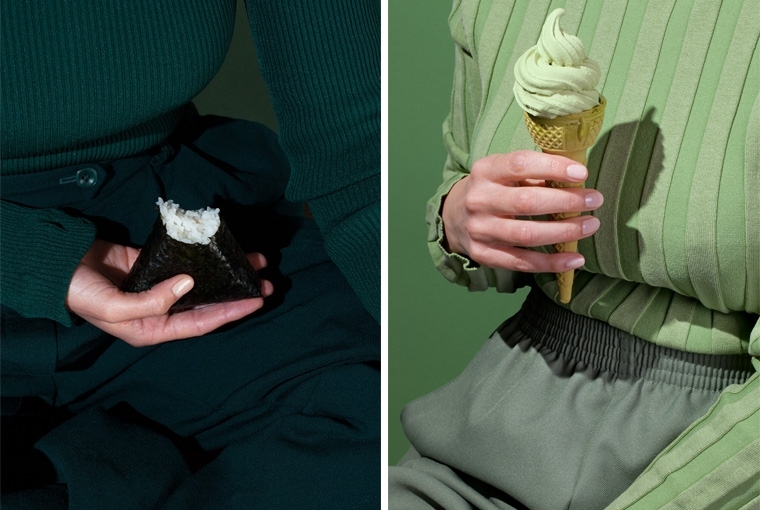 I can't help but notice that a considerable chunk of your work deals with food. Why is that?
Michelle: Aside from being such visually appealing props — so many wonderfully attractive forms and textures and colors — to slip into a composition, I associate food with pleasure. It's an opportunity to create a sensory experience for yourself 3 to 5 times a day! I once heard a man say that if he could, he would just take a pill for his sustenance, rather than hassle to find food all of the time, which is completely insane to me.

Kelsey: I think I am drawn to food because it is often very beautiful and can be associated with so many different things/memories depending on the viewer. Food can be very nostalgic for people and I really enjoy presenting it in small, idealized vignettes.
What's next for Dusty?
Michelle: We're going to keep moving with Wardrobe Snacks, shooting a few more pieces to round out the series while continuing to push its prints, and maybe eventually try to have a show — would love to see them BIG! And we've just been contacted by a really cool chocolatier who's got an idea for a commission. It's a really great feeling. Hopefully it all keeps leading to new things.


Text Ritupriya Basu