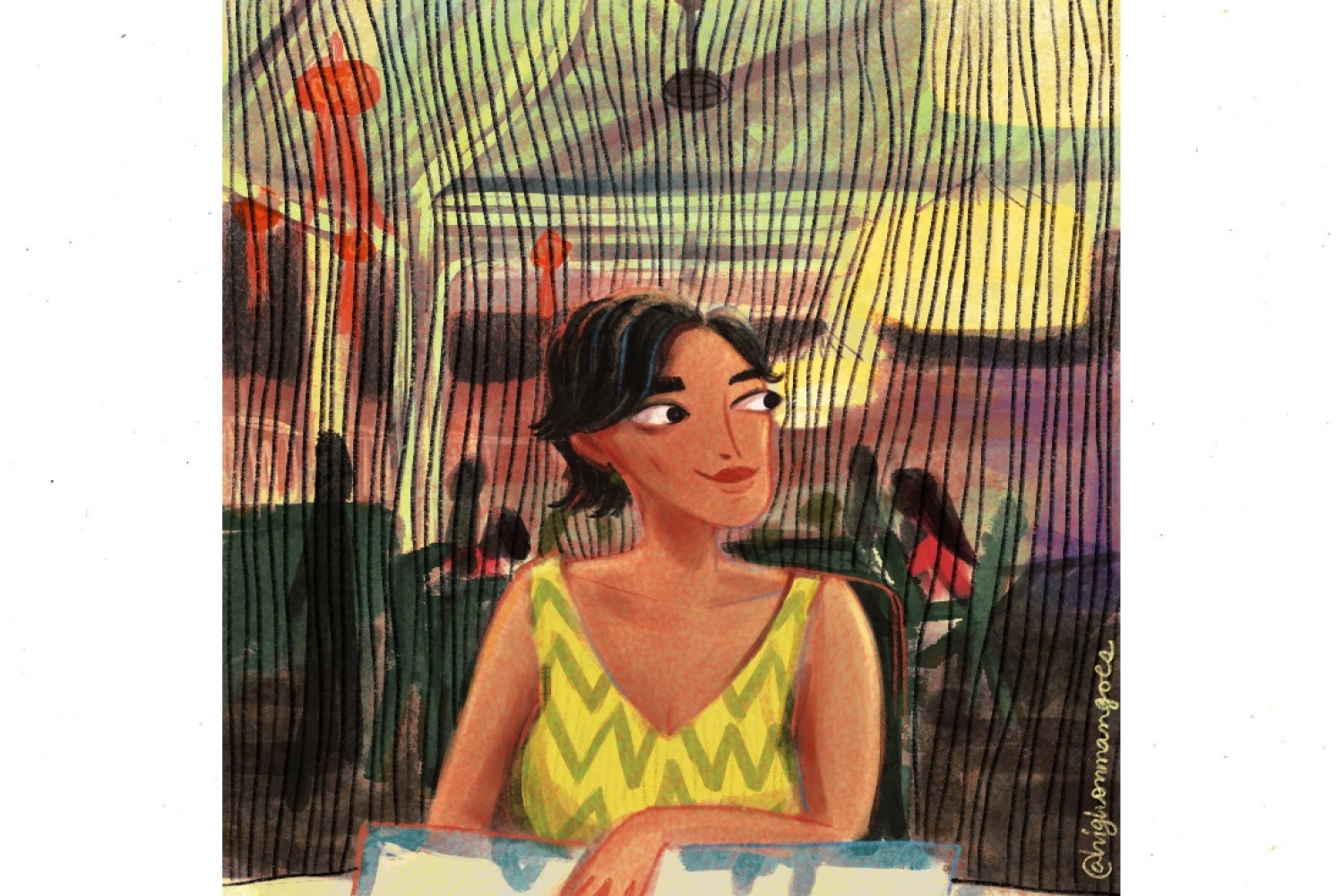 Designer Aaryama Somayaji grew up as a starry-eyed kid, watching everything that aired on television with intense concentration. As someone who moved around considerably, a wide variety of television programs and books were her only constants in life. Now based out of the capital, Aaryama works as a freelance illustrator-designer. She creates illustrations for books and designs covers. She also draws and documents food stories for brands and her small Instagram community. The designer graduated from NID, Andhra Pradesh in 2019 with a degree in Communication Design and spent the last semester of her four-year course as an intern at HarperCollins India, which is how she ended up in the book-making industry. Below, she tells us all about her process and more.
THE INSTAGRAM PAGE
Initially, it was like any other art page, where I would post my latest illustrations to document my growth as a freelancer and to show prospective clients my range and thought process. Now, I like to think of Highonmangoes as a space where I talk about my life using illustration as a tool, with a good dash of book covers, children's books, client projects and my love for my ultimate muse, food.
THE INSPIRATION
I am inspired by whatever I consume, be it food, books, anime, films, documentaries, or even funny stories my friends tell me. I later digest these via my sketchbooks, where I draw without thinking too much. I absolutely love scenes that are quintessentially Indian, like how our mums like to keep lots of plastic bags inside one big plastic bag. Or the ceramic birni of lemon pickle soaking the sun. Or that aunty asking for extra dhaniya-mirchi from the vegetable vendor. Those are the kind of things that stick in my mind the most.
THE PROCESS
For my personal work, I look through my sketchbook and find a dormant idea. There's always few half-done sketches waiting for me to take them further. The process is mostly iterative, I stop when I feel like I'm doing more harm than good.
For my professional work, I spend a lot of time with the brief stewing in my mind before I put things down on paper. I like to know the dimensions and visual constraints of a project. The idea of a completely blank canvas is not very appealing, so even knowing what I cannot do is strangely helpful. Once the sketches and initial drafts are done, I wait for approval and feedback. Then it's pretty much the same iterative process, the difference being that the client is in the loop.
THE ARTIST IN THE MAKING
I am no longer on a quest to find a voice, like the younger version of me. Everyday I am closer to establishing it and that's the best I can do. As long as I keep telling stories that are true to me, the voice will develop itself. To be honest, I fear reaching a point of stagnation as well, so for now I just draw.
THE FUTURE
I am documenting more food stories on my Instagram this month as it is "Food February". I have been thinking about how and why people eat what they eat. I want to document the eating-related nuances across cultures and visually represent these. This will remain in the works for a while. Other than that, I am working on a couple of book covers, and a really exciting children's book project I am dying to tell people about.

This article is an all exclusive from our March EZ. To read more such articles follow the link here.

Text Unnati Saini
Date 22-03-2022