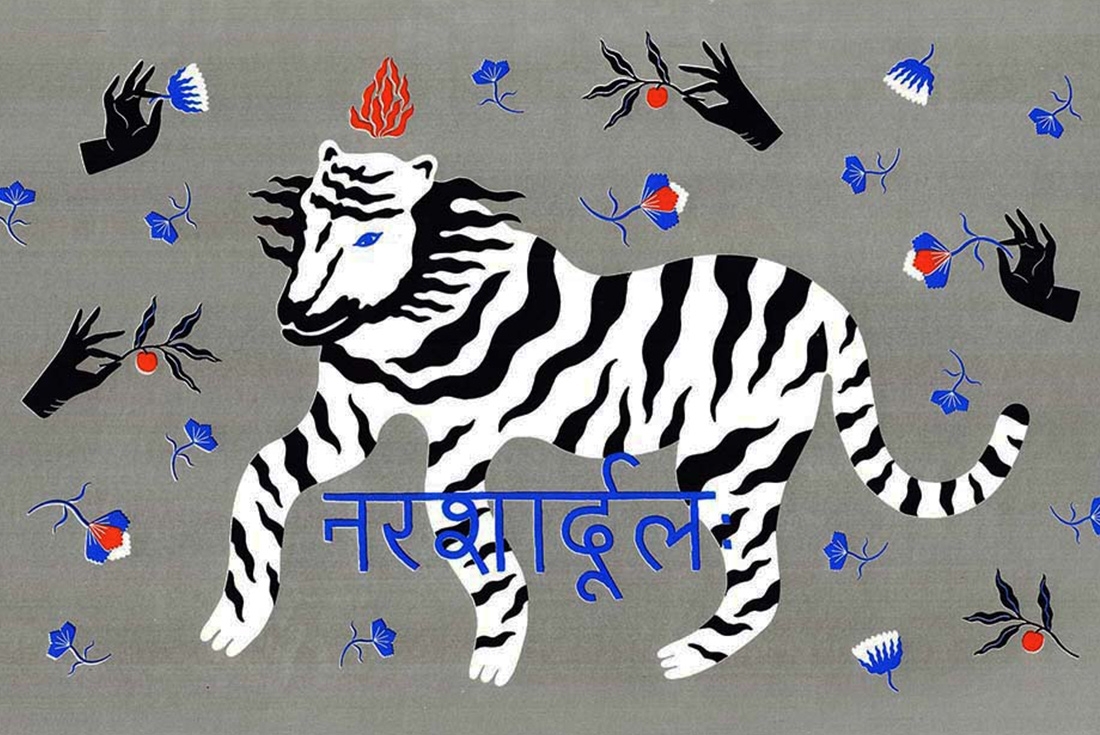 Latvian illustrator Agnese Taurina's work is bold, sensual and richly layered. Filtering and reflecting multifaceted influences from cultural undercurrents to classical poster design, her illustrative style is idiosyncratic. The recent Central Saint Martins graduate has already found a strong voice, and worked on some exemplary projects, both commercial and self-initiated. Her artworks reflect her fascination with different states of mind, rendering them in richly illustrative strokes. Agnese finds inspiration in nature, animals, mysticism and mythology. Her new-found interest in Indian philosophy subtly percolates into her art, adding a sharp edge to an already well-defined aesthetic. Her piece Nature and Culture questions our volatile relationship with nature - it seems that we prefer to see it tamed and captured rather than face it in it's realness and wilderness. We glorify nature but still keep destroying it. The Tigress is inspired by thoughts of self-confidence, contemplation and satisfaction. Despite the fact that words in Sanskrit describes her physical beauty (the word in Devanagari script, ayatalocana, means 'the wide-eyed one' whereas sumadhyama means 'the fair-waisted one') it is all actually about the state of mind. 'My enquiries in Indian philosophy shaped another piece - Tiger among Men is inspired by a phrase from the story about Nala and Damayanti . In my view The Tiger is a person who can live a balanced life inspite of the chaos around him. Hands that are pouring flowers over the tiger emphasise his auspicious position,' says Agnese. The young-gun recently completed an illustration for an indie magazine - Little Atoms. The Sun was born out of a discussion between a science and a poet about their views of the celestial star. 'Little Atoms magazine invited me to a very interesting event called Two Cultures that was held in Waterstones flagship store, Piccadilly, London. There was a scientist and a poet discussing The Sun from their perspectives. I was asked to create an image based on their discussion. The scientist was talking about many colours of The Sun when photographed in different wavelengths, and also about the fact that The Sun is much more dynamic than we usually imagine - there are explosions on it's surface all the time. So I combined this idea about the colourful and dynamic Sun with the the poet's idea about The Sun as a female,' she sums up. A considered, curated color palette and a mystical and sensual aesthetic identify Agnese's body of work. She has only just begun to explore how far she can dive into her passion and has no plans of looking back. I connect with her over a string of emails and she takes me through her creative process and the larger influences that shape her work.
Tell me a little about yourself.
I am an image-maker who enjoys exploring themes such as contemplation, trance, pleasure and other similar states of mind. My favourite medium of expression is large scale, screen-printed illustrations/artworks.

Did your childhood and your family contribute to your journey as an illustrator?
Yes, my parents were very supportive - at some point they noticed my interest in creating things and sent me to art classes for children. Later I joined primary school with a focus to arts and crafts, then I studied Art and Design secondary school. All along I was supported by my parents. When I was a teen my mother launched a design shop in Riga and I was often working there and helping with many things.
But the initiative to study at Central Saint Martins in London was totally my own as it was clear that my family couldn't fund the expensive life in London. So that was the moment when I started to make my way independently.

Tell me about your sensibilities when it comes to your work.
Well, creation is something very sacred to me. It is important for me to put my complete energy into my work. I find it distasteful when I see work that are made just because an artist was under pressure from a gallery or a degree show deadline. When I do not have a strong feeling about an illustration/artwork I am not forcing myself to create it. So I am relatively slow at making new work - I am not one of those illustrators just doodling around. I focus a lot on one work, sometimes developing it over a long period of time, and I put a lot of myself in these works.

Three words that describe your work?
Bold, mystical, sensual.

What is your first memory of drawing?
It was either an illustration of an imaginary aquarium at kindergarten or planet Earth at my grandparents house - I am not sure which came first.

If there's one thing you've learnt from your time at Central Saint Martins that you are always going to carry with you, what would it be?
To be true to self.

How would you describe your illustrative style? How did you develop it?
While at Central Saint Martins I developed an interest in poster aesthetics - I think it has shaped my style in the long run. I always seek for clarity and balance in my work, also I usually work with limited amount of colours - all of these features are quite characteristic to classical poster design. At Saint Martins we were not really encouraged to stick with a personal style but rather were taught to focus on a strong idea - and I quite agree with my tutors on this issue. I haven't really worked towards my style - it just suddenly came to me. But on the other hand - if I look back at artworks that I made when I was 14, I can see some continuity, and also development of a style I have had for a very long time.

How and when did you develop an interest in Indian philosophy? How does your interest translate into your work?
I was 16 when I joined a yoga class with a focus towards meditation, pranayama and yoga philosophy. At that time I wasn't really going any further than that. The real interest begun when my boyfriend started his Oriental and Sanskrit studies in London. Since then I am surrounded by books of Ancient Indian texts and conversations related to Indian philosophy. As I am a keen reader I just read some these materials myself. I still don't have a solid, systematic knowledge but only in bits and pieces. However this information around me at some point started to manifest in my works.

Take me through your design process. What are the things that inspire you?
Usually it starts when I somehow mystically catch the idea about a particular illustration/artwork. Then I create quite general sketches. And after that I do my research about almost each element - vase, rug, flowers, fabrics and other objects I am planning to include . I like to look in museum archives. I sketch different versions of each element. Then I put it all together like making a collage. The last step is to screen-print the image.
Overall I am curious about different things - architecture, design history, books. I try to feed my mind with quality information and then these fragments can transform into new combinations and outcomes that form a basis for my images.
What criteria do you look for when taking up a [a] commercial project; [b] self-initiated project?
It is easy with personal projects - whenever I feel an urge that I cannot resist, I create a work. About commercial projects - at this stage in my career I am open to different things as far as they match with my ethical guidelines. I try to work with companies and people who promote wellbeing not work against it.

What does 2017 hold for you? Where are you going from here?
2017 seems to be quite an interesting year. I will take a part in Affordable Art Fair in London, Hampstead this spring. I am organising an exhibition at my home town - Riga right now. Then there is one ongoing cosmetics packaging project for which I am creating a bit more abstract designs that merge graphic design and illustration. Also I am invited to take a part as a graphic designer/illustrator in a book project about yoga that will be published in Latvia. And I hope that there will be many more exciting things that I am not aware about yet.

Take a look at Agnese's work here.


Text Ritupriya Basu