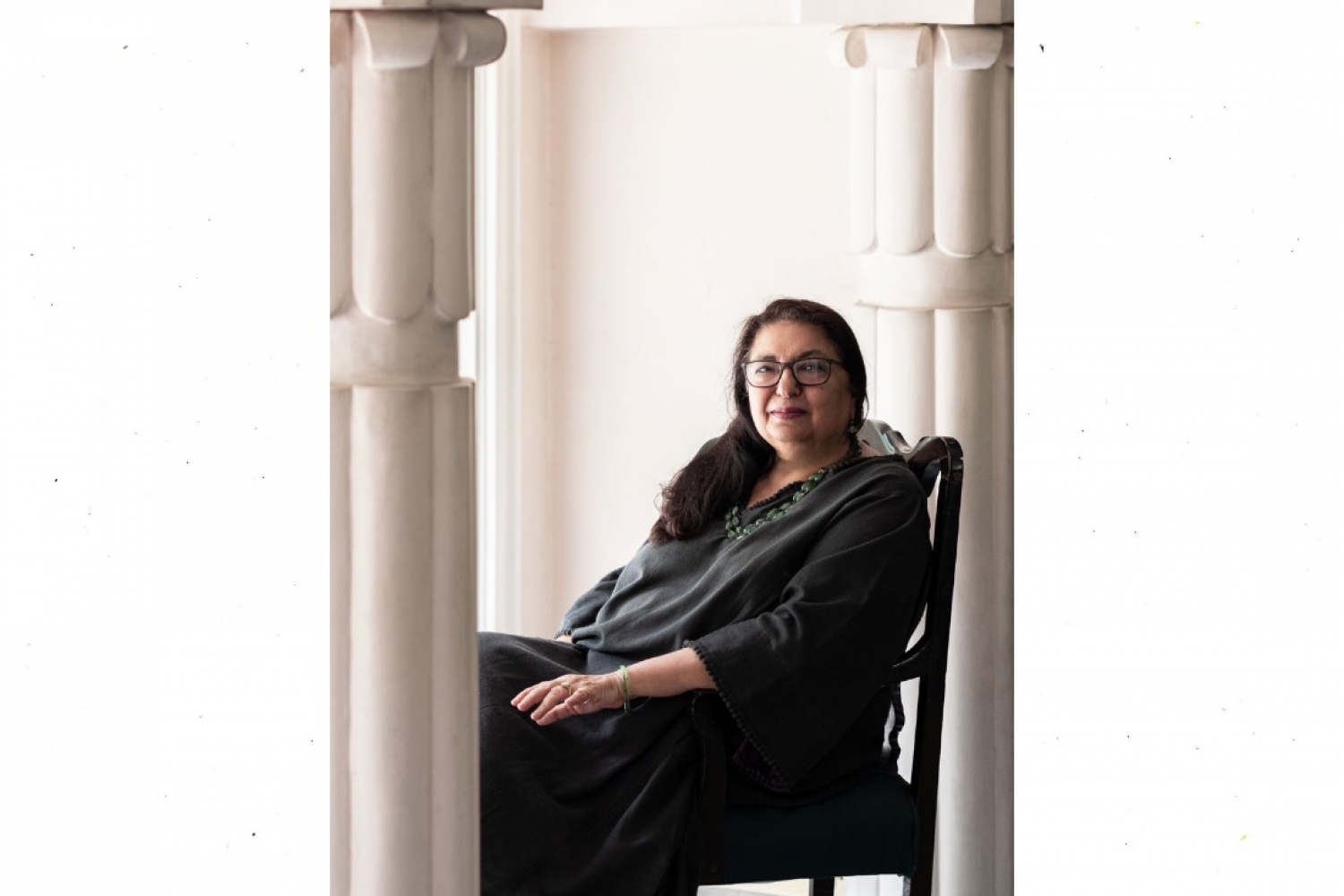 Within the hubbub of busy metropolitan cities, the crush of crowds and clamouring voices, there is a safe haven. It has the power to extricate one from the madness, into the heart of quietude, with the calming fragrance of neroli and the guilty pleasure of standing still. It is the coming of age of Good Earth. Originally launched as a pottery studio, a quarter of a century ago, today it stands ten stunningly designed stores strong; large spaces fabricated with a wine bar — India's first — or restaurant and abundantly sump- tuous interiors. Good Earth is not just a brand or a store of interiors, it is proud to be the baroque and subtle embellishment in our homes, the 'jadaoo' or embedded art, that adds to the Indianness of our décor. It is the enchantment of keeping an age old art alive, and as patrons, we become participants of that vision.
The magic of Good Earth is in it being recognised globally by the colours and style synonymous with each and every product. The myriad blues that span across shades, from firozi to indigo, so much a part of our natural, traditional dyes. The rani pinks and fuschsias shot with amber, the colours in which our goddesses are garbed, representing the richness of our culture that is, in essence, so deeply respectful to women. This resonates so deeply with a company like Good Earth, whose employees are primarily women and have been hugely instrumental in its success, nurturing the love Anita Lal shares for the merchandise, making each and every piece, a legacy.
Every single press release, article or review written about Good Earth speaks volumes of the brand's commitment to showcasing kalamkari, hand blocking, Kansa or brasswork and papier mache, in its focus to applaud our Indian artisans. The Mughal prints, weaves, silks, brocade and natural dyes, preserve our innate artistic sensibilities, alongside the skills that have been passed down from generation to generation by dyers, weavers, embroiderers and brass workers. However, Good Earth does not give the west the opportunity to market our skills and sell them back to us.
This brand, more than any other, has stayed true to sustainability with its eclectic clothing, bone china, glass- ware and silk and cottons — beautiful draping, diaphanous feather light materials, silver and gold embroidery, making the ordinary extraordinary. In the past few years, their setting up a younger, accessible and fashionably bohemian Nicobar, demonstrates just how dynamically the brand shifts with the contemporary times while remaining true to form to tradition. In fact, the incompa- rable, whimsical poker set, with poker chips gilded with the ubiquitous lotus, elephants and palms, has ridden the new wave of attraction for the younger crowd, but has also, through design, turned time back to the card games played by maharajas and maharanis.
The less talked about feature of the brand is, in fact, the way it is run. Noor Enayat, a partner at Peepul Consulting, who handles public relations, Good Earth's Naintara, their public relations manager and Shagun, the brand's communication and marketing head, were not just bubbling with excitement about Good Earth's latest triumph, Bosporus, their adoration for Anita Lal — lovingly known as AL to all who are close to her — was palpa- ble even over the Zoom interface. It is not just the stunning new collection that features the typical rambling roses and elusive cheetah as motifs of the mysterious Byzantine, neither the imperial purples and midnight velvety blues, nor the delicious eccentricities of the brass hammered pomegranate and richly embroidered cushions, but the amazing empire Anita Lal has built. The girls' affection towards her is a wonderful testament to how she runs the company and has the unsurpassed gift of building loyalty into everyone who has been painted by the Good Earth brush, patrons and personnel alike.
Anita Lal is a breath of fresh air and a tornado all rolled into one. Her gentle and easy going demeanour is so inviting, however, through that softness, runs a thread of steel. Fiercely proud of her brand, she refuses to allow Western influences of 'fashionable minimalism' to steer her off course from the magnanimous lifestyle that is Indian. "Our hearts are maximal," is what she says and it rings true. She is, as every Indian should be, unapologetic about how we love our homes, with the innate understanding that they are, indeed, extensions of ourselves. "We have a warm heart, we have a generous life," she emphasises. She exudes charm and a wonderful humility, belying the fact that Good Earth is a brand worth a hundred and fifty crores today. As she reminisces her days of beginning a boutique that showcased pottery and flatware, she shares, "I had already developed a line of hand-painted dinner sets, which in India was unheard of because nobody had seen colour on their plates or their glasses." Smiling at herself, being quite a maverick then and twenty-five years on, she is unafraid to take the same gigantic leap of faith again.
The Bosporous collection is a marvel, seeing the west through the Indian lens, as opposed to it constantly being the other way around. The quintessential motifs, blended so beautifully with the Greek and English patterns, introduce a completely new design. This year, the Good Earth team also prides itself on having showcased at The Met in New York, and has previously been featured at the V&A in London. The most powerful force behind Anita Lal's success, is her philosophy of creating a culture, one that should resonate in all companies, everywhere. When profitability is spoken of, indeed, the emphasis is on money, but for AL, "It's the team of Good Earth that is very dear, that is very important." Artisans, employees and customers have all been faithful to Good Earth these past twenty five years and that, in itself, is a cause for great celebration.
Anita Lal has been careful with the growth of her stores, keeping them to a number that can be well managed and maintained. She recognises one tremendous fact, that retail sellers in a climate like today's face incredible challenges. Her shops are not in competition with each other, and that evens the scale for staff and buyers alike, "I try and make it more like a family where we just support each other. You know, a lot of it comes when you give, let's say, importance, trust, training, caring, and it's a continuous process. It's not something you can do once and leave." The emphasis on consistent training is a skill all businesses can use, and in a day and age when mobility in jobs is so marked, the loyalty and philosophy presented and practiced here is timeless. If someone wants a product that is not available at that particular outlet, her staff will move heaven and good earth to get it. Her bottom line, more than the sale, is success for all.
Good Earth's best kept secret is the majority of their staff being women. Not only does AL pride herself on taking care of them, she believes in the happiness at home translating to work and vice versa as the absolute truth, "Our culture is based on being very flexible and giving. It's very important that the women who work for me, their lives, their homes and their work, should be as happy and as easy." The pandemic and Good Earth's dealings with it were proof enough because there were no staff cuts, no salary cuts, and even though the stores were closed per force, work behind the scenes remained in full force. If hope had many other names, one would definitely be Good Earth. Her staff, whom she refers to as 'my greatest joy and my greatest success', worked tirelessly this Diwali, staying late, sourcing products, gift-wrapping large orders and shipping them not only between stores but to patrons as well. What was most beautiful is that she didn't ask them, this is how they returned her loyalty to them. 'Every person needs to feel valued and if you do that, then they also want to do the best they can,' she decrees.
At this point, when the world is reeling under the biggest lesson we are being given, Good Earth is just the spiritual guide we need for building togetherness. If there is someone from the business world, who does need more convincing, this would be the best case study of success. Anita Lal and Good Earth bring royalty back home.

This article is an all exclusive from our December EZ. To read more such articles follow the link here.

Text Pallavi Narain
Date 31-12-2021