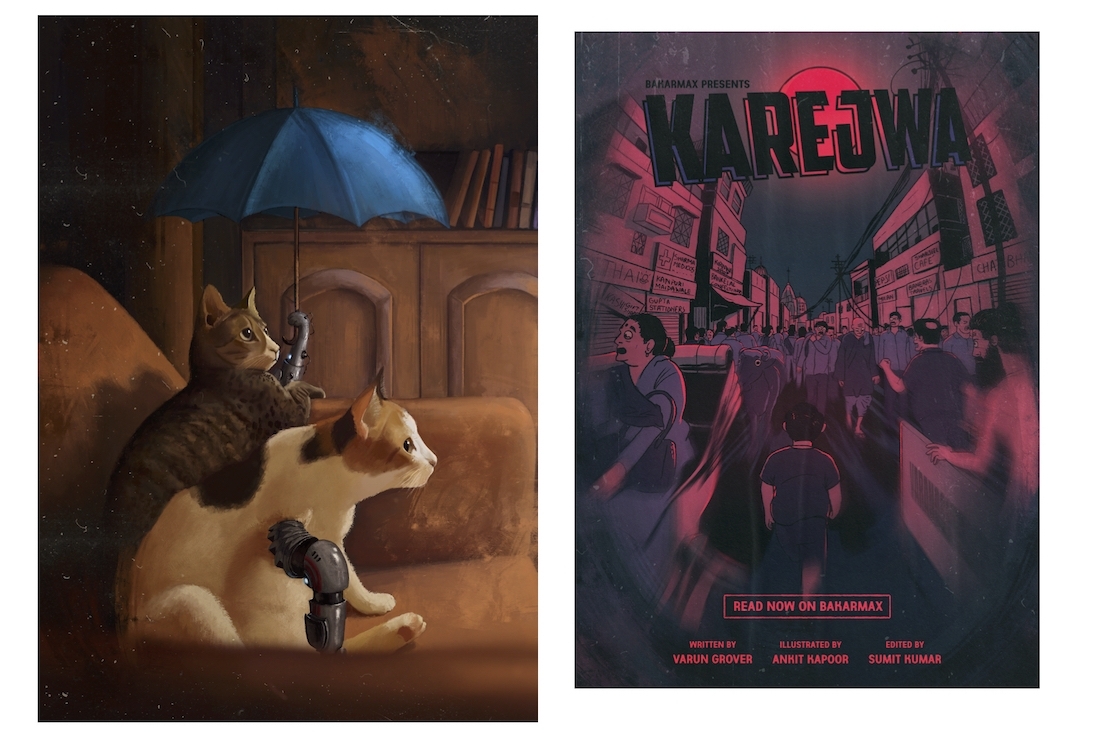 L: Cats ; R: Launch Poster
A plethora of digital platforms, including Instagram, have opened the doors for a fair share of graphic designers, to explore and build on their creative talents. One such designer and animator, Ankit Kapoor, is making art that resonates with his audience, simply because of how fun and quirky it is. Ankit's designs catapulted into popularity when he began juxtaposing traditional Indian elements with everyday scenes of our daily life, often also incorporating pop-culture references, which resulted in a unique amalgamation of graphic design and social commentary.
THE ARTIST
As a child, Ankit's artistic inclinations were feeble but prominent. Born and raised in Panchkula, Chandigarh, he was en route to study engineering but realised that he had no interest in it. Around the same time, he received a Wacom drawing tablet, which propelled him into the process of drawing digitally, and there was no turning back. 'I used to spend hours tinkering and trying to draw literally anything on Photoshop. It also provided a form of escape for me from studies,' he shares. Having graduated from Srishti Institute of Art, Design and Technology, Bangalore, he is currently freelancing as an artist who has already worked with the likes of Netflix and Applause Entertainment. Ankit also just completed a webcomic/graphic novella Karejwa, adapted from a short story by Varun Grover.
On the evolution of his work, from drawing sketches and doodles, to exploring this creative field on his own, Ankit explains, 'more than my skills, my thought process of how I approach a particular project has evolved over time. My work has come to revolve around ideas, more than being skill-centric. I have recently been inclined more towards comics and illustration, than animation and graphic design. Also, I have begun doing traditional acrylic painting which is really therapeutic. The fact that I can't just undo my mistakes is very liberating in a sense. It helps me get better as a digital artist and adds value to my work.'
L: Sex Ed ; R: Work From Home
THE ART
There's a lot that can be taken away from art, be it in any form. It has always been a powerful tool to materialise an individual's thoughts and ideas. Talking about what he seeks to convey with his work, Ankit shares, 'my first goal in creating anything is to convey my idea in the simplest form possible, so it is easy to understand — to make the audience feel what I had originally intended to. Also, a touch of humour always helps, hopefully.'
His latest project, a comic titled Karejwa, is as interesting to read as the name sounds. Surrounding the premise of a boy living in Varanasi, whose last wish is to eat a gulab jamun before an asteroid obliterates the Earth -- the comic was originally written by Varun Grover and published in the children's magazine Chakmak in 2015. In January of this year, it was adapted as a webcomic by Bakarmax. On this Ankit elucidates, 'I was interning with Bakarmax in the summer of 2017 during my third year of college, and upon reading Karejwa, I wanted to adapt it into a comic. It started a three year-long journey, including a research trip to Varanasi, leading to me leaving my job in December 2019 and committing to the comic full time.'
Karejwa is available to read online for free on karejwa.bakarmax.com.
THE CREATIVE PROCESS
The fictional worlds of Lord of the Rings, Star Wars, et cetera, that existed in cinema and books perhaps inspired a whole generation. The idea of something coming to life, out of a person's head and capturing everyone's imagination, has always driven Ankit to create art. 'Creating an imaginary world that feels more real than reality has always been one of my dreams,' he explains. 'I feel like there needs to be a balanced amount of consumption and creation for me to be at my creative best. Consumption can be any form of media/references or even experiences. I tend to come up with better ideas if I consume a lot of content and then give myself enough uninterrupted time to create something,' he further adds.
The creative process for the crowd in general, and artists in particular, can be hindered during challenging times like the one we are currently in. But the work of an array of artists online has kept Ankit hopeful and inspired. He shares, 'as a full-time freelancer, the commissioned work I do is mostly guided by whatever the client requires, which actually gives my time a little structure, since I have to adhere to deadlines. Personal work is where I tend to explore whatever interests me the most and I really enjoy not having any boundaries placed on what I can do.' He describes the obstacles he has had to face by saying, 'the most challenging aspect of being a freelancer is probably getting work to the table, rather than work itself, which I definitely struggle with sometimes. Also, quite a few other things that they don't teach you in design school like talking to the client in a language that is considered 'professional', quoting for money, making invoices/contracts, coordinating with art directors, time management, et cetera.'
He adds, 'one of the several negative outcomes that the pandemic has brought about in our lives, the 'work from home' scenario, has led to your workspace and personal space blending into each other so much so that it's hard to draw boundaries when you can literally see your bed while working.'
THE FUTURE
On the post pandemic scenario and what it's going to look like for the world of digital art as well as his personal endeavours, Ankit shares, 'I currently have an ongoing series on my Instagram which mocks and tries to give a satirical twist to the current scenario(s), by showcasing ridiculous and absurd products in the form of a useless PSA. This kind of topical content can only be effective if the publishing is instant and easy to reach to a large number of people. Even though the pandemic has made it harder to communicate effectively, a lot more people are going to consume media digitally now than going out to a gallery, or even watching a movie is going to become a risk and a luxury. This, accompanied by increasing accessibility to faster internet by a much wider audience every day is just going to make digital art really important. Moreover, I think the future of digital illustration will soon explore new boundaries in terms of VR, AR and other experiential story-telling methods, which I'm really excited about.'
Text Samadrita Khasnabis