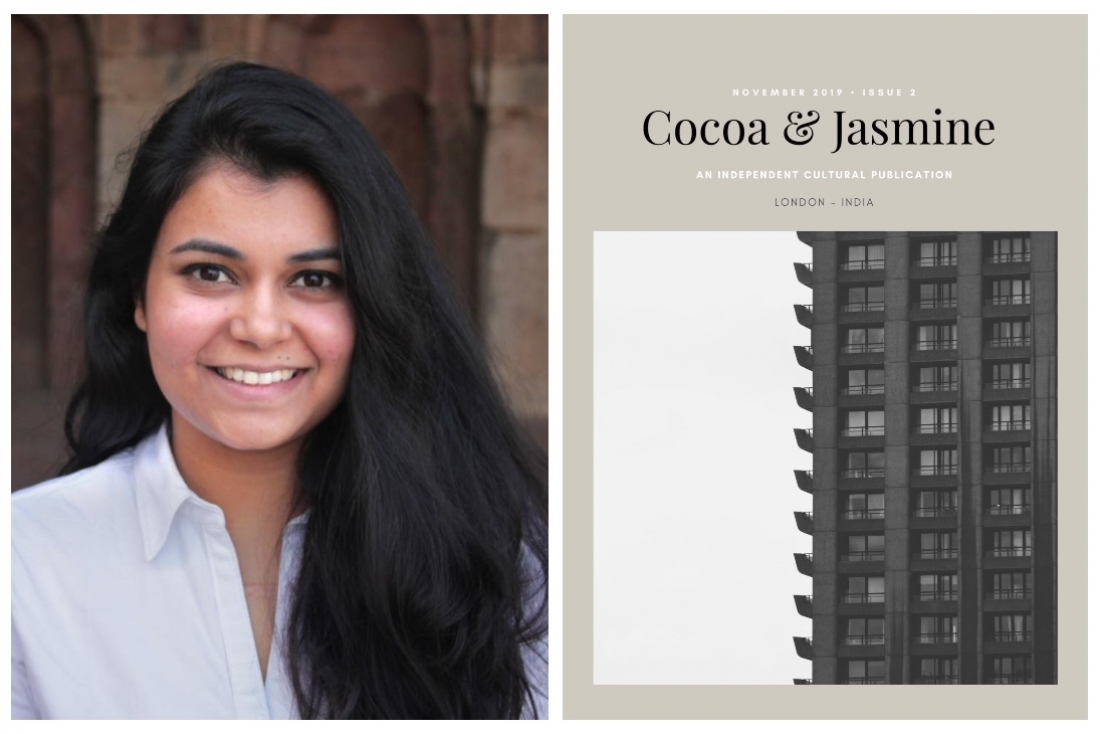 Cocoa and Jasmine, a cultural platform that facilitates multi disciplinary and cross-cultural collaborations and conversations between various creatives, organisations and cultural entrepreneurs, is the brainchild of artist and designer Sayali Goyal. The boutique consultancy, conceptualises and executes many multi cultural projects that involve documentation, curation and art direction. Alongside a creative publication, they are keenly involved in curating independent exhibits and discussions open to public that brings together a community of creatives in different cities around the world. Naturally, now they are venturing towards hosting their first creative residency at The Johri in Jaipur this month.
In conversation with Sayali about the conception of Cocoa and Jasmine, creative entrepreneurship in our times, and the upcoming residency.
Could you tell us a little bit about yourself and your relationship with the arts and culture?
I am trained to be a textile and fashion designer. I went to the University of Arts in London, and since then I've worked in various different fields. I began as a textile designer in Bombay, then I worked as an editorial assistant in Berlin for a Moroccan brand, post which I worked in fashion marketing in Delhi. As an artist, cosmos and nature really inspire me. I am typical ambivert. I can stay quiet for a week and stay just with my own thoughts. I am someone who is really inspired by mysticism, the nature, the sun, the moon, the stars, birds. During this particular time, when I was painting a lot, I was reading about cultures where mysticism has been very popular. For instance, Ibn Batuta, who was traveller from the thirteenth century, travelled in great geography but he was always following the moon and the sun. A lot of art from these regions, like Morocco, Egypt, Middle East and the silk route, has a lot of symbolism in it. Also in my paintings you will see a lot of reference to texture and textile. I was trained to be a textile designer, so my style of painting has a lot of texture in it. It is not realistic or surrealistic, it is more abstract. Abstract expressionism is a school that excites me the most.
What led to the creation of Cocoa and Jasmine?
About four years ago I conceived Cocoa and Jasmine and at that time I didn't have a very clear idea about what to do with it because magazine is just a part of it. I wanted to create a cultural collective of sorts, which works in a multi-disciplinary space and facilitates cross-cultural collaboration. So it is a very hybrid agency that does different things. We do an annual print journal, which covers arts, crafts, design and slow travel. We are also a full-fledged creative agency. I have an online art shop coming up in the next couple of months, which will retail vintage art objects, as well as art prints. I do annual art exhibitions as well. Now we've kind of ventured into experiences and residencies, which focus on bringing a community together, who work with traditional crafts, but create contemporary design.
What informs or inspires your work at Cocoa and Jasmine?
Indigenous cultures. Cultures where they have a lot of history but are also reinventing themselves. India is obviously a clear example, but to give you another example, our next issue focuses on Mexico and Morocco. I have always been very intrigued by these cultures so we're travelling there, we'll live there for a few months, we'll meet lots of people and that's how we'll put together this one issue. So the soul of the magazine lies in my love for different cultures and their varied aspects. Visual and material culture are generally on top of my list. In general, looking at what is happening in these local cultures and how it affects a larger global conversation about them is what interests me.
To talk about some of the recent work we've been doing, I was part of this month long panel discussion with the British Council. They have a panel called Crafting Futures, and I was one of their members from India. We were putting together this report for the World Craft Council. I am now also a visiting lecturer in a couple of colleges and universities, one of them being my college at University of Arts, London. I am also mentoring students in Publishing and writing a paper for the Anthropology department of one of the leading colleges in U.K. So education has become a key focus. We also keep collaborating with the people in the arts, so I am doing a series of interviews for Niyogi Books. In fashion, I provide consulting for some brands. For instance there is a Benarasi textile brand that actually wants to create contemporary clothing for global women, so I am consulting them and creatively directing them. We thus have a diverse portfolio.
How was the Creative Residency at Jaipur conceived?
I have to travel to Jaipur a lot for work, and in the past couple of years I have been meeting such interesting people that I realised that Jaipur truly is the design capital of India. And it really has to come forward and get its due. So the reason to do this residency was to put this idea forward wherein we explore traditional craft, but in a contemporary light. For example, Paris and Milan have got their due of being known as fashion capitals, whereas luxury fashion and products are also being made in Jaipur, including jewellery, homeware. I though this was a good opportunity to bring together a community that engages in this discussion.
It is a three-day residency because this is the first time we're doing it, so it is experimental. I've tried to curate something in different formats. On the first day it will open with a panel discussion, then we have design walks and field trips to actual artisans. We have a workshop with a mixed-media designer where people actually get to make something. We're visiting an independent textile museum, and then there are live demonstrations and studio visits. So it is a very dynamic program, where we want people with different backgrounds to come together and hopefully promote new ideas and collaborations amidst them.
Could you tell us a bit about how the collaboration with The Johri come about.
Well I stayed at The Johri and I thought it was really amazing. The way they've redone this old haveli in such a luxurious manner and used all local crafts in styling it. Naina Shah, who is a designer based in in New York, has really brought that kind of vision to the property and the energy was great. So I reached out to them because I thought it was incredible that people could stay in this old bazaar, yet in a very luxurious, comfortable and inspiring space.
What role do you think creative agencies and entrepreneurship in general has in our society today, especially with the backdrop of an ongoing pandemic?
Any kind of creative business, anything which is visual, brings a qualitative aspect to our lives. Whether it is a craft, or a piece of art, or a beautiful piece of furniture, all of this came from a creative person and adds that qualitative affect. So honestly during the pandemic it has become even more important because we were spending so much time at our homes, we were introspecting, we were engaging in some or the other kind of art form, whether it was music or movies or painting or reading. So creativity has become even more important now as it bring that quality to our lives.
In terms of where creative entrepreneurship is today, there is no one answer. Different creative businesses have responded differently to it. For us it has been great in terms of creative growth. I've gotten a chance to think deeply about why I am doing certain things and some brilliant ideas have come to me. Just having this time to introspect. I was also painting a lot and have come up with this retreat, which will happen most likely in September, called Healing with Arts. I will most probably be collaborating with a space again, currently I am thinking Vana in Dehradun. This came out of the pandemic. In terms of economic opportunities, of course that has affected my business a lot. The people I work with have a lack of funds because their further consumers are currently not buying their products or there is less cash flow. The print magazine for example, also suffered quite a bit because the airports and museums were shut, and none of the festivals happened. The great thing however is that we are re-innovating. I am looking at the business model completely differently and in a new light, and thinking of now just working from home because it works better for me. So it is a mixed feeling.

What are your plans for the rest of the year ahead?
Such amazing plans but let's see if Covid allows us to achieve them all. For now I am travelling to Mexico and Morocco in March for the print issue, which will come out end of April or beginning of May. There's an exhibition called Indigo and Charcoal that I'll be curating soon, which also has some of the artworks I made during the pandemic. The key subject is symbolism for it. We have the residency now and the retreat in September. Hopefully we'll also start travelling for Issue number 4, which will be coming out in early 2022. We'll cover Israel, Lebanon and Uzbekistan for it. Of course travel is all up in the air now and this will work out only if Covid allows us, but we have quite big plans.

Text Nidhi Verma