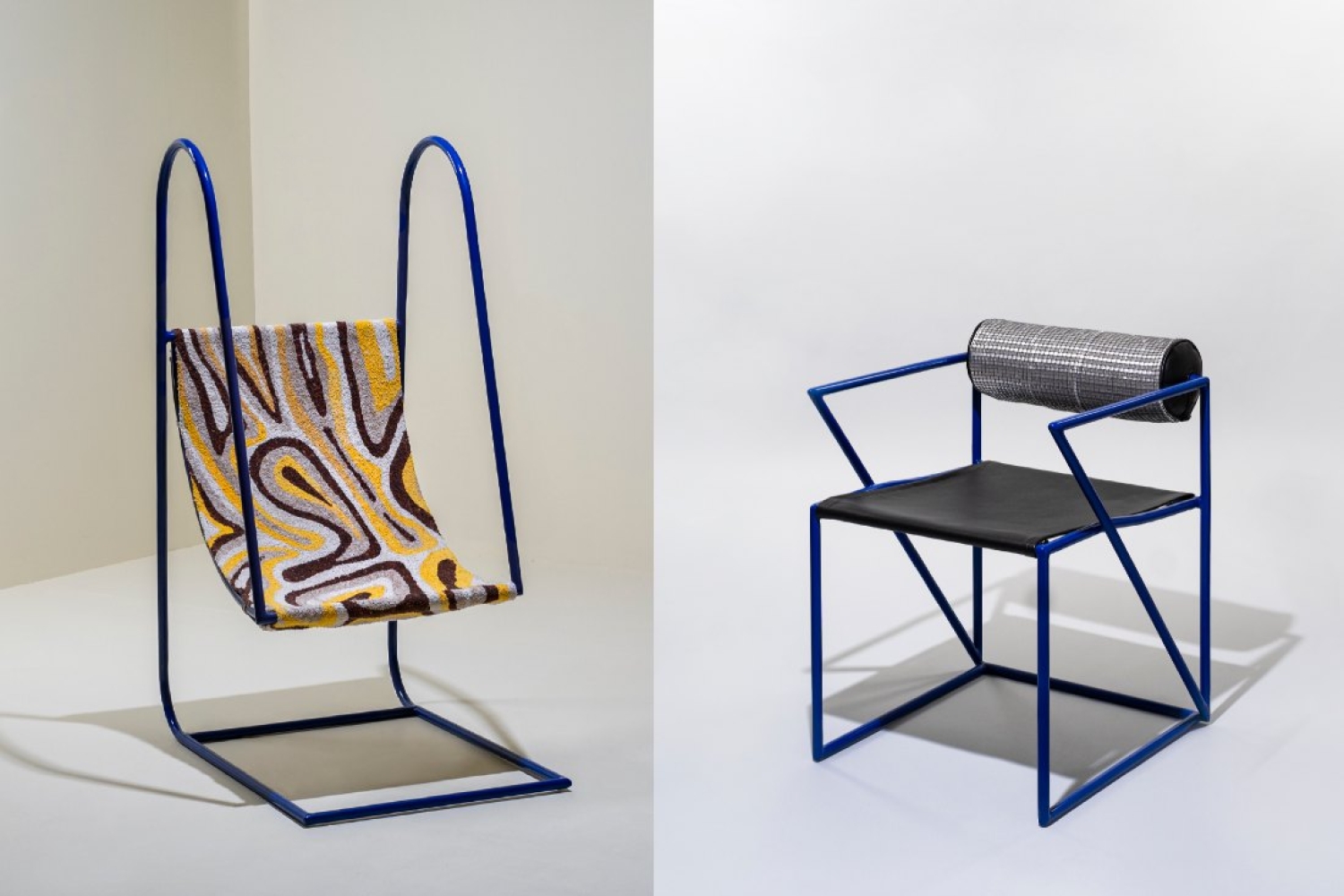 Founded by Jannat Gill and Sharon Sethi, Daera amalgamates the girls' professional experience of working with other designers and creative artists across diverse domains such as art, graphic design and public relations, with apparel and lifestyle projects. In 2020, they acquired a twenty-year-old firm, Hidden Gallery, and started manufacturing furniture and accessories in-house. In the latter part of 2022, the studio also started collaborating with the mega real estate company, 32nd Milestone, for exclusive interiors, products and consultation across multiple upcoming projects. Taking inspiration from the authentic 'daeras' or mound settlements, the studio attempts to create designs that bridge cultures from the past with the future. In addition to executing residential, commercial and retail projects, the girls also explore interior design by creating furniture.
The brains behind the studio, Jannat and Sharon shed light on their design journey and what makes Daera.
Let's go back a bit, how did the two of you meet and decide to collaborate?
Jannat: I was pursuing my undergraduate degree in Architecture at the University of Southern California in Los Angeles. However, I later switched my major to a Bachelor of Arts, focusing on graphic design. While interning with the interior designer Maxime Jacquet in Hollywood, I discovered interior design as my calling. I met Sharon when I was working for Maxime and Sharon was working at Flaunt. The two of us clicked, and we moved in together. During this time, we often discussed collaborating on something together or starting a business focused on design.
Sharon: I have a degree in Fashion and Business from the Academy of Art University and FIDM (California). While I had worked at Flaunt Magazine, Los Angeles, covering stories on Hollywood celebrities and stylists like Laury Smith and Monica Rose, I realised the growth ladder was slower. While fashion was more technical and limited in creative possibilities, interior design allowed me the creative freedom to do more.
Jannat: In 2015, I moved back to India, got married and settled in Delhi, and did the interiors for my house. The house got much attention and even bagged a publication in a reputed design magazine. I executed another lounge for a family friend post which we got an inquiry to design a home.
Sharon: While I was all set to return to the U.S., I decided to stay and explore this opportunity. We got our first meeting scheduled and surprisingly got our first project right away. This home was the first project Jannat and I decided to take on together and there was no looking back after.
How would you describe your design sensibilities?
Daera has a diverse portfolio of work, including residential, retail and office spaces. Our collaborative design sensibilities are a fusion of our design curiosity and community influences. Reflecting on the immersion of cultural narratives in global design and post-modern aesthetics, our collections are a subtle nod to our cultural conscience. We lean towards experimentation, and most of our designs and products are driven by a strong narrative, making a statement through texture, colour or form. Good craftsmanship and high-quality materials have been integral to our design process. We like working with natural materials such as wood, stone, terrazzo, brass, cane, cotton, and linen as they age beautifully and thus add character and warmth to a space. Although Daera as a brand primarily delivers premium and eclectic designs, it fuses varied sensibilities such as minimalism, classical and even bohemian while playing with colour, art and texture.
How did it come together for Daera? Also, what is the meaning behind its name?
Jannat: My early professional journey kicked off with JJ Valaya. While I enjoyed working with him, I wanted to expand my worldview of design. After I finished designing my home, I was flooded with queries and realised that this was the time to follow my creative voice and started Daera as a collective design venture in collaboration with Sharon. While Daera started off by designing tribal jewellery in India, it eventually transformed into a creative practice that holistically approached all design forms.
In less than half a decade since its foundation, Daera has collated an exciting portfolio of projects, including celebrity and influencer homes, a Gurugram bed and breakfast home and offices/outlets for boutique brands such as Arata, Sleepy Owl and Dirty Good. Also, through the Lunar collection, our in-house furniture and product line, we have consciously minimised the need for mass production, thus resulting in a lower carbon footprint. Adding to this is our Deara x Cancelled Plans, a collection collaboratively made with Ar. Mallika Reddy, helps drive the circular economy, whereby non-hazardous pharmaceutical waste is collected and converted into a purposeful design for everyday products.
Daera means settlements. Settlements have evolved over centuries, traversing river banks and foothills to set up temporary abodes — 'Daeras'. These collective homes and intimate communities are shaped by their journeys. They influence their identity; their objects and tokens carry the history of the places they have called home. Likewise, the structure of our modern cities is enriched by the innumerable cultures we have experienced. Daera Life is a humble attempt to blend cultures and build an imaginative and dependable world. We wish to pour life into our inanimate offerings through objects, art, and tangible typographies. We aspire to gather the scattered cultural history of these daeras, which only exist in memory with what is real today.
Can you tell us what inspires your design and what lies at the core of Daera?
Most of our inspiration towards work comes from our travels and discussions together. Daera is cultivated by the philosophy that "we are the sum of all the journeys that we have taken". The brand believes no design is too small when you place it in its world. Therefore, more than a specific type of project, the studio focuses on the possibility of creating something new where exploration, experimentation and affordability take centre stage.
What inspired your latest collection?
We have two new collections: Daera Lunar collection and Daera x Cancelled Plans. Indicative of the name, the moon's phases inspire the Daera Lunar collection. Crescent and circular forms are seen throughout the collection in perfectly rounded teak wood members, cane accents and hand-polished marble. This collection is playful with its shapes and colours but very serious regarding functionality and craftsmanship. The Daera x Cancelled Plans collection focuses on sustainability with the use of fabrics woven from pharmaceutical waste and the use of lead-free paint. The Bauhaus era inspires futuristic forms and metal has been used to draw attention to the waste set in resin and sustainable fabrics. The fabrics mimic topographical maps to symbolise paths taken.
What were your learnings from acquiring Hidden Gallery?
Initially, Sharon and I would source furniture and customise it ourselves. Since our designs have always been forward-thinking, we focused on experimenting extensively with materials. However, many vendors did not want to do something outside their comfort zone. We struggled with the execution and then, of course, with the timelines. In our early years, we often sourced furniture from the highly creative Hidden Gallery and saw our vision aligning with theirs aesthetically. They already had a team with marvellous craftsmanship and over two decades of expertise. What started as a partnership eventually led to us acquiring the Hidden Gallery as the owner wanted to retire and move back to London. This enabled us to develop manufacturing facilities, and all manufacturing at Daera is now done in-house.
The most significant learning after acquiring the Hidden Gallery has been product design. Designing a product is different from executing it. While we had basic product knowledge, executing drawings in person was an ample learning opportunity. Our experience directly working with craftspersons and artisans helped us understand that one must respect the unique characteristics and nature of each material. For instance, wood expands with time, while veneer might not. No two natural materials are the same and this has been our biggest learning so far after acquiring the Hidden Gallery.
What are you working on currently? Can you tell me a little about your upcoming project with 32nd Milestone?
We are developing a new collection emphasising the 'less is more' philosophy. The entire range is solid oak and focuses on craftsmanship, joinery, and natural wood. Also, the studio is collaborating with the mega real estate company 32nd Milestone for exclusive interiors and products for multiple upcoming projects. Our experimental approach to all projects unfolds a unique story about the practice. So, if you want beautiful pieces that can stand the test of time and last generations while staying relevant, stay tuned!
Words Hansika Lohani
Date 02-03-2023