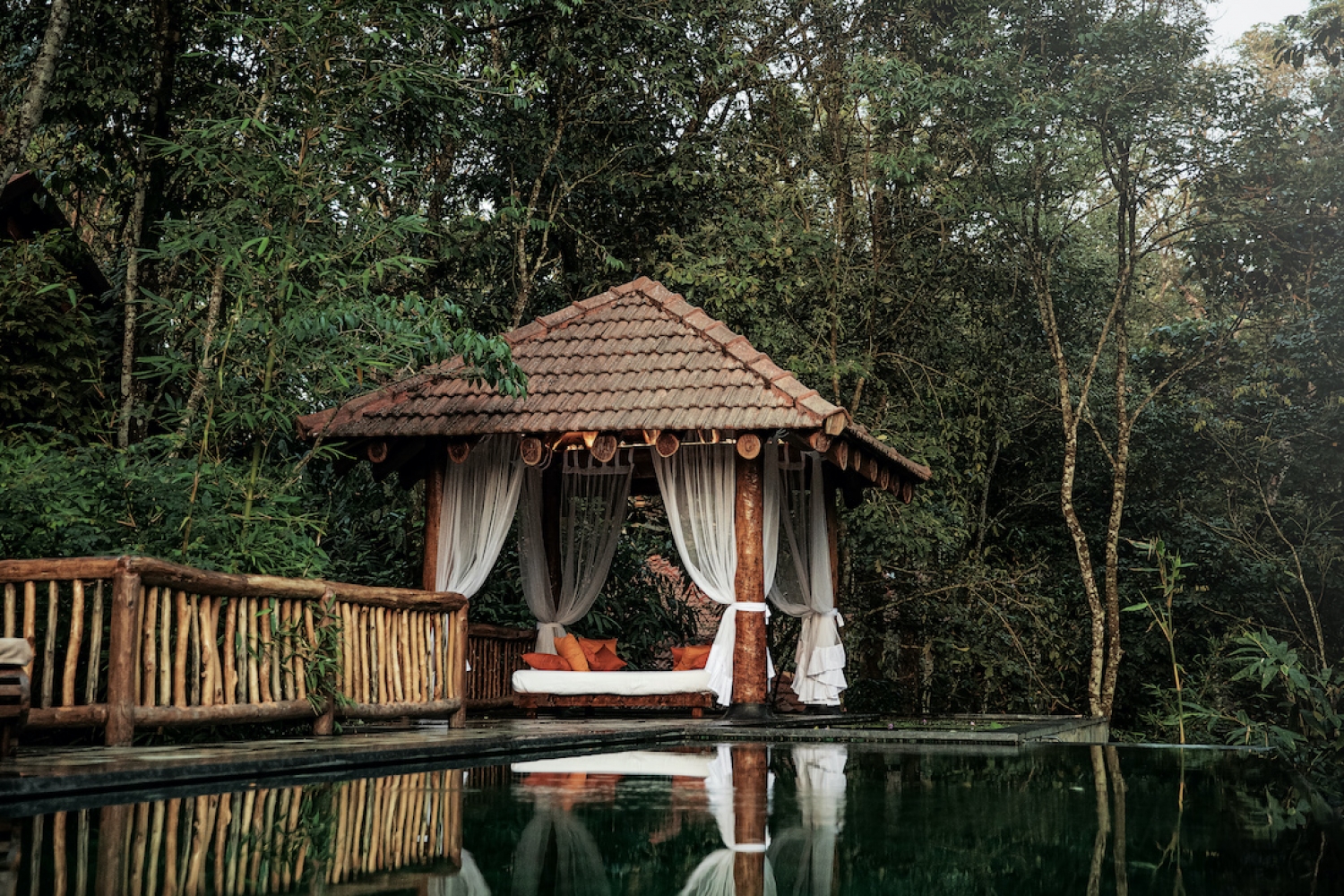 'We are Earthitects. We describe ourselves as Architects of the Earth,' says George E. Ramapuram, MD and Principal Architect of Earthitects. The architecture firm's singular focus on 'creating around nature rather than on it', has made sustainable architecture and living a reality, rather than a distant dream. With their new residential project in Wayanad, Kerala, called the Stone Lodges, they're insistent on promoting a lifestyle rooted in nature. So we got in touch with George E. Ramapuram, who tells us more about the project, the need for reverse urbanisation, the importance of sustainability in their blueprint, and more.
What defines your design philosophy at Earthitects?
Surrounded by nature, from my earliest years, my core belief is that God is the greatest Architect and Nature is the greatest design to ever exist. This core belief, ingrained in consequently every member of Earthitects, has resulted in harnessing nature to facilitate 'life' in its abundance by enabling the fullest enjoyment of God's creations. This inbuilt sensitivity of our signature design style finds expression in every Earthitects' creation. Being passionate about pioneering, creating, and constantly innovating a positive change in the way we as a world 'live', led us on the quest to create a concept of 'living' which would allow us as a species and our world to experience 'living' to the fullest. In experiencing 'life in its abundance', the outcome is an ecologically-conscious design that works closely with the environment, with an uncompromising need for the perfectly balanced relationship between man, the built space, and the natural environment.
What is your approach to design — how would you deconstruct your practice?
We are Earthitects. We describe ourselves as Architects of the Earth. Rooted in the values of the land, we believe that every dwelling should blend seamlessly into its natural habitat and emanate from the very earth that binds us all, staying true to our philosophy by creating 'around' nature rather than 'on' it. This has been the light that has guided us in any design journey we embarked on, like the design of the globally acclaimed Evolve Back Resorts and while envisioning our Private Residences at tranquil destinations. Ecologically-conscious design and careful selection of materials provided by nature that age gracefully, is our guiding principle in any endeavor we undertake.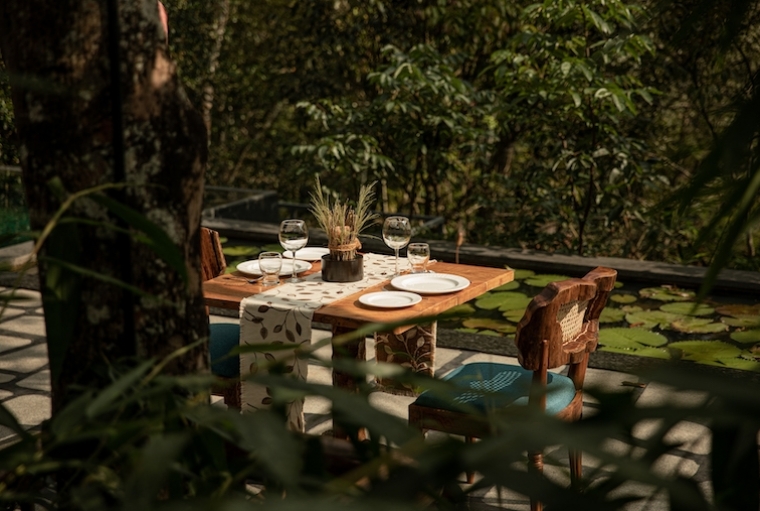 Could you give us some insight into the making of the Stone Lodges — the conception, intention and execution.
Every single action taken during the journey of Stone Lodges Private Residences, from its inception till today, has set it apart from others. From the concept of Reverse Urbanization, to the detail of the smallest doorknob. This thoughtfully designed community allows one to experience the innate beauty of nature with every modern convenience at one's beck and call. The design of Stone Lodges is inspired by the grammar of Mountain Lodges and the native design aesthetic. The villas are hidden amongst dense foliage and designed with unique elements, keeping sustainability and innovation in mind. Every bit is finely nuanced, bespeaking a luxurious yet environmentally responsible aesthetic — a collectible that ages graciously!
The concept of 'Second Living' is rooted in man's need for balance — between the urban and the rural, between work and life. With the changes in lifestyle brought about by today's work culture, this need for balance is manifesting itself in a longing for man to reconnect with nature. We wanted to provide this 'Second Life' for our owners by the establishment of a 'Second Home' in the lap of nature. A place to nurture hobbies like photography, organic farming, gardening, birding, trekking and more. We re-imagined the experience of everyday living by allying with Mother Earth in designing and creating dwellings that are in harmony with oneself and the natural environment, dwellings that facilitate 'Natural Life'. Envisioned to intertwine with the natural slope of the mountains, the villas are designed 'around nature, rather than on it'. Our journey has culminated in every space envisioned and crafted, thus achieving the truest form of spaces and blending seamlessly with the greatest design to exist — nature. When the building comes in the way of a tree or boulder, the design is modified to go around the existing tree or boulder and accommodate it to be a part of our natural design. Thus, the existing flora and natural features on the site play their part in enhancing this carefully designed living experience.
Staying true to our philosophy and keeping up with our eco-friendly ethos, the materials used in the villas are natural, with wooden flooring, random-rubble walls, cobblestone pathways, and log-rafters, showcasing a joyous interplay of stone and wood. The wood used in crafting the space portrays its authenticity with 'Live Edges' accentuating the natural character of wood. The floors, joinery, switchboards, skirting and furniture are handcrafted with live edge teak wood, that adorns the spaces with warmth and grain. Rough, uncut and unpolished stones, each with a character of its own, form the thick random-rubble walls of the lodges. Other natural materials used in Stone Lodges are the clay roof tiles, eucalyptus poles in the ceiling, customised-finish granite for counters and stone deck floors.
Our skilled craftsmen and team of passionate carpenters, create and build our hand-crafted furniture and fixtures in-house. Each item at the villa is made at the property, including the switch boards, joinery, kitchen counters, shower tray and cabinetry. All of this ensures that our items are unique to Earthitects and every piece conveys a unique story. The wood is intentionally left unfinished to really accentuate the live edge and can thus be expected to age gracefully over time. While most of the natural materials are sourced from the site itself, other materials are sourced locally to promote the nativity of Wayanad. And, to ensure no resource goes to waste, some boulders are cut to form random-rubble walls, while leftover teakwood goes into the making of fixtures and fittings.
What role does sustainability play in your blueprint?
It's important to us as Earthitects, that we leave the earth better than we found it. Our objective has always been to restore the environment and build a more sustainable future. The density of population and its pressure on the land is already heavily minimized in addition to the water harvesting and composting measures to achieve zero waste homes. The natural replenishing capacity of the Earth is made positive rather than just equal, in order to give back to society. This leads to a sustainable lifestyle that results in giving back to our Earth, rather than taking from it.
Only five years ago, what existed as a neglected coffee plantation in Wayanad soon changed, when we planted more than 8,000 native trees. The once bare site of Stone Lodges was transformed into a lush forest, with carefully selected native species of plants and trees. Native bird species soon returned, thus enhancing the birding experience, allowing man and nature to coexist in harmony. Today, it's not rare to see endangered birds splashing around the lily pond on the deck of the private residences, using it much like a birdbath. With the planting of an abundance of butterfly-friendly plants, it's an everyday occurrence to spot dozens of butterfly species too. The protection and conservation of the native species of bees have been facilitated by us with bee houses around the residences.
We hope this concept of re-imagining the experience of everyday living will inspire and encourage others to follow this journey and lead a sustainable lifestyle.
As we move towards a more eco-conscious future, what are your thoughts on the future of architecture in India?
We believe that Reverse Urbanisation or 'living' away from urban settings is the 'future of living'. In today's world, reverse urbanisation, if done right, has all the benefits of living in an urban setting without its disadvantages on our Earth. Through Reverse Urbanisation we believe our world can achieve the experience of 'living life in its abundance'. We believe that by living and working in non-urban settings (now accelerated by the post-pandemic world), we can re-establish the revealing experience of connecting with both oneself and the natural environment — a relationship that has been severed by our modern, urban-centric lifestyle.
We, Earthitects, will continue to pioneer, innovate, and inspire 'living' concepts of the future. With the abundance of nature in every step and a positive change in everyday living, the world would be a better place for us to thrive in.
Lastly, what kind of projects are you working on next?
After a successful completion of an architectural marvel at Wayanad, Kerala, we are proud to introduce a masterpiece of the future — our upcoming Private Residences at the picturesque hill station of Coorg, Karnataka. Bespeaking the inbuilt sensitivity of our signature design style, the residences allow one to experience the sound of birdsong and the soft gurgling of a forest stream at one's doorstep. Inspired by the architectural style of the plantation bungalows of Coorg, the expansive residences are one with nature and the perfect location to start a 'Second Life'. We also have upcoming Private Residences planned at the wildlife destination of Kabini, Karnataka.
Text Nidhi Verma
Date 23-09-2021