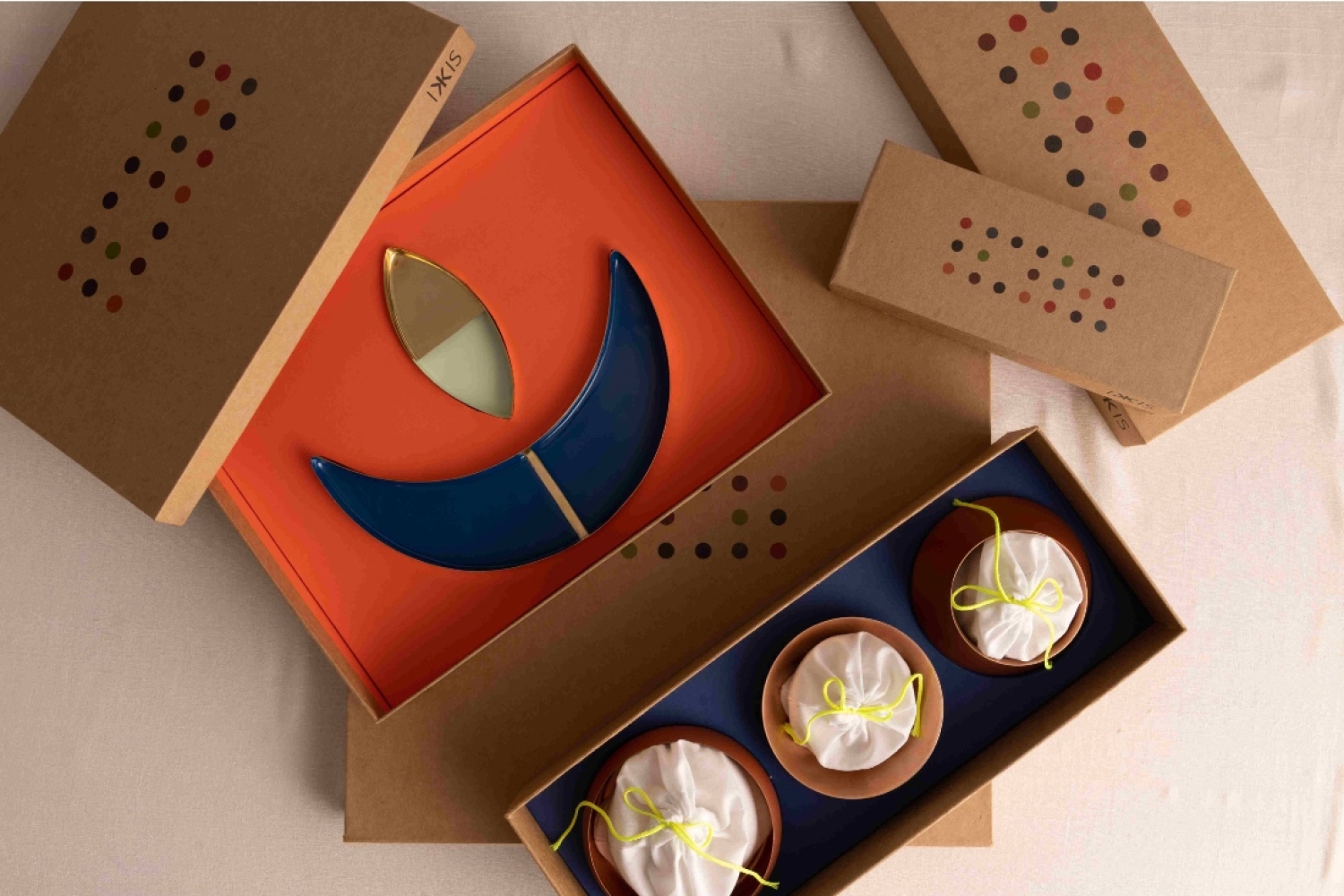 'At the core of the brand [Ikkis] lies this whole idea of reimagining classical forms and rituals that are iconic to India for 21st century living. Imbuing them with universal appeal, functionality and accessibility, something that people from different parts of the world and cultures could understand, not necessarily because it was Indian design or Indian material but, because it was a very practical and beautiful form,' Design maverick Gunjan Gupta started her journey way back in 2006 with a radical collection of objects. A journey that has been punctuated with a plethora of experiences and design learnings that she has gone back to, to start her most recent venture, Ikkis. It was in the works for several years she tells us. To know more, we asked her to shine light on her journey till today, creative process and Ikkis.
'With a penchant for the same, the new festive collection by Ikkis, One By Two brings forth the spirit of Diwali, paying an ode to the layers and beauty of the rituals behind our celebrations. Titled 'One by Two' or 'Ek ka Do' denoting the doubling of a gain, the pieces are meant to be layered and used in an array of combinations making the setting feel high-spirited and abundant all year round. The designer has played with varied geometric patterns such as hexagons, squares, diamonds, and more to bring to life the essence of the festive season by the creation of patterns and rangolis through these shapes.'
Do you remember when and where did your romance with design begin?
I distinctly remember when design became an area of interest, something that I enjoyed and wanted to nurture. It began when I was quite young, around 7 or 8 years old, in my mother's kitchen. I used to love spending time in the chaos of utensils and objects and I would always tinker around. This later translated into me laying tables for her at a very young age. I would take great pride and she of course, encouraged me. One of the things that truly helped me in being unhindered in my creative process was that she never questioned my decisions and right from a very early age, I would go the unmatched way or put an assortment of objects together and be very proud of that sort of mix and match and it was very out of the box. I believe that is the earliest memory I have of my tryst with design.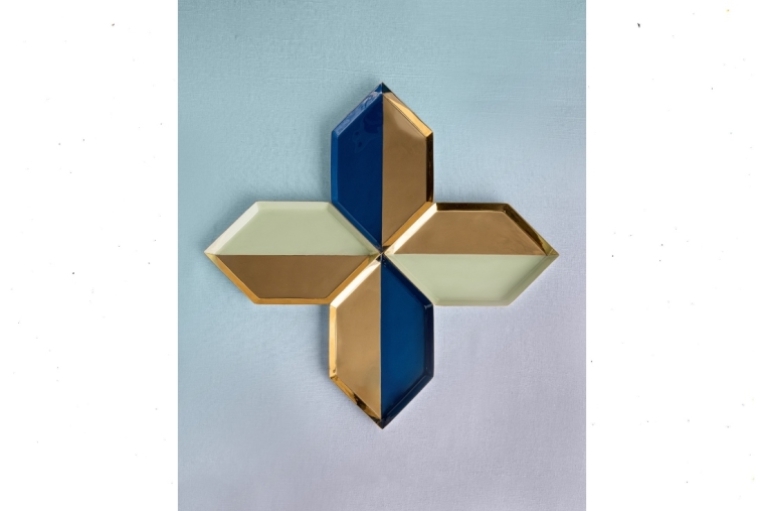 How do you think your voice as a designer has evolved over the years?
I started my career in 2006 with the launch of a very radical collection of objects, pure gold and silver wrapped thrones at '100% design', a trade platform in London. The choice of the objects and the audience were extremely maverick if I may say, as it completely shook the perspective for the audience there. They were not used to seeing pure silver and gold wrapped around furniture as objects. Similarly, as a designer it was more about positioning the idea of philosophy, vision of learning from responses. There was a very bleak business model around it. I was not sure whether we would actually be selling these objects but, I think what it did empower me with was great feedback. We got noticed by all top museum directors, creators, curators, critics, journalists and collectors, who eventually became friends of the brand, personal friends and so on and so forth.
The start was with a bang, with a major statement out there. There was no idea of collectable design in the country. I was myself grappling with the idea of design in general, leave alone collectable design or a product design brand. Hence, in that sense what started of as an interest in collectable design, pitching 'Made in India', Indian craft and Indian vocabulary of forms and design language at the highest level in the last 15 years has resulted in amazing opportunities where I feel like the international sphere of design has constantly given me great opportunities that have allowed me to push the boundaries. Therefore, the language and voice has only gotten stronger. I think it has been quite testing in many ways because it is a very western, white, all male led universe. So, as an Indian designer, based out of India, working with craft which really needed a lot of repositioning, has taken a significant amount of effort but, I have to say the persistence and the novelty of a design language that was presented in the form of a 'bori sofa,' a 'mudawala bicycle throne', the 'mataka tables', has allowed these objects to be included in a very primary design universe.
I launched Ikkis in 2019 at 'Maison d'objects' in Paris with 21 objects with similar names of 'chai glass', 'matka jug, 'lotta tiffin, 'lotta decanter', marrying them with universal functions and extremely high quality in terms of production and maintenance. The idea was to create a more accessible, democratic design brand, an extension to the design vocabulary that I have introduced. I would say, over the years I have been able to speak about design in India and internationally and have also had the opportunity of curating 20% recraft exhibitions in Paris at the 'Grand Palais' and in Lisbon at the 'Experimenta Design', both of which are extremely prestigious platforms for speaking about design and craft from India. I think it has been a fantastic journey.
What inspired you to start Ikkis? What does Ikkis mean in relation to the brand? What is the core of the brand?
Ikkis has been on the drawing board for several years. It was while working in the international design community, showcasing Indian design objects, furniture, sculptures at very important trade fairs, all over the world. This always prompted a very major question in my head that while we were addressing that 1 or 2% of that global collector base, there is an entire universe out there who is so curious about Indian manufacturing techniques, crafts, and processes. My work while being noticed by influencers across the spectrum, it was not accessible. That was the first reason.
The second was that, across the journey of my career I came across some of the most incredible craftsmen, visited some of the best manufacturing ateliers, manufacturing units in the country, to realise what the potential in the real sense was. It was not just research; it was having seen it first-hand. Therefore, it is something that I had been brewing since a very long time. However, I was not very sure as to how I wanted to reframe it, the point of view that I wanted Ikkis to present. The reason I named it Ikkis is lovely. Ikkis means 21 and 21 for us represents the 21st century. It was always my attempt and my design process to reposition the Indian vocabularies that have existed in our culture for thousands of years and craft processes in the 21st century. At the core of the brand lies this whole idea of reimagining classical forms and rituals that are iconic to India for 21st century living. Imbuing them with universal appeal, functionality and accessibility, something that people from different parts of the world and cultures could understand, not necessarily because it was Indian design or Indian material but, because it was a very practical and beautiful form. So, our 'kulhar glasses' for example are made of pure copper with pure terracotta coating on the outside and these forms are extremely colloquial. They are a part of Indian vocabulary but, from a design point of view, when presented internationally they have had multitudes of responses from the Japanese to the Swedish community to people living in New York, Africa, London, and more. It is not about the Indianness in the object but, it is the universality of the Indian forms that has captivated my interest since the beginning of my career. I believe there is not a more perfect object than the 'lotta' in the world because of the way it functions and the vast demographics of the Indian society it has been a part of.
What changes did the pandemic bring to it?
I think the pandemic has been an extremely interesting time for anybody and everybody from the time we spent by ourselves at home with family, eating, drinking, entertaining and on the other side which is the business, where one had to rework strategies, think through processes. However, one of the most important take aways from the pandemic has been that how important one's home is in identity creation, sort of a status statement for people. Instagram stories were full of people showcasing their homes and, dining at home became the most important thing. Certain aesthetic that was mostly represented by the way one dressed through fashion, became how one lived through homes. Hence, I think the pandemic brought the home bang in the centre of lifestyle and defining aesthetics for which we are very grateful. Having launched in just 2019, we were very concerned about how things would pan out for us but, I have to say that it has been remarkable. The wedding segment, particularly in India was a great delight because people were no longer having large weddings, the weddings were smaller but, the gifting became more personalised. People wanted to gift something, that meant something and had more meaning and relevance. They wanted these gifts to forever be in the homes of people that they sent them to. These were the conversations that we started to have and I think this has been a permanent shift because prior to that gifting was just one of the many functions that was a part of organizing a wedding. It was not the function. But I feel the pandemic put gifting very much into focus because every home received everything even if the wedding took place on a zoom call. The only thing tactile, which was touch and feel was a memento from the wedding. Ikkis had the honour and pleasure of designing and producing some exquisite gifts for a wide range of clients, living in India and all over the world.
For the new collection, you have played with geometric shapes and patterns. What inspired you to do that?
We launched Ikkis in 2019, as mentioned, with 21 objects from Indian vocabulary. 'Thali' was one of them, the 'lotta tiffin', which deconstructs into 3 bowls was another object that became our best sellers. People started to identify the brand with it. The combination of the two presented a new way of thali dining in a sense because with the thali platters, we introduced another collection called the 'Tantra' in the subsequent year. Basically, the form vocabulary remained the same. It was lottas, matkas, thalis and tiffins. It was important for us, as a brand, to introduce a whole new vocabulary which is a very big challenge when you have an extremely strong identity that Ikkis has had and still does. So, the idea of geometry again had been sitting on my drawing board and I had been wanting to connect the dots for myself of how these geometric objects fit into the vocabulary of Indian design and the collection for Diwali, presented the perfect format where a square, hexagon, or a diamond or star shaped object come together under one universe. There is nothing more Indian about it yet at the same time more universal about these forms. Its geometry art after all. But it is the usage, the overall story telling and the narrative around these objects that has given them an Indian soul which for Ikkis is our brand pillar.
Can you talk about the fun popping colour palette of the collection?
Colours is undoubtedly something that is so intrinsic with India. Everything that one imagines about India is colourful. We have had a particular colour palette right from the inception of Ikkis, which has been, brass, terracotta, copper, the white marble, and sandstone beige. We introduced our primary colours of haldi, hara, neela and narangi into the palette through the Tantra collection which was a super hit. People loved the vibrance that these colours brought to the objects. Of course, the tonality of the colours was more international. If you see, the yellow was more of a deeper yellow, more in trend with the yellows that one sees in fashion. Therefore, for the new collection, the colours had been chosen that complimented this universe. They could not stand apart. They had to allow the layering of the older collections into the new, which is again a brand pillar because Ikkis is what you make of it and the idea is how you build up your collection, how you layer your dining table with it. Hence, every dining setting is different for each of our customer. Therefore, the new colour palette with its mints, blues and greens is a very international mix of colours that come together with brass. We were looking for a more universal colour palette that would find itself in New York, London, or Dubai. It had that universality because we had already done the primary Indian colours as part of our collection that worked well and hence, this time we wanted to try a completely different colour palette that blended the two universes in an interesting way.
What is it that currently inspires you?
At my core, I am a rebel, so I am planning to shake the status quo and that is what is keeping me busy and inspired. For example, the launch of this new collection, and the star thali platter as the main thali and all these geometric shapes unfolding outside and inside of it like a bento box is a new dining concept that I presented. I do realise that it is going to take people a while to understand and buy into it, but, once they do it, it reframes what a sit-down dining experience is. Indians love a sit-down dining experience, we love our thali, variety, foods, textures, colours to be a part of our experience and this is just that. But it is definitely shaking the system a little bit.
Talk a little about your creative process.
My creative process is fairly simple. I have always focussed on reinventing, reengineering existing product vocabularies in India. There is no dearth, there is a plethora of them. One just has to look deeper into Indian culture and rituals. Cooking utensils, historically have an extremely wide range. Each of our objects and utensils has had a purpose, whether it was to store yogurt, whether to put curry or water. Therefore, it was the consistency that the rim determined and the extent of the pour. It is just a major study and I always feel when I look into it that I am just scratching the surface. Hence, to some extent I think my creative process is very simple. I am culturally inspired, I am a seeker of cultural nuances, I play with words, a process that I enjoy. It is a very strong story telling narrative but, then at the end, the whole Indianness of the object, or of my creative process is distilled and funnelled through a very tight process that involves finding the core of what this particular ritual or object signifies into a minimalist object that has the essence of the original but, is blended with a universal function. The idea is always to retain the essence of Indian design translated into something that finds itself on a shelf in any design store in the world. That sums up my design process and that is how I take it from start to finish.

Text Hansika Lohani Mehtani
Date 19-10-2022