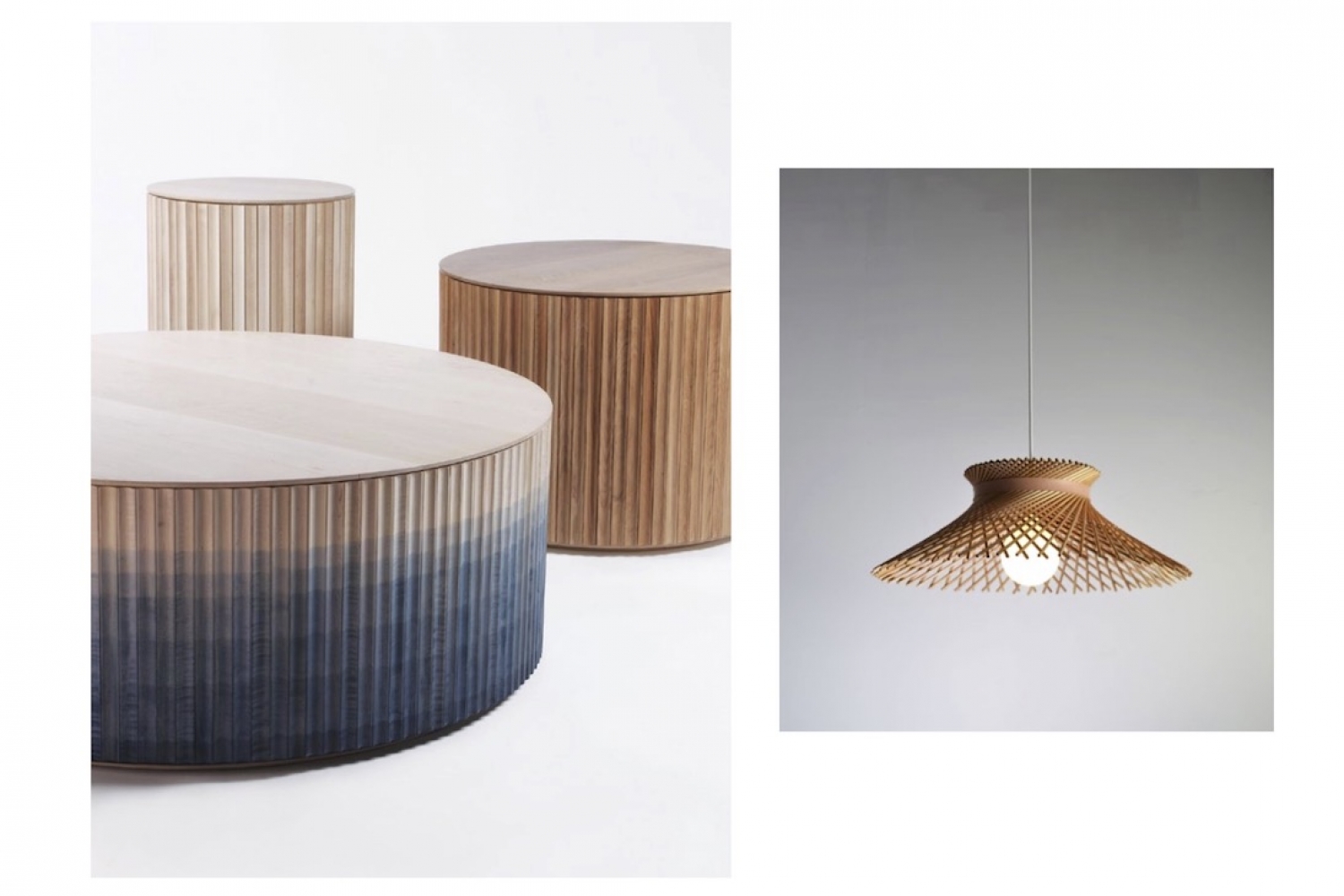 Founded by Urvi Sharma and Manan Narang, both from New Delhi and the Rhode Island School of Design, INDO- is a confluence of experiencing both places and cultures. A furniture and object design practice, the studio's aesthetic comes from being quintessentially Indian, objects that are carefully crafted by hand and are one-of-a-kind. The founding duo strongly believes in celebrating moments of imperfection, helping the craftsmanship shine further. While the identity of traditional Indian crafts lies in the people and place of origin, INDO-'s blueprint believes in globalising it, by blending it tactfully with contemporary furniture. The inherent need to give each product its own identity, by retaining its origin, is vital for Urvi and Manan. The convergence of identity, craft, quality and narrative is where their work comes alive.
The duo tell us all about the practice, their process and more.
THE PARTNERSHIP
We constantly go back and forth, talking about products, stories and techniques that we could experiment with. We also have subtle but significant differences in our strengths and weaknesses that the other compensates for, which is why we like to work together. It's a bit left- brain, right-brain when we're alone, but when we work together, there's definitely a spark that connects the two.
FUNCTIONALITY VERSUS AESTHETIC
We try to incorporate aesthetics into the functionality of our objects, which is what makes them special. Rather than separating the two, we tackle one with the other and vice versa. The Ikat Credenza's tambour is both a functional and aesthetic element in the design, creating a door while also giving the illusion of moving fabric when in motion. The Mooda Mirror takes the Indian technique of stitching together sticks of cane or bamboo to create a low stool called Mooda off the ground, and finishes the edge of a mirror, providing a new application to it, as well as a change in appearance.
THE PRACTICE
Design to us is a medium of problem-solving and solution-finding, that is unique to you alone. Your superpower as a designer is your ability to use your lived experiences and what's around you to figure out what is the best approach to a particular situation. Our practice varies from piece to piece but there is a constant element of play, iteration and improvement for everything we design. As we create something and show it to the world, we constantly look for feedback on how to make it better.
THE SUSTAINABLE BLUEPRINT
Our approach to sustainability is complex and nuanced, not easily digestible and thus, not a popular one. Our work is not based on promoting or boycotting a particular material, or relying on the current green trend or next buzzword. Sustainability is inherent to the traditional methods of making, honed to perfection over hundreds, even thousands of years by makers practicing their craft. Which is why these processes are inherently rooted in a region, its climate, local materials and culture. Our approach to sustainability is to imbibe the ideas of old into objects for today and tomorrow, to encourage slow-making and conscious consumption. We want to be a responsible partner in our community, use natural renewable materials, support local manufacturing resources and going forward, support and revitalize the crafts and communities of craftsmen and women, from whom we draw inspiration.
GOOD DESIGN
One's idea of good design is usually dependent on what they think it is achieving. For us, good design is "contextual". Having spent time in India and the United States, we've learnt that "good" design depends completely on where it exists and who is interacting with it. Design is such a varied field, influenced by place, culture and people, that we don't think it's fair to set up global standards of good design.

Text Unnati Saini