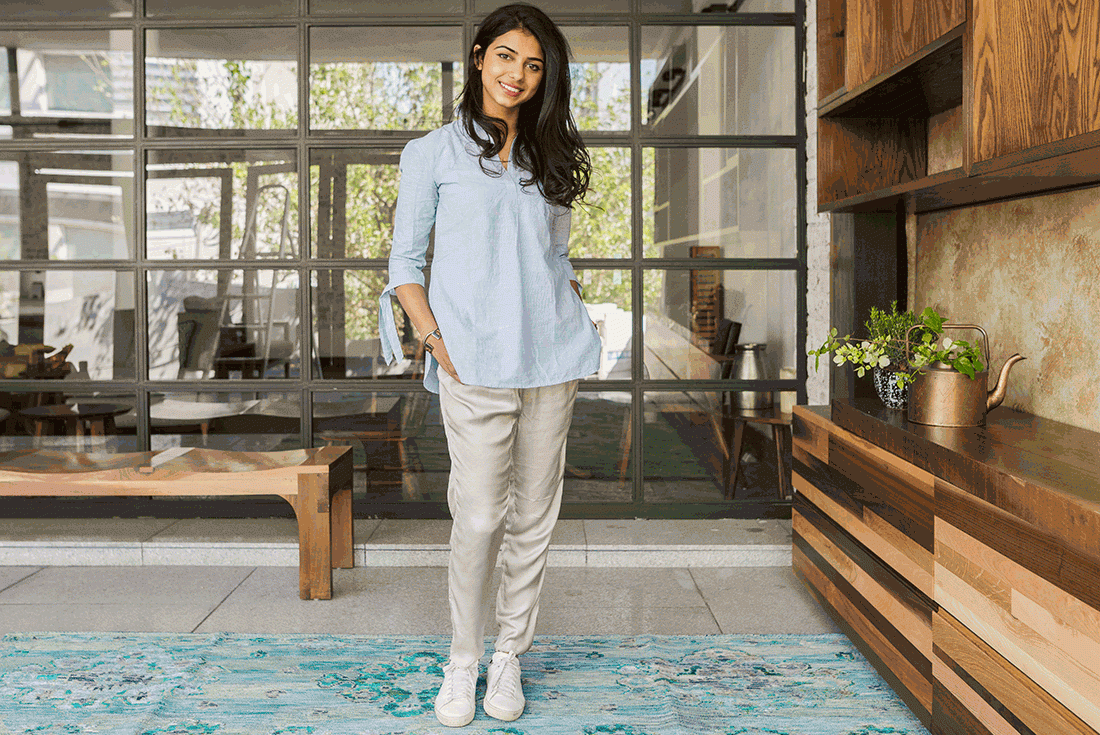 Ishrat Sahgal
Mishcat Co, Design House
Following a degree in interior architecture, when Ishrat Sahgal returned to Indian shores from The States, it marked the very beginnings of a personal adventure for her. She found her true passion at an intersection of art, design and sustainability. Reworking silk saree scraps and infusing them with hand-knotted wool, Ishrat came up with a line of striking, luminous carpets that transforms the rug on the floor to a centerpiece - a focal point around which the entire room is designed and conceptualized. Soon, she founded her design house Mishcat Co, that offers interior consultancy, featuring the carpet as the showstopper. When I connect with her for an interview, she takes me through her journey in design, her sensibility and her vision for Mishcat Co.

Tell me a little about yourself, your years growing up and your background in design.
I was born in Chandigarh and my childhood was pretty much spent playing outside in the gardens, building mud castles, and spending afternoons exploring my grandfathers extensive library in his study. I guess growing up there is fitting in retrospect, as I was surrounded by architecture and design, with the huge influence Corbusier has after planning the city.
My penchant for the subject took me to Rhode Island School of Design in 2007, where I studied Interior Architecture along with a minor in Art History, after which I lived in New York.
What inspired you to launch Mishcat Co. and conceptualize rugs as a centerpiece with an added narrative flair?
I've always had an urge to disrupt the market in a way, change peoples mindsets, be a part of a bigger movement. When I moved back to Delhi, I saw that the carpets available in the market were repetitive, neutral, expensive and quite unexciting. I've always loved fine art, so the carpet was an exciting medium to explore, and it fell under the interior realm. So it just sort of came together, and made sense. I launched Mishcat Co, with the mission to change the way people think about the carpet. To make that process fun, instead of the mundane afterthought it had somehow become.

How did you stumble upon the idea of using leftover silk saree scraps to weave into the rugs? Which parts of India did the the sourcing take you to?
Sari silk carpets are a new product to come into the market over the last few years. What drew me is the sustainable aspect, the tie with Indian history and craft, the sheer luminosity of the material - that itself is so inspiring. Our sourcing is done from sari weavers in South India - a sari is usually 5 or 6 meters, and there is always a meter or a half left over, which we buy. Our recent collection features carpets made of wool infused with sari silk. We keep experimenting, and are constantly evolving - that is key to the design house.
Where did you find inspiration for the first collection, and its weaves and patterns?
Inspiration came from everywhere - a monumental building, a bit of a textile, a conversation, a moment. There is inspiration in everything, it is up to us as observers to take it in, and interpret as our own. In particular, water and the ocean has a huge influence on my work. I have had some of my best a-ha moments feeling like a tiny speck in front of infinite endless blue.

An event in the past that has largely influenced your journey as a designer?
I would say two key things: growing up in Chandigarh, and the years spent at RISD. The latter was such a holistic experience - the endless talent, the passion people put into interdisciplinary forms of art, introspective conversations with my friends at Brown and RISD. Those four years were nothing short of magical, and just perfect.

What is the most challenging and the most rewarding aspect of working with Indian crafts and textiles?
There are many challenges - from making sure we have only the best raw material to educating a customer about a new product. Since sari silk has gotten more popular, there is also a lot of mixed material in the market, and we're very particular about using only the best. It is rewarding to get it right, and to strike the perfect balance between contemporary patterns and traditional craft.
Mishcat Co offers interior consultancy that's built around the centerpiece - the carpet. Could you tell me a little more about it?
The creative process that follows the production of the rug is actually very fun. We work closely with our clients to recommend everything around the carpet - upholstery, throw pillows, paint colors, the works. It is so fun to find a home for each of our pieces, and see how people end up using them. We've had people hang our carpets on a wall, layer them, and we're now working with someone to use a carpet as a headboard for a bed. The possibilities are endless.

What's next for you?
In the next few months, I've been thinking of inviting a few artists across the world to collaborate on an exciting new project. So right now I'm working on the idea and ironing out the details. I would eventually love for Mishcat Co to be a global one stop shop for curated Indian craft, all centered around the carpet. For now, its fun to plan month at a time, and see what happens. We've grown so organically and learnt so much along the way, so it will be fun to see what happens next!

Take a look at Mishcat Co's rugs here.


Text Ritupriya Basu