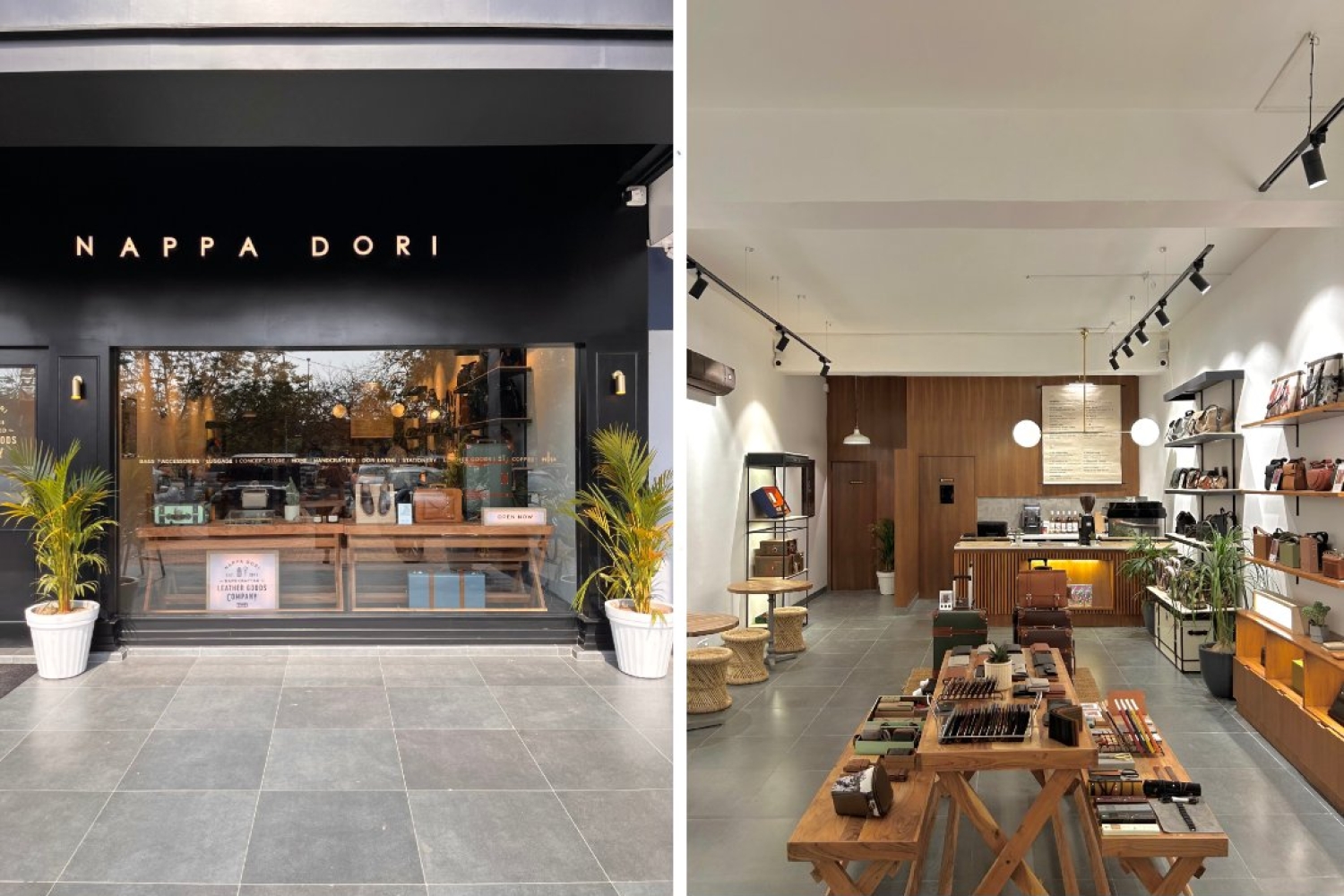 Nappa Dori as a brand found success because of their devotees — style-conscious individuals who don't want to compromise on taste, prefer slow to fast fashion, and gravitate toward minimalism. "While my design philosophy has refined over the years, it has largely remained true to my original vision. For instance, my focus on classic silhouettes has remained constant throughout my journey as a designer. However, my appreciation for minimalism has grown and become a defining aspect of my signature style," explains Gautam Sinha, the maker of the brand.

His products are simple, but never plain. Functional, but never tiresome. Most of his handcrafted goods share a common vision — to create a modern accessory to be used and reused for seasons to come. Furthering this design ethos, Gautam has found a spot in Chandigarh as a new home. Nappa Dori's new store just opened a few days ago in this city, known for its modern architecture. Gautam tells us more…
What has been the biggest learning for you as a creative and as a business owner?
As a creative and business owner, I have learned a lot over the years, but the biggest learning for me has been to leave my emotional attachment aside when it comes to designing things. I've learned that being a successful creative and business owner requires a certain level of detachment. You have to be able to step back from your work and look at it objectively, but that doesn't mean it does not come from a place of creativity.
There is a big difference between being an artist and a businessman. As an artist, you pour your heart and soul into your work, and you're invested in every little detail. But as a businessman, you have to be more objective and pragmatic. As a business owner, it's important to remember that you're not just creating for yourself, you're creating for your customers. You have to be able to balance your artistic vision with the practical realities of running a business.
This is the ninth addition to the list of Nappa Dori's stores. Can you talk a little about why Chandigarh made for an ideal spot for the new store?
We're always looking for opportunities to expand and reach new customers, and Chandigarh is definitely a city that we've had our eyes on, so this store has been a long time coming! I have always been inspired by Le Corbusier's work, it's played a big part in my design approach, and I felt it would be a perfect place to pay homage in a way to open my design store over there. It's our first store to be opened not in a big city but a city that has inspired a lot of big ideas for generations of designers and artists.
What's different about this one?
I don't believe in this philosophy of having something new with each location. The design of our stores has a certain DNA which we have created over the past decade, and that sense of familiarity is important for us to maintain when we open somewhere new. I am also a strong believer that our products need to have a universal appeal and should be palatable to a global audience rather than be constrained to a specific audience.
What is it about the material, leather, that makes you keep experimenting with it?
Leather has been an integral part of my life and I've been fascinated by it for as long as I can remember. Its versatility never ceases to amaze me and I enjoy experimenting with new techniques and processes to see how far I can push the boundaries of what this material can do. Another reason that leather captivates me so much is its ability to develop character over time. Every piece of leather ages beautifully and tells a unique story. I find it extremely rewarding to be a part of this process, and so far, it's been a fascinating journey of discovery. I don't think I'll ever get tired of it!
Creatively, what keeps you inspired?
While inspiration can come from anywhere, I find mine in travel and timeless designs that I discover along the way! Whenever I visit a new place, I try to soak up as much of the local culture as I can, and I find the best way to do that is by always visiting the local cafes and watching people while having a nice cup of coffee. These places give you a real feel of the city and are also a great source of inspiration for me. The sense of nostalgia and emotions that we incorporate in our designs come from these experiences. It helps us form a meaningful connection with our patrons beyond the aesthetic value of our products.
Lastly, what else does 2023 have in store for you?
We've had a lot of exciting developments in the year so far and we're looking forward to even more in the future. We recently launched the Odyssey Collection of business travel bags and the Steamer Sling and Steamer Set of 2. We've got some new product launches in the pipeline for our women's footwear and Dori Living categories as well. Aside from product launches, we're also expanding our business by opening up new stores in Gurgaon and other parts of India. So there's a lot to be excited about!

Words Hansika Lohani
Date 26-04-2023