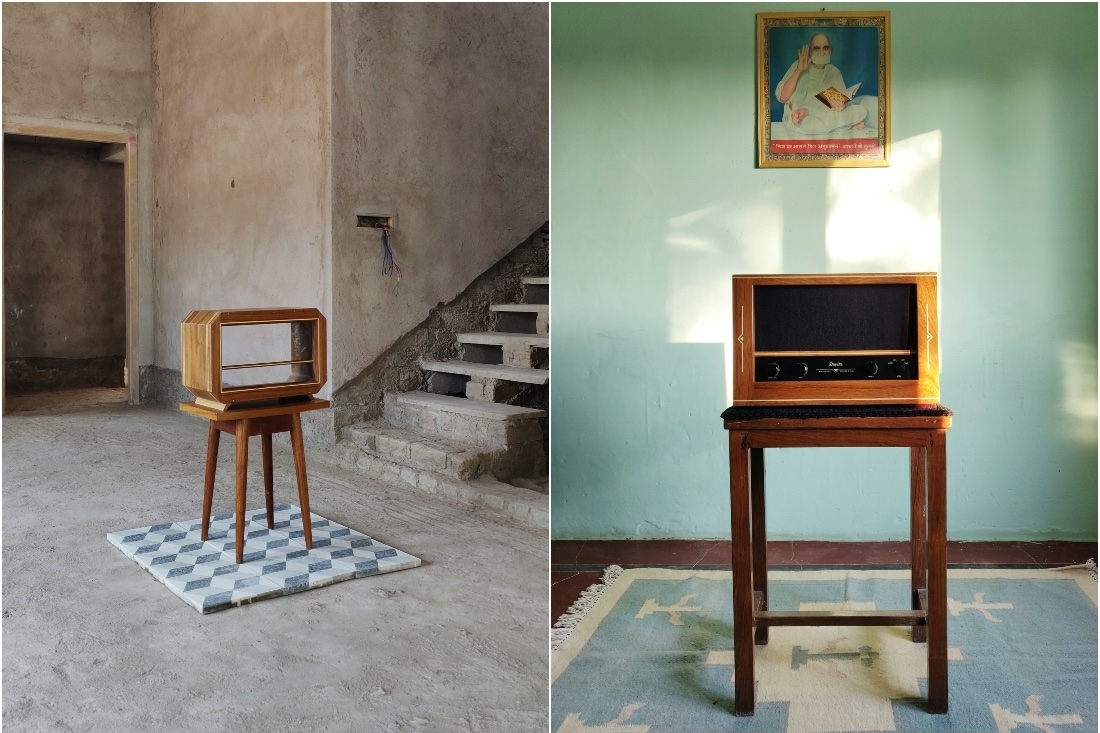 One of a Kind, One at a time.
Diwiks
Diwik Singh Chhalani might not have been trained to build a speaker, but he found his calling in this craft. What began as a sudden, serendipitous interest in restoring old speakers has now turned into a full-fledged venture of creating personalised speakers that epitomise impeccable sound alongside exquisite design. We connected with him to know more about Diwiks, its journey, their process and more.
Let's start from the beginning, tell us about Diwiks and how did your journey of restoring radios begin?
It all started with an old radio bequeathed to me by my grandfather. I had been living in Delhi and was on a sabbatical in 2015. Later that year, I rediscovered this radio in my hometown Bikaner. I started working on it immediately and with the help of a local carpenter and an electronics repairman, we turned my grandfather's radio into Bluetooth speakers and I called it a Diwiks. It didn't turn out to be exactly how I had imagined it and sounded terrible, but somehow I knew that this is what I'd been waiting for, and as cliche as it may sound, I found my calling.
How did you connect with the artisans and become a team?
My first few works were radio restorations. I worked with a few people during this time and in that process, I found the key people who are working with me even today.
I met Mainuddin through Mr. Sunil Rampuria. Mr. Rampuria had beautifully restored his ancestral home from 1927 into a heritage hotel. It is the grandest of the famed Rampuria Havelis of Bikaner. Mainuddin had retired and now works only on select projects, especially where his sons need his help. For me, he became the first local artisan I worked with. Despite being the oldest, he's the most enthusiastic team member. He brings a world of experience with him, yet he's very open to new ideas. And now his youngest son Wasim also works with us.
Manoj is my other main karigar. He does all the wood work, right from reclaiming it from old materials that I collect, to bringing my ideas/designs to life. He hails from the Suthar community of craftsmen, known for their incredible woodwork across the globe. I also work with some notable sound consultants and manufacturers, who've helped us create our custom amplifier modules, drivers and cabinets. Each piece is unique in design and space (volume), so the electronics and sound stage is customised accordingly.
There's an old world charm to your artistry. What inspires you?
I am definitely drawn to the aesthetic of the past. It's not just nostalgia for the old for me, it's the craftsmanship and quality of work that I find missing in a lot of things today. For example, a nicely stitched suit would be made using handpicked fabric. It would be unique in design and would easily be worn by two generations, not so long ago. When you look around at gadgets today, there is no plurality in design. Your phone looks like my phone. Every laptop is another version of the MacBook. I'm truly fascinated by things that are designed tastefully and are built to last. And more of often than not, they are very simple and solid.
Old buildings and architecture inspire me the most. In fact, our current collection is a tribute to Kastur Niwas, an art deco building of Bikaner from the 1930s, that was sadly razed down this year. I was able to acquire the wood from it and we are using it for this collection.

How has Diwiks evolved since your first radio to seventy-five today?
Our entire journey has been one thing leading to another. It started with restoring old radios and tinkering with electronics. While I was collecting old radios, I came across discarded wood and we quickly moved to creating our own designs using reclaimed wood. Our sound has gone through a few transitions. We work on a very controlled scale, so it was easy for me to update my initial buyers with the latest sound. Now everyone is on the same platform. So from restored radios, we have now evolved to creating our signature sound systems using materials of the past and technology of the future.
I made only one speaker in the first year and five in the second year. While everyone was constantly pushing me to do more, I was focused on getting the look and sound right. Those first couple of years helped us immensely in understanding what we were doing. We are not trained to make speakers, but I was very clear that I don't want to make good looking things that don't work. And I think that drove us to perfect the sound. So now, people discover us through the art and design world, but they are pleasantly surprised with the sound.
Seventy-five speakers happened not just because of our work. It takes two to tango. My friends supported me with initial orders, gave me constructive feedback, but were super vocal about it amongst their friends and followers. Sunitha of GallerySKE opened the doors of her gallery for me by doing a show with us, and then she also showed us at the India Art Fair. I also get repeat orders from my buyers and it is super satisfying because I know they used and liked it enough to buy another one or to gift it to a friend or family.
Can you deconstruct your process?
Our process is quite simply a process of no process. We don't do a lot of drawings, prototypes or mood boards. And I consciously avoid showing any reference photos to my artisans, as that is often a limitation rather than inspiration. It starts with an idea and then we just keep working on it until we're satisfied. There have been situations when a piece is almost ready (on a sound test stage) and we decided to redo it after having worked on it for five months. I have recalled some pieces from buyers that I didn't like and have remade them. But of course, there are stages to the work we do routinely — scouting the materials as we only work with old wood, preparing the wood takes a very long time, then we construct our cases and polish them, sound design and casing happens after that, our consultants are involved at this stage for every piece, this is followed by a thorough sound and circuit test and we burn our speakers for several days before they are ready to be hand delivered by me.
What role does sustainability play in your work?
I work with the old wood that we salvage and reclaim ourselves. I work with local artisans and they are my core team. My studio is our old abandoned home and is built entirely using discarded materials. Each of our components is made for use and we're very conscious of not wasting anything. We use a local upholsterer for making our delivery bags and don't produce them in bulk. Sustainability is weaved into each of our processes organically, yet I don't use the term freely as I feel it has many layers to it, and our understanding is limited to what we know and do. It has become an abused term and almost a trend, which I think is more part of the problem than the solution.
Lastly, where would you like to take Diwiks from here?
We never imagined to be where we are today and I'd really like for Diwiks to find its own place. I worked in advertising for a few years and that has definitely played its part in putting me off words like brand, strategy, vision et cetera. And often when I do describe my 'vision' on the way forward, I'm accused of being not very ambitious in terms of scale and numbers. I want to make products that can be used by your grandchildren, and to me that is very ambitious. We're definitely very ambitious about making the best looking and sounding speakers, but everything need not be the next big thing or name.
I see many start ups put undue pressure on themselves by trying to be the next Uber or Apple. We're Diwiks and we're booked out for our capacity for the year, and I really don't know what's in store after that, but I'm very happy making speakers with my team — one of a kind, one at a time.
Text Shruti Kapur Malhotra
Date 05-03-2021