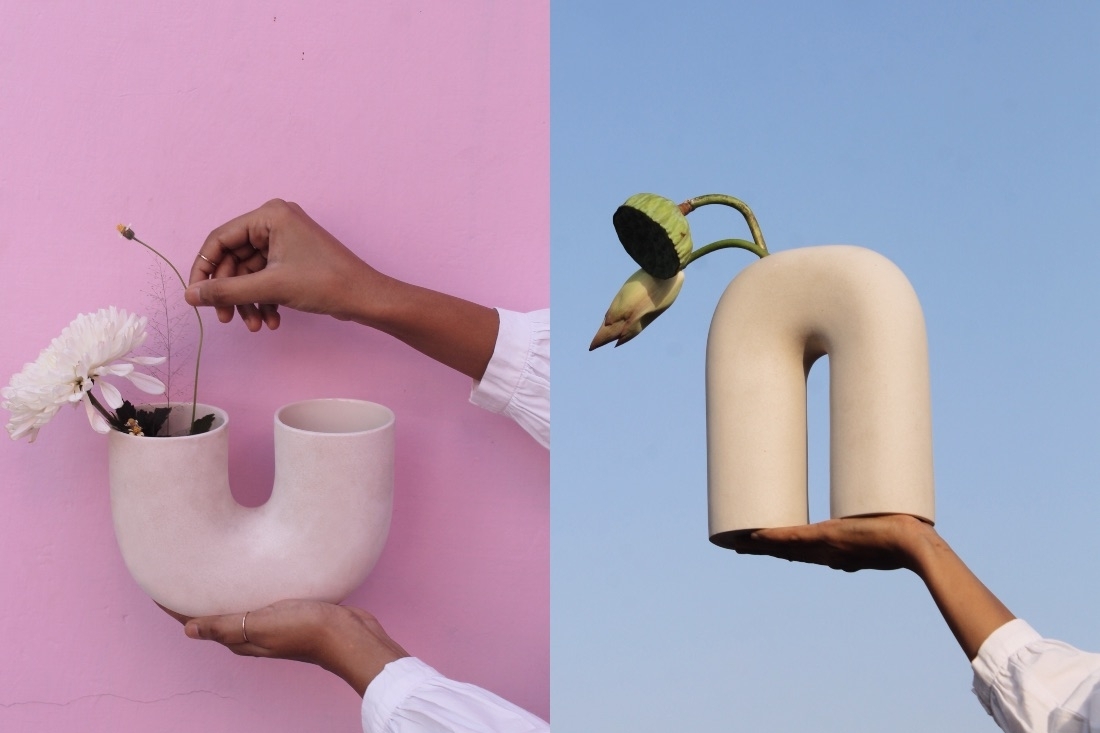 Founded by Priyanka Sharma and Varun Maheshwari, Osmos is a design studio that creates home goods rooted in minimalism. Raised in two entirely different parts of the country — Priyanka is from the serene railway town of Chittaranjan, West Bengal and Varun is from Noida — the duo crossed paths in Mumbai, working for the same organisation. It was their instant connection and similar taste that motivated them to join hands for Osmos. While Priyanka holds a degree in knitwear from NIFT Kolkata, Varun is an architect turned UX designer from SPA and IIT Delhi. Inspired by the new age simplicity that is revolutionising the world of design, the duo set out to establish Osmos as a result of not being able to locate affordable minimal goods anywhere in the Indian markets.
We're in conversation with the founders, who tell us more about the studio and what their practice stands for, amongst other things.
What does Osmos Studio and its practice stand for?
Osmos is derived from the word Osmosis which also means a gradual process of diffusion or assimilation through a membrane. For us, it meant the expansion of inner space to the outside world, connected by the means of non-obtrusive products. Osmos Studio pertains to the new age lifestyle of the millennials and Gen Z in India, who are exposed to ideas of minimal design more than ever. Our brand stands for simplicity, calmness, and modern minimalism, inspired by Japanese and Scandinavian designs. Osmos allows oneself to appreciate the life of things and a decluttered lifestyle. For us, acknowledging the beauty of life is a priority, which is also the essence of our product photography and graphic design. Though we love binge-watching and exploring graphic and product design from around the world, our greatest source of inspiration comes from travel and nature.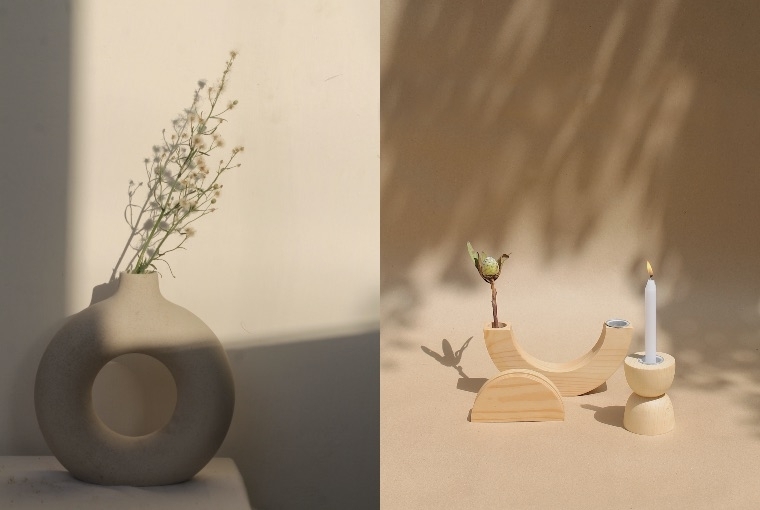 Take us through the creative process of how the products are planned and created?
We both curate and create the products we sell on our platform. Our creative process involves continuous observation of the changing lifestyle of the people, to acknowledge the aesthetic and functional needs of modern Indian homes. We work very closely with several extremely talented artisans across North India, who work with materials like ceramic, metal, and wood. Since a number of these artisans are very new to the ideas of minimalism, having worked as traditional craftsmen, it is a great learning process for them as well.
How would you describe the Osmos aesthetic? Also how easy/difficult do you think is it to balance functionality with aesthetic?
Osmos' aesthetic is inspired by Japandistyle, which is an amalgamation of Japanese rawness and Scandinavian subtlety. We pursue a 'function follow form' philosophy, as we believe that good design is about how it works rather than how it looks. Though aesthetic has always been our core strength, in both our product choices as well as digital presence, it is the solid functionality that brings the customer back to the store. Our artisans use the best of materials and artisanal techniques to create long-lasting products and reduce any wastage.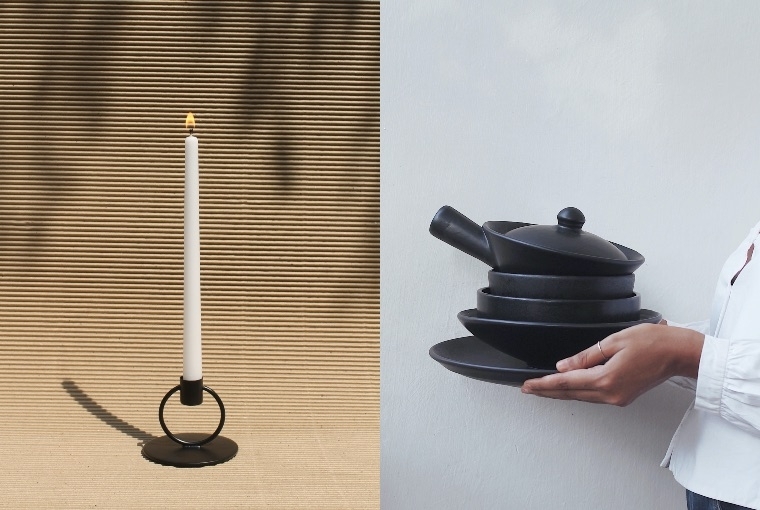 What role does sustainability play in the Osmos blueprint?
Though we don't claim to be 100% sustainable, we surely try to take small steps forward. Be it through packaging that uses cardboard waste as an insulation material, or promoting nature in our product photography, we are always moving towards sustainability. We aren't shy to experiment with new processes and are always seeking better sustainable options that blend with our business type. We are conscious of the hazards that follow extreme consumerism, therefore our belief in Japanese philosophy always propagates long-lasting love for the products, with mindful purchase.
Lastly, how has lockdown affected you and what's coming up next?
We launched Osmos during the lockdown last year, so in a way, our approach has always adapted to the effects of lockdown. We believe that this period shall see a tremendous change as more and more people are staying in the comfort of their home and continuously trying to upgrade their inner self, which inevitably starts with their personal spaces.
With the advent of influencer culture and exposure through platforms like Instagram and Pinterest, consumers in India are looking up to better design options. Also, the realm of physical products has gone beyond their mere material presence to an added virtual presence on these platforms. We believe that the homeware brands which can provide great quality products and customer experience, keeping up the virtual aspirations of the user, shall be the brands of the future.

Text Unnati Saini
Date 12-07-2021