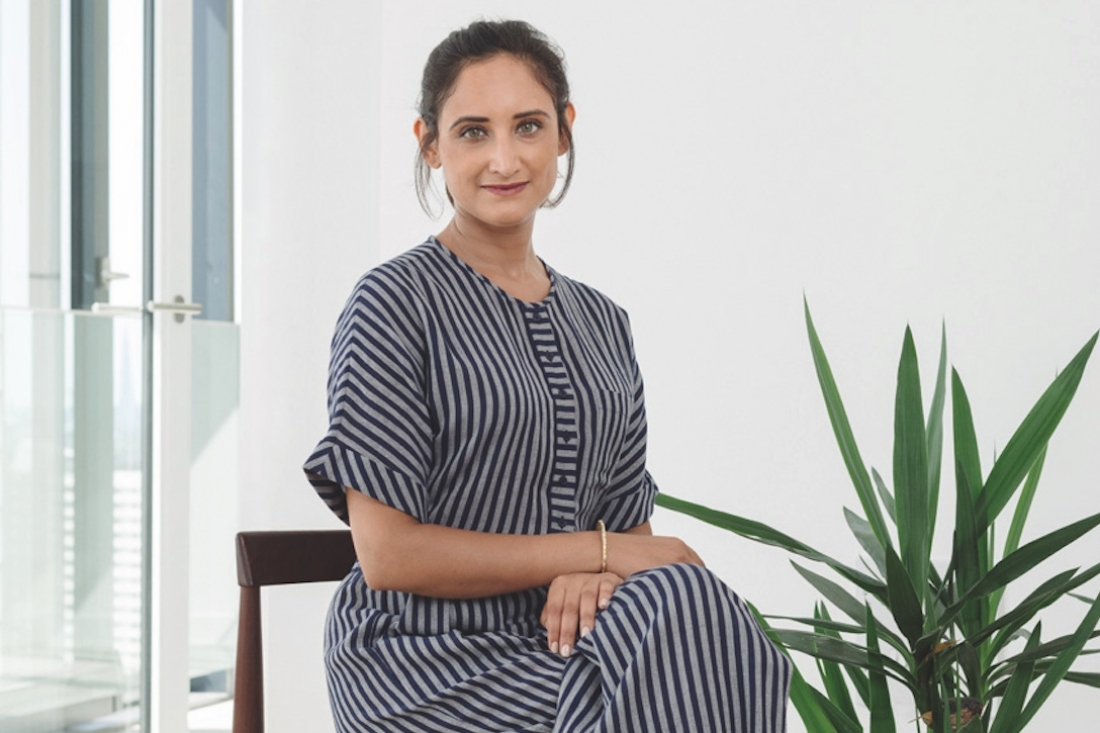 State of Indigo – presented by the India Pavilion at London Design Biennale 2018 – will immerse viewers in the labour-intensive setting of the production of indigo, a pigment used to dye textiles, repel insects, cure ailments, disinfect, ward off spirits and even to decorate an entire city. The installation features an archival film displayed across the walls of a Somerset House gallery, which transports viewers to the troughs used in indigo production. Filmed around two decades ago at one of the last farms in India to produce the natural dye, State of Indigo gives an insight into the demanding production methods that have gone largely unchanged for millennia. State of Indigo brings these invisible histories to light and reveals indigo to be a highly ideologically loaded design tool, which needs to be asserted as being representative of India's design identity. We had a chance to interview the curator of the installation, Priya Khanchandani, who let us in on her design journey, the creative process behind the installation and her future projects.
Please tell us a little bit about yourself and how your journey in the world of art and curation began.
While studying modern languages at Cambridge as my first degree, I spent a year abroad in Milan, and became drawn to Renaissance art. I went on to study law postgrad and while working as a lawyer for a 'magic circle' firm in London and Milan, doing the "right" thing, I wanted return to academia. But in the interim I started going to galleries in London and became a Trustee of Chisenhale Gallery, an amazing space in east London, and became convinced I wanted to work with contemporary culture. I was lucky enough to get a funded place at the Royal College of Art and did a joint programme with the V&A specialising in contemporary design, with a thesis on the notion of the new city in India. I haven't looked back since.
How has this journey been so far?
It has been varied and enriching, though not without challenges. I started out working at the Victoria and Albert Museum, my favourite place in London, then joined the British Council and was posted in New Delhi, where I worked on the curation for the UK-India Year of Culture. I also wrote for publications like Disegno and Bloomsbury's Encyclopaedia of Design. But then I fell seriously ill. I had to return to London and begin a long road to recovery. I wrote poetry, which I am convinced cured me, and freelanced as a critic; and that led me to eventually join ICON as Editor earlier this year, which I'm really excited about. I also campaign to decolonise culture, especially in museums, as part of Museum Detox.
How was the idea for State of Indigo - presented by the India Pavilion at London Design Biennale 2018 conceived?
When I was invited to curate the India pavilion, I initially wanted to express the realities of denim production in India. I became aware of the labour politics of global brands manufacturing denim in India, only to then export it, at a huge cost to the environment from synthetic dyes. It was when I began working with the Gujral Foundation that Feroze Gujral introduced me to the idea of indigo, and her daughter Alaiia's obsession with it. Indigo is not only the colour used to dye denim today, but also speaks of the labour politics of India's past, when farmers were forced to produce indigo under oppression at the hands of the British.
Could you please introduce us to the creative process behind conceptualising and setting up of the installation?
We came across footage of an indigo farm that was commissioned by a charity called The Colours of Nature, which works to revive traditional methods of textile production. Feroze and I were captivated by a segment of it capturing indigo farmers beating the indigo plant with their legs in a trough, and conceptualised the idea of a film-based installation based around it. We worked with an audio-visual and installation team over a number of months to turn the archival extract into a fully-fledged multi-channel immersive installation, built into a structural frame reminiscent of colonial architecture.
Can you please take us through all the design elements of the installation and their purpose?
Three projected images depict a group of indigo farmers thrashing indigo with their legs in rhythmic unison, releasing an intense blue pigment. You are placed virtually in the trough by the forth image which falls onto the ground you stand on when you enter the space. These images are juxtaposed against different contexts – some expected and others unexpected – including an escalator which on which are stood indigo clad figures in contemporary dress, a sari or a pair of jeans, who travel metaphorically to the future, where indigo is still used. A rhythmic soundtrack brings to life the thrashing of the farmers' legs as they toil, amplifying the questions of labour and mechanisation, and creating a sense of emotional catharsis. Two contemporary textile installations made of indigo dyed denim accompany this immersive space, one by Rajesh Pratap Singh and the other by Alaiia Gujral.
What do you want the people to take away or garner from the installation?
Indigo has become a staple of modern consumer life in the form of blue denim. In this sense, it is a colour that people can relate to. On another level, indigo is highly emotionally charged, and I hope the installation will unleash its intensity in order to show this. Lastly, I wanted the narrative of the farmers' plight to express the link between indigo and India's history, asserting the prominence of coloniality as part of an international conversation at a Biennale, where such histories are often absent.
Lastly, what other projects are you planning to work on in the future?
At the moment I am running a design, architecture and art magazine, ICON, based in London and am fully absorbed in telling stories through words. I am already putting my stamp on it by broadening out the notion of design and introducing more diverse voices to its pages and would like to take that further. I would like to work on other curatorial projects too and think that it is possible to be interdisciplinary today. I present talks and podcasts and curate, as well as writing, editing and commissioning, and want to continue to push myself in these different directions. I'm not one for sitting still.

Text Nidhi Verma