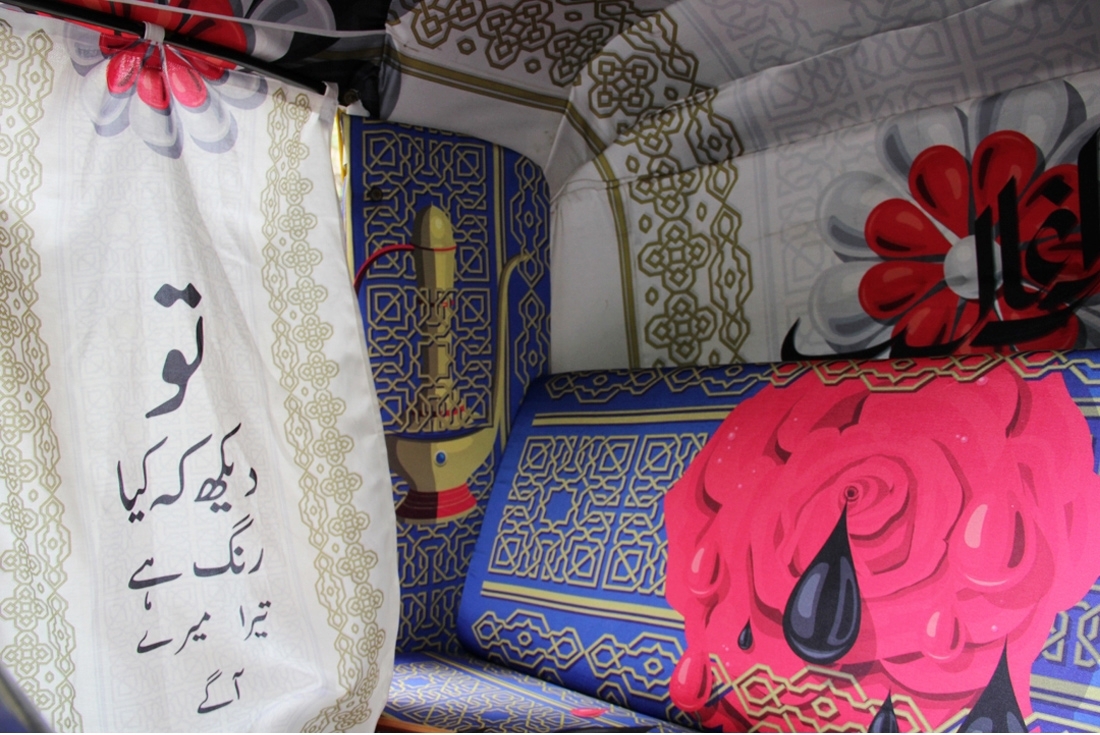 Sanchit Sawaria, an ardent fan of Mirza Ghalib's poetry paid his tribute to the city and it's most renowned poet by way of his collaboration with Taxi fabric 'Bazeecha-e-atfal', where he designed the fabric for the upholstery of an auto rickshaw in Delhi. 'Bazeecha-e-atfal '(meaning A playground for kids)' is one of Ghalib's most critically acclaimed works. What is intriguing about this collaboration is that Sanchit brought out the spirit of Ghalib's poetry through a metaphor of a floral landscape formed by drops of blood, ink and tears. This subtle but powerful depiction was accompanied by minimal urdu text. Furthermore, the addition of jaalis seen in Islamic architecture as well as in the havelis of Ballimaran in Old Delhi where Ghalib resided added a sense of nostalgia to this evocative composition.

A graphic design graduate from NID Ahmedabad, Sanchit did his graduation project with Indian Type Foundry and then went on to work for Itu Chaudhary Design and Codesign before confounding his own design studio in Delhi, Struckby. Today, he is known for his love for fonts, visual art and electronic music as he juggles his three passions and sometimes even brings them together for projects.

I get into conversation with Sanchit as he takes us through his creative process:

I read that you chose Ghalib's poetry as an inspiration for your work as you are an ardent fan of his poetry. Where do you draw inspiration for your work in general?
The design problem itself inspires me. Discussions, late-night thoughts or just daydreaming pushes me into the zone. Taxi Fabric has always been a celebration of culture and stories. Since this was one of the first auto-rickshaws they were doing in Delhi, I chose Ghalib because he is one of the most quoted poets of all time and happened to reside in Old Delhi.

How was the experience of designing the fabric for the auto rickshaw? Take us through your creative process.
I started lettering some of his poetry with a parallel pen. The obvious choice would have been to cover the fabric with his poetry. But to some people the Urdu script is sacred and they may not like to see it on upholstery. So I took a decorative approach where I Illustrated drops of ink, blood and tears intertwined in jaali's and patterns.

I've seen in your work that you delve into typography a bit more than other aspects of Graphic Design. What fostered this love for type?
There is no Graphic Design without typography. It is a communication medium and that's 90% of my job. My love for drawing letters developed when I worked at The Indian Type Foundry and Itu Chaudhuri Design where I designed typefaces and logotypes.

How would you sum up your design philosophy?
I solve problems through design, that is what it has always been about. I feel I am the best visual artist I can be when I work alone but when I assume the role of a designer, it is absolutely essential to iterate and get involved with a team. The design process needs multiple perspectives on the same problem.

Public art has greatly evolved in India and become relatively widespread in the past few years. Your collaboration with Taxi Fabric is one such initiative. How do you feel in your experience people respond to Public art? and How do you see it further evolving?
Public art creates cultural context in India, people interact with it and appreciate it when it is relatable. I feel at this point, it needs to do more than just exist as pure artistic expression.

I happen to read that visual art and composing electronic music are your two loves. Have you ever intermingled the two into your work? If so, how and in what projects?
I am always looking to experiment with new media. Branding isn't always visual. A brand needs to be identifiable through space and sound as well. This is where I use both visuals and music in my work. I compose soundtracks and unique audio identities for brands. The most recent motion audio identity was Guiding Tech (Gt).

Are there any projects you are currently working on?
I'm currently working on a project about honesty and acceptance called 'Naked Echo'. It is a collection of life experiences, personal critique, urges and moments of imperfection that echo with most of us. The project aims to create a resonance of such thoughts which could make the readers feel comfortable with their imperfections. People submit anonymously through a form. These are curated on facebook (Naked Echo) and Instagram(@naked_echo).

Text Supriya Jain