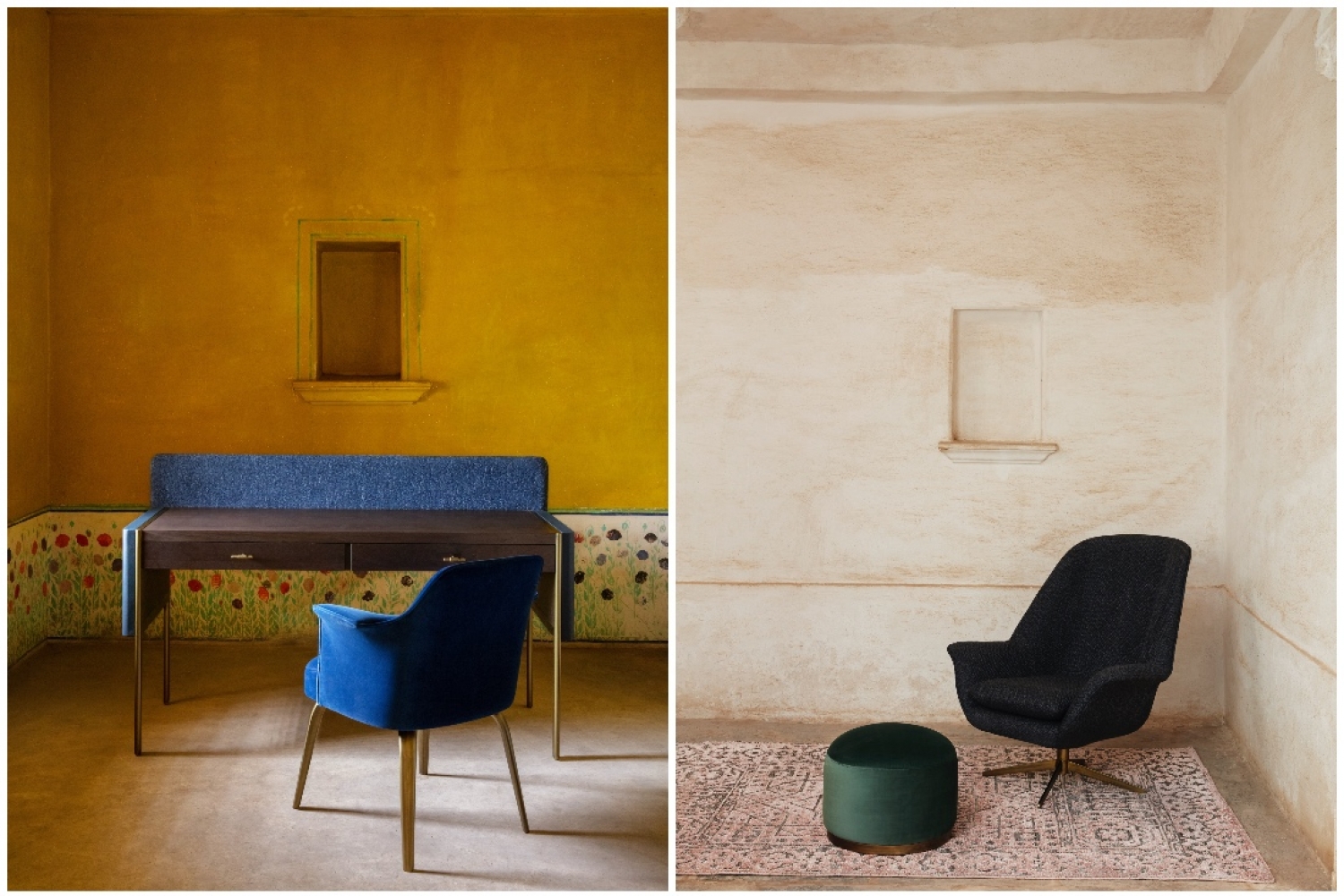 Attempting to curate a stimulating experience, Sunday brings together like-minded individuals to showcase a lifestyle filled with cultural expression and intellectual appreciation. Combining uncompromising quality with a minimalist-contemporary aesthetic, Sunday commissions well-known designers, from around the world, to create unique furniture made for the Indian lifestyle and person. The current collection showcases furniture by Italian designer Shannon Sadler, and is curated by creative director Iram Sultan.
Below, Iram Sultan, the art director and Gautam Baid, the founder and managing director, tell us more about the label.
Good Design
Iram: Design by itself is a creative tool and problem solving is simply a part of the process. Design is emotional. Design is about comfort, warmth, happiness — essentially a big fat smile! The impetus notes of any design are these. We worked on all sensory aspects, scale and aesthetics as the primary focus. The selection of materials, story creations, forms and details come together in a harmonious whole. Of course there is a lot of tweaking, modifications, enhancements and value additions in this journey and those can be termed as "problem solving".
Gautam: Good design is a wonderful thing, but it must also be attainable. Our mission is to make this possible. It must also be comfortable for the majority of users without gimmicks or quirks that reduce its relevancy.
The Approach
I: My approach to design is simple. I want to be able to create joy. The process is layered and complex and lays great emphasis on details.
G: Design must be relevant; contemporary in look, but with a solid foundation in good practices that give it longevity. We approach development of design from our desired outcome. We say, "we like this design, now let's work in reverse and determine the steps to achieve it."
Functionality versus Aesthetic
I: We know that form follows function. Ergonomics are primary and we have worked on that extensively to ensure that the furniture pieces will provide great comfort. Quality standards are stringent and are constantly being evolved to ensure that our products and designs meet the highest standards in functionality and aesthetics. Fabric textures that you will touch, patterns that you will see, veneers that will help you read the form of a piece — every single detail has been addressed with both aspects being given equal importance.
G: People don't buy furniture to stare at; a chair is not a painting. They want to sit in it. We are mindful of the need to provide ergonomic comfort while creating something beautiful in the process.
The Sustainable Blueprint
I: Waste not, want not. We have looked at creating designs that we hope will stay with you for a long time. The production is optimised to ensure that we have minimum wastage while manufacturing. We are working on minimising waste at all time.
G: The internals of our pieces are designed for manufacturing. Attainable cost goes hand-in-hand with efficient manufacturing. This means waste is well considered in our factory; something to be reduced or eliminated. While recycling is good, it is better not to produce waste in the first place. Also, by producing something both relevant and durable, you won't find our pieces in a landfill any time soon.
The Future
I: We will bring the outdoors and indoors together. Our outdoor furniture will make its debut soon!
G: We have already developed several lines of outdoor furniture to complement our interior designs. Our target is early 2022 for their debut. They will be cross-functional; looking good both outdoors and indoors.

This article is an all exclusive from our November EZ. To read more such articles follow the link here.
Text Unnati Saini
Date 06-12-2021