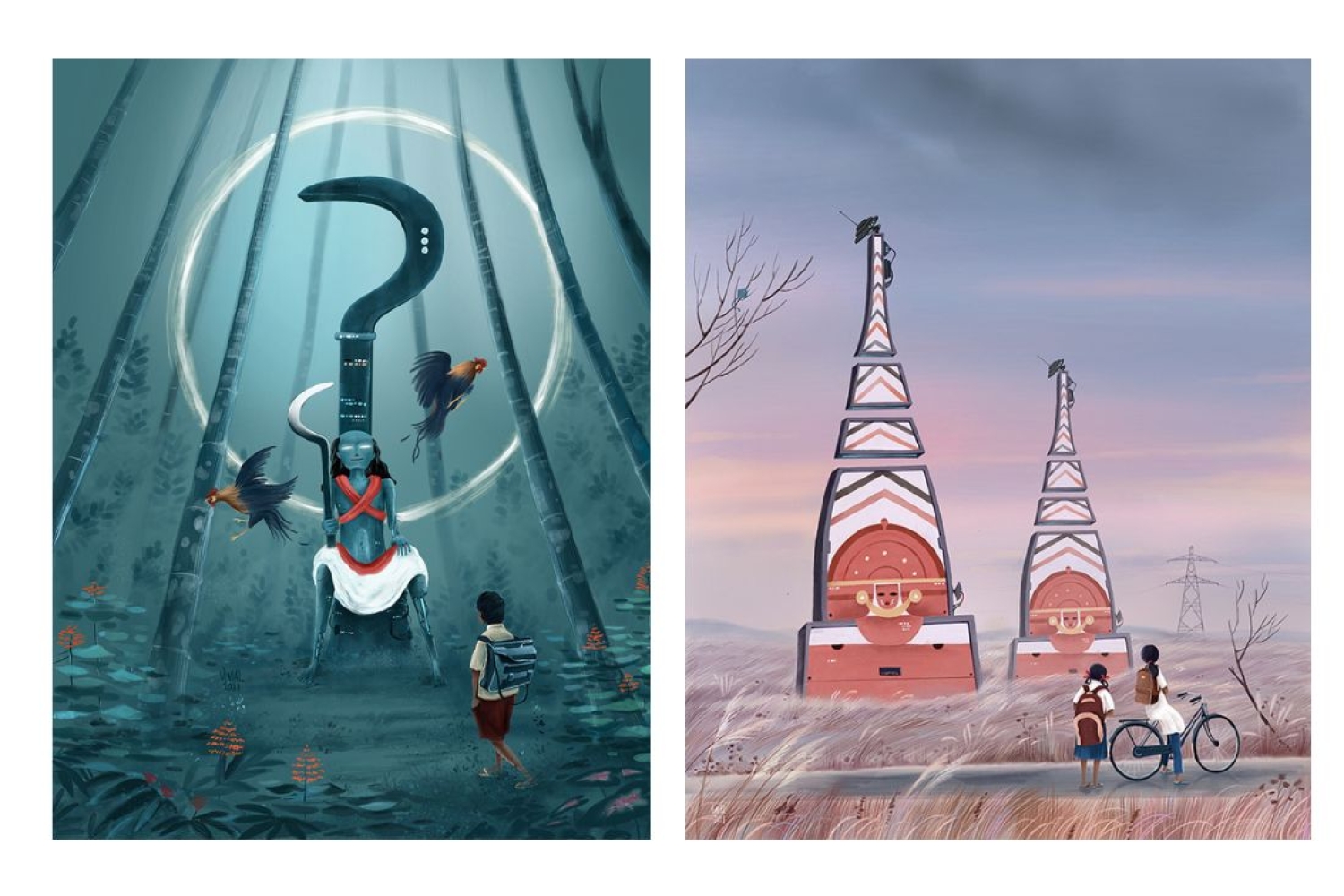 The Indo-futurism of Vimal Chandran
In his early 20s, Vimal Chandran began to put out simple stick figures immersed in watercolours with different thoughtful settings on social media, in 2011, a time when social media was gradually blooming. His simplistic art captured people's little anxieties, existential crises and simple matters of the heart in our increasingly baffling world — it quickly gained attention online because of its thought-provoking relatability.

He elaborates on the idea behind his art, "I think fundamentally artists are trying to make the absurdity of life bearable. There are things that one can't do anything about, things like ageing, losses, disappearance of people around, a capitalist system that you are born into, money & power, political games, religion and idea of god, endless universe etc. I think, as an artist and as an individual, I am also trying to make sense of it and most of the time I look around and think "What's going on here?" As my language is more visual, I am trying to articulate all these thoughts in small illustrations and sharing on the internet, so that some other people seeing it might think they are not alone in this whole drama!"

He collected his illustrative stick figures and put them together into a book, Unposted Letters, — and established an online store in 2016 with the same name, which is currently running after seven years of selling illustrated lifestyle products. Today, as a visual artist, he works with a variety of mediums — digital art, photography and films as well. His latest Indo-futuristic digital art series, The Arrival, has received much-needed attention and praise for its uncanny mixture of mythology, present and technological future.

FROM STICK FIGURES TO INDO-FUTURISTIC DIGITAL ART
Unposted Letters is a fun series born in the era of the internet and social media in my 20s. Its visual language is extremely simple using stick figures in bright colors and tells a story of two characters who are experiencing different stages of love. The illustrations are influenced by pop-culture elements and I executed them with an element of magical realism. This series taught me to think and execute ideas with minimal form in an abstract manner. Later when I started writing stories for film (currently I am working on the script for a feature film) this experience helped me to tell a bigger story in a simple frame.

Folk SciFi series is entirely different from Unposted Letters and it's more of a digital fine art exploring the concept of 'Indo-Futurism'. I started developing this idea during the COVID time when I spent some time back home in Kerala after a very long gap. I was exploring the folk myths in my region and I figured out that would be an interesting juxtaposition. So I tried to re-imagine each folk characters and mythical stories as SciFi stories and I added my own layer of imagination on top of that. The first work in the series was titled The Arrival, which is the re-imagined version of Kuthira Vela, a temple festival in Kerala. I minted that as NFT and it got collected in just 24 hours.
MAGIC REALISM INTO EVERYDAY SETTINGS
I am not sure how that happened. Maybe it was a gradual progression over some time. I know magical realism in literature from the works of Gabriel Marquez, Murakami etc. but it was not a conscious decision to incorporate that into my works. I found it interesting to observe the world after adding some imaginative elements to the mundane stuff. It's more like my altered view of reality which gives me a different and effective tool to narrate the story.


This is an exclusive excerpt from our September EZ. To read the entire article and more such pieces, follow the link here.


Words Paridhi Badgotri
Date 12.09.2023