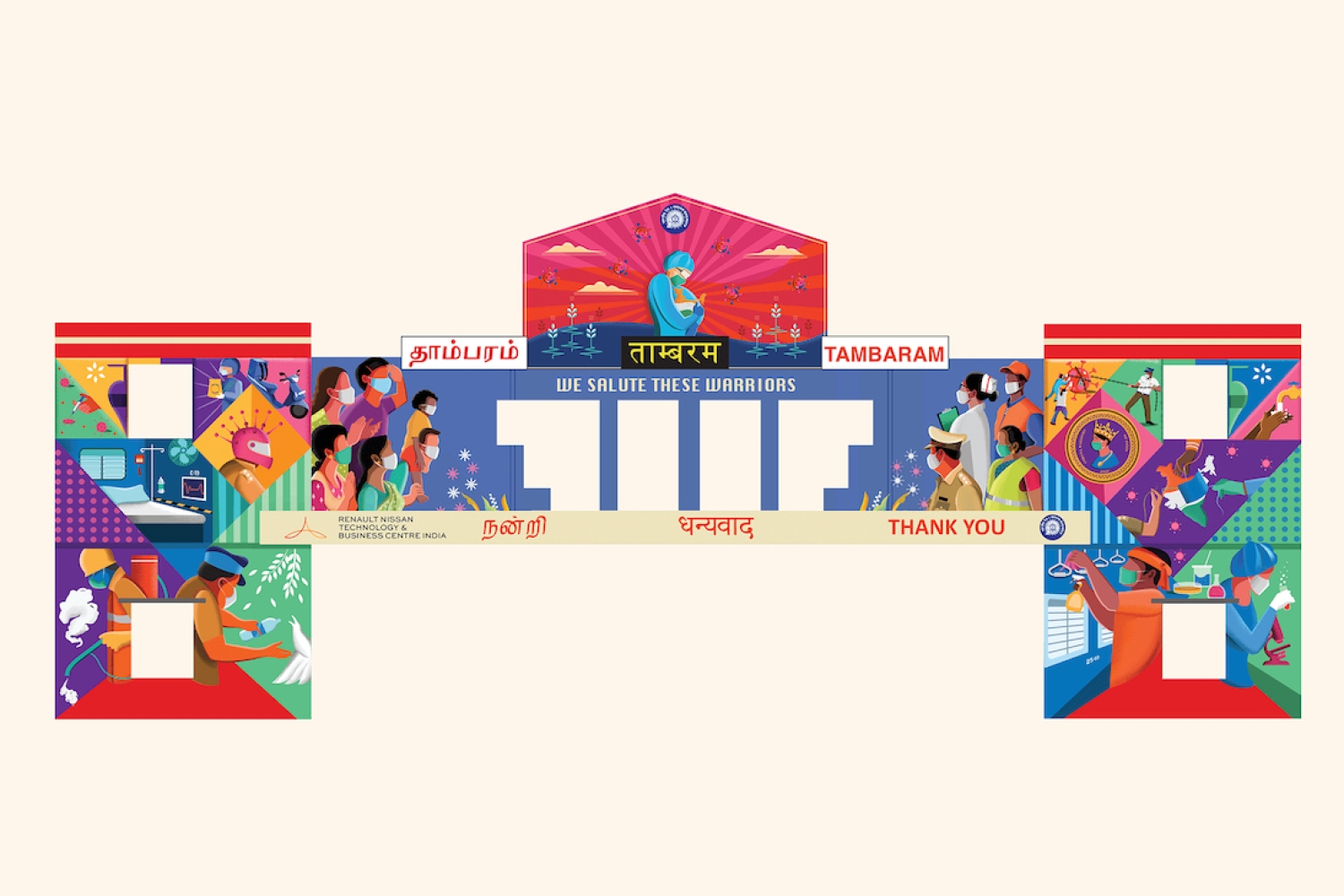 Varshini Ramakrishnan is a design strategist based in Chennai, known for her uncanny ability to weave the culture of a place with vibrant colours to create captivating art. Through a multitude of murals adorning the walls of Chennai, Varshini's work tells stories of the city's past and present. She is also the co-founder of New Folder Design, along with her husband Vinay. Read more about transforming urban spaces, and the intersection between art and culture, through our conversation with Varshini.
What is your first memory of design? What is the role that it plays in your daily life?
I was formally introduced to design only during my undergraduate education at NIFT, Chennai, though I do remember designing hand-painted t-shirts for my friends and family during my childhood. I would have conversations with them prior to designing the t-shirt about their likes, and where they would wear it, as it would give me ideas to experiment with design.
Design subconsciously plays an interesting role in my life. It has developed a sense of taste and aesthetic preference in me, which helps me find joy in enhancing the quality of my own life, and lives of those around me, through art. Design has given me a livelihood, which in turn gave me immense confidence, along with the ability to be sensitive to my surroundings and utilise that to ideate innovatively.
A lot of your art draws inspiration from Tamil culture, and Chennai as a city. How does your identity influence your art?
I tend to first familiarise myself with the concepts or topics and then immediately associate it with something with which I've grown up. I like to think it gives me a sense of comfort. I also believe that personal stories and experiences form the most unique voice and narrative for any art which aims to bring about a sense of belonging within people. You will find influences of several hyper local elements of Tamil Nadu — its craft, culture, colours, dressing, behaviour of people, slangs, mannerisms, cinema, streets of Chennai — in my art.
Since you've indulged in a lot of public art projects, what about it excites you? Tell us about some initiatives you've worked on.
The impact that public art creates is unimaginable. It has the power to create a community shared visual experience, and it also sometimes helps in terms of societal problems, which is what I love about working with street mural art.
We worked with Renault Nissan to revamp the facade of Tambaram railway station in Chennai as part of their CSR initiative. This project was completed during the COVID lockdown and was designed solely digitally, without visiting the site even once. The Tambaram railway station is the gateway to the suburbs of Chennai, and there happened to be a lot of criminal activities at the station. Once the railway station adorned vibrant mural art, it attracted many eyes and was under spotlight, which helped reduce any dark activities around that area as people were engaging with the mural all the time.
Recently, we worked for the Tamil Nadu Cricket Association (TNCA) to create a series of murals depicting the culture of Tamil Nadu, specifically iconic moments in the history of Chepauk Stadium, which is one of India's oldest stadiums. This also involved an eighty feet tall mural showcasing M S Dhoni, as a tribute. Apart from public murals, we have also worked on the illustration and typography design for the title sequence of the Bollywood movie, Meenakshi Sundareshwar, on Netflix. We made a storyboard of scene flow, drawing inspiration from the movie and local elements of Madurai and Tamil Nadu culture. The illustrations were digitally rendered, along with a handmade effect. We also worked on Dashavatar inspired door design, a mural painting for Instagram as part of the promotion of reels in India, branding and mascot design for City of 1000 Tanks, a non-profit organisation that provides architectural based solution to renew the underground water levels in Chennai, and Ready Joot a card game for adolescent kids to understand expressions and emotions in a fun way.
Give us an introduction to your design practice, New Folder Design.
My husband Vinay and I co-founded a multidisciplinary design studio called New Folder Design in 2019. We combine art, design, and other creative disciplines to create new experiences. Our portfolio is very diverse, ranging from brand identity design, product design, craft revival, to augmented reality integrated experiences et cetera. We focus more on design thinking as an umbrella concept and provide various art and design based solutions for brands in line with their brand vision. Some of the brands we've worked with include Renault Nissan, Instagram, Vivel, Netflix, Southern Railways, TNCA, and Coca Cola.
Lastly, what are you working on at the moment, and what do you have planned for the future?
We are recently working on a craft design project celebrating the traditional craft of Bhavani Jamakkalam — a beautiful form of handwoven floor covering that has been passed down through generations. We reimagined Jamakkalam beyond its traditional form by uniting craft, culture and design together. People in Tamil Nadu are sentimentally attached to this product, and use the carpet for all their auspicious functions at home, which is why we wanted to retain Jamakkalam within a home setting, and yet, transform its form into something different that would match the modern taste.
We have worked on a collection of theme based furniture using Jamakkalam as the core material. The collection is based on Chettinad architecture. We stepped out of the traditional striped pattern of Jamakkalam and experimented with forms found in Chettinad architecture. We also aim to build New Folder Design as a hub for design solutions and work in any sector, and also conduct curated short design workshops/courses for students and organisations in the near future.
Words Neeraja Srinivasan
Date 08-08-2023