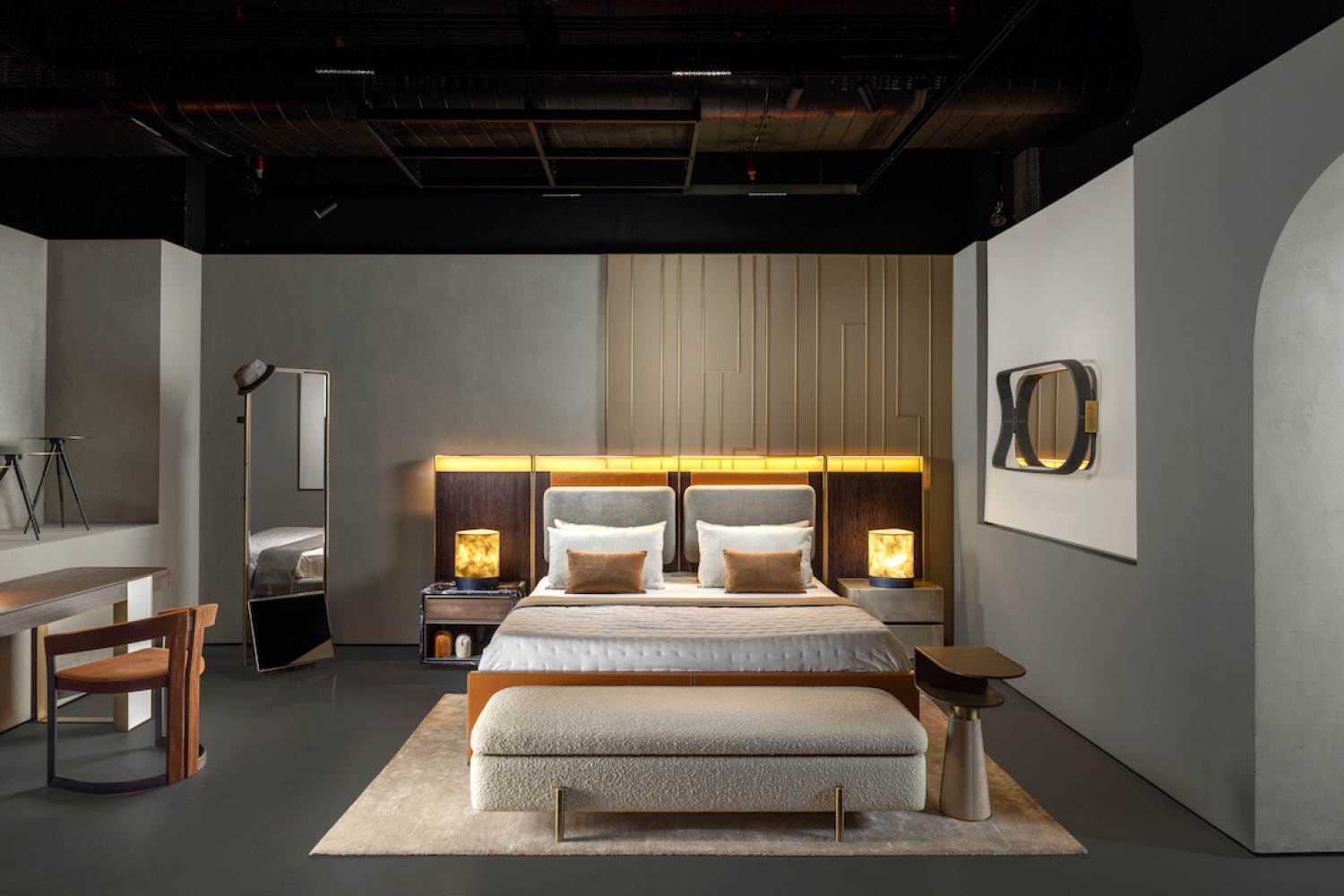 At the helm of Wriver, a luxury furniture brand, is Sajal Lamba. The brand synergises rare craftsmanship and material innovation with comprehensive savoir-faire, to deliver high quality and unmatched designs for empowering interiors.
Lamba has continued to add a luxurious facet to the narrative of home furniture since 2008 in the country. He resolutely believes that quality triumphs over quantity, which is mirrored in his work throughout his twenty-plus years of industry experience. Extending those cultivated learnings and carrying them forward through Wriver, he aims to bring India on the world map of design. Sajal completed his education in Business Administration from the prestigious HSB, Hisar. He acquired valuable exposure working with industry leaders before founding Alsorg, with his partners, in 2008. His immaculate professional experience forms the backbone of Wriver, actively empowering the furniture design domain in India. With a futuristic outlook and thriving enthusiasm, his work at Wriver dispenses an honest solution-oriented yet experimental approach that makes luxury accessible to the masses.
How did your romance with design begin?
Since childhood, I've been a perfectionist and possess a refined eye for detail, which translates into our products. I've always been passionate about design and enjoy actively participating in collaboration and manufacturing processes. I have always appreciated good design, especially furniture. When travelling, I was always interested in exploring luxury stores and bespoke furniture pieces.
How would you define your design sensibility?
I am not a designer but a connoisseur of good design, especially furniture. My design sensibilities embrace functionality and contemporary aesthetics. Modern furniture should be calming, serene and peppered, focusing on architectural elements. However, the subtle decorative details, attention to bold scales, and concise colour palette can create a warm space with easy sophistication – something that describes my design language. When setting up Wriver, we ensured that the brand would cater to quality products, which make luxury accessible to design-conscious consumers and weave rare craftsmanship with material innovation.
How did you meet your founders to start Wriver?
We all met when we worked for a company in 2005. As our friendship grew, we realised we wanted to become entrepreneurs, and by 2008, were looking at partnerships. In 2008, Alsorg was established, and in 2009 we travelled to Italy — this trip was a game-changer for us. Our lives took a new direction after this, considering we had no design background and were mostly into sales. It wasn't a smooth ride, but we successfully established Alsorg in 2010.
The journey of Wriver started during our trip to Italy, where we felt a void of accessible, luxury furniture in the current market. We realised that most mass-made products lack uniqueness and the bespoke ones were over-priced. In addition, customisation does take up a lot of energy and time. On average, it takes about five to six months to finish one collection, and constantly going back and forth can be draining. Also, none of us were designers, so creating original pieces was challenging. Wriver was conceptualised as an answer to this void of customised furniture in the market, making luxury accessible. This is because once we engineer and prototype our product, we have the capability to mass-make it. Originality and scalability gave wings to Wriver.
Functionality versus aesthetic is a long standing debate in design. What's your stance on it?
For me personally, functionality and aesthetics are the two sides of a coin. Good design can only happen by amalgamating both. However, striking that balance between aesthetics and function can be challenging. If you tip this balance in favour of aesthetics, qualities such as comfort and ergonomics could be compromised. However, if you only focus on functionality, comfort and liveability are more dominant, with little regard for beauty and style. At Wriver, we believe in merging aesthetics with functionality to create designs that exude conviviality and contemporary elegance.
How would you define the design language of the products of Wriver?
Wriver is redefining the Indian furniture market with its intuitive design. The new-found energy of Wriver finds its rhythm in bespoke interiors. We coalesce contemporary design sensibilities with technical know-how and functional profiles to create elegant pieces, finished with fine craftsmanship. Creating and curating personalised spaces, Wriver prepares to carve a niche in the market of price-sensitive luxury furniture and establish a loyal community of design-conscious consumers.
The colour palette of the products at Wriver has always remained minimal — was that a conscious choice?
While we started with a neutral setting, we've brought hints of colour into the Wriver collection over the years. I believe colours lay the foundation for expressive details, and add more personality. Most pieces in our current range offer options for colour customisation. Initially, we felt that pared-down neutrals work well with smooth, clean, geometric silhouettes and straight lines. However, we experimented and realised that even bold, solid hues could energise modern living.
Do you have a creative process?
Our creative process is driven by the need to make luxury accessible. Despite varied design styles and experimentation with innovation, the unmatched craftsmanship and meticulous detailing stay constant in all of Wriver's products. Our creative process results from extensive research where we explore trends and changing demands through expert inputs. Post it, our expert team starts working on designs that can integrate the same, manifesting their assorted sensibilities. All products are manufactured using state-of-the-art machinery that enables accurate precision and supports extensive metal fabrication. It also allows us to expedite our manufacturing and deliver products promptly.