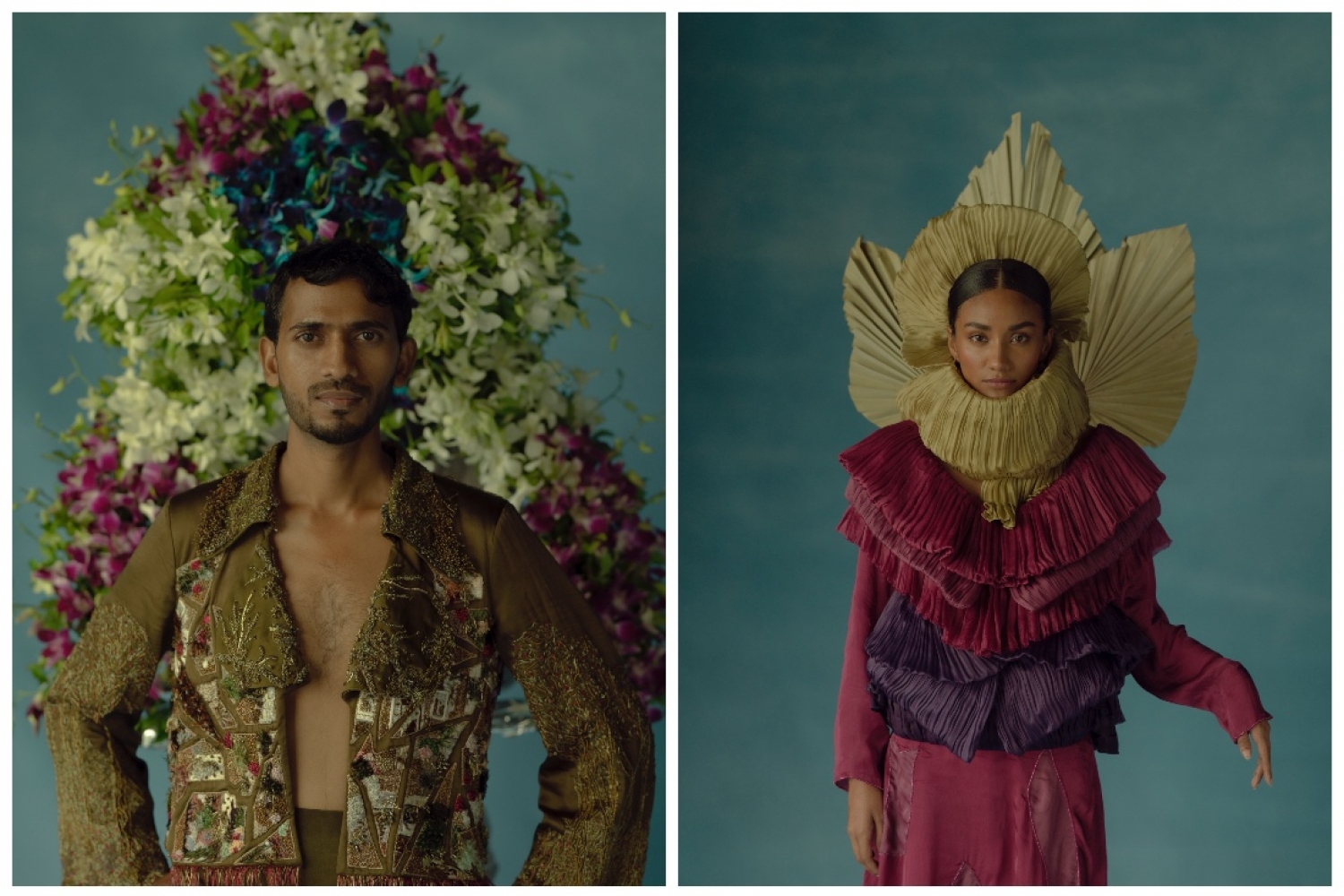 The creative director of A Humming Way, Sweta Agrawal has been a business woman for eight years but always had an inkling for design. In her formative years, she felt a lack of craftsmanship and detailing in mainstream fashion. As a teenager, she often designed her own clothes and that is where the fascination began to brew. The designer is influenced a great deal by her childhood, spent shuttling between her ancestral homes in Nepal and Rajasthan. The grandeur of Rajasthani heritage and Nepal of the 90s, have provided a vivid bank of memories, from which she draws her inspiration.
We're in conversation with Sweta who tells us more about the label and its experimental design practice.
What does the label stand for?
Since before the official launch of my label, A Humming Way, in the days that I was still developing our prime focus and our first collection, my work always gravitated towards the principles of co-existence. There has to be a way for man, nature, and the different species that live on this planet, to sustainably live alongside each other in an ecosystem that doesn't leave either of us behind. Our collection from the recent past, called Matsutake, was also created in the spirit of this duality of existing together, in that we wanted to explore the beauty that is still birthed from man-made decay, demonstrated through the characteristics of mushrooms. The collection also served as a further exploration of our upcycled, off- cuts from past collections, a central focus in our design language since the beginning.
What is it that inspires your artistry? Take us through your creative process.
Inspiration can come from anywhere — everyday life, reading, walking around, when you're on your own at two a.m. or four a.m. I am a night owl, I tend to be awake until the early hours of the day, when I am at my most creative periods. In those periods I am at my most receptive, sponge-like to things I pass by everyday that are suddenly contextualised to me in a new way. Thoughtful conversations are really inspiring, also platters of food. For my collection, Matsutake, I came to think about the concept whilst eating a meal of five varied mushrooms together in a pasta dish. I later happened upon a documentary on the Matsutake harvest, and when I found myself reading papers and a book about it later, the idea snowballed into an entire collection. When you are fascinated with a certain topic or a certain visual that sits in your mind, you grow with it for some time, you look for connected articles and reading material from different perspectives, and that is how the moodboard starts.
The reason we create only one season a year (now two because of the launch of the AHW Atelier) is because when we are thinking about a topic and something has attracted me enough to really pursue it and realize a collection, then I live in that ecosystem for six to seven months. I'm, in a way, living that creative thought process, and so for that moment we can make no new collections. I'm excited to see the cross-pollination of the same ideas between the two ends of the contemporary A Humming Way and the festive Indian A Humming Way Atelier. It's like a creative ecosystem you build for a terrarium, you add soil, rocks, worms, plants, et cetera, and then you live in that ecosystem for a few months.
When it comes to design, how do you balance functionality with aesthetic?
When it comes to design, aesthetics is something you imagine or visualise for how a garment should look like, be it colour or a creative aspect. It is always part of the creative journey that comes before creating the product. At the mood board, for pieces or a collection we are creating, it is always aesthetic-focused and visual-focused, but when the production process starts, there is this whole engineering aspect and a workflow at play. There is a lot of back and forth, and a mental negotiation, that finally becomes a good amalgamation of our creative expectations with the workability of that garment or that particular piece. So that is one creatively technical part of the whole production process. The most technical actually. But often it is not only functionality, it is also what an audience can connect with. This whole back and forth is also what led to the creation of A Humming Way Atelier, which is a result of what the audience wanted and what we wanted to present.
How does sustainability incorporate itself in the AHW blueprint?
Other than the basics of using sustainable or recycled fabrics that are luckily available in the market these days, an important part of our DNA, from the beginning, is how we upcycle our very own waste from the garments we produce. All off-cuts, discards big or small, are collected. We play around with them, we form them into shapes and motifs that we use to embellish our garments primarily. However, it wasn't until many rounds of experiments that they started to take on a life of their own. This experimentation was the foundation and making of a central technique in all A Humming Way clothing pieces. For instance, one day we decided to iron the organza scraps and segregate them by colour, ultimately creating our amoeba lining which was featured in our NYFW presentation. We decided to cut these scraps in varied amoeba-like shapes and used them for one gown, and now continually use it as the inside lining of any and all blazers we make. Whilst wearing a blazer, you often put it down or hang it up for coat check, and the lining becomes a way to express more than just what is at the surface of the garment. These specific details are central to our brand's DNA.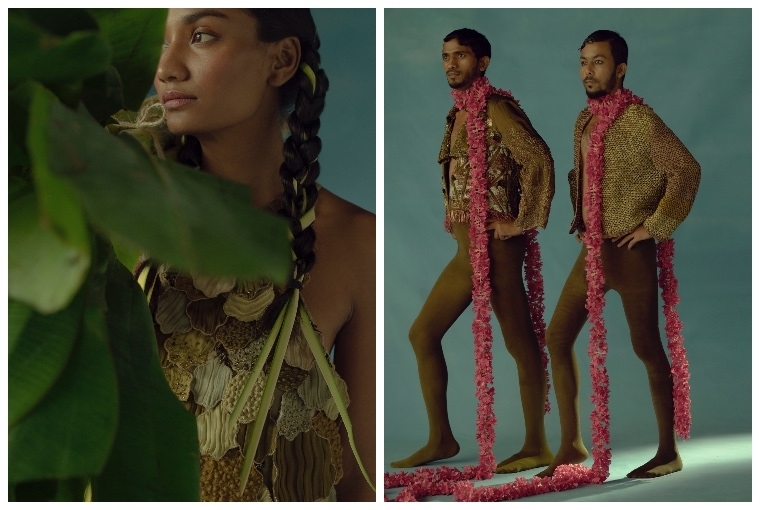 Finally, what should the fashion of now look like?
The fashion of now is that people gravitate towards what makes them comfortable, in that they no longer shy away from really expressing themselves. The fashion of now, transformed in a pressure chamber of indoor living during the times of Covid, has evolved to be maximalist in many ways. This maximalism is interpreted by everyone through the lens of their own identity. It seems to work the way I describe below, and we only have forwards to go in this regard.
Dopamine dressing is the word for now. If someone identifies with wearing big energy-colored attire, they go the extra mile in expressing exactly that through the way they dress. People will no longer shy away from going the whole way in expressing that side of themselves. If they are inclined towards power suits and an official look, they do not shy away from really going the extra mile here. Something that in the past would be judged to be costumey is now being more viscerally accepted as the normal of today. Same goes for people that dress gothically, they will indulge more in their form of pleasure dressing.
Date 15-12-2021