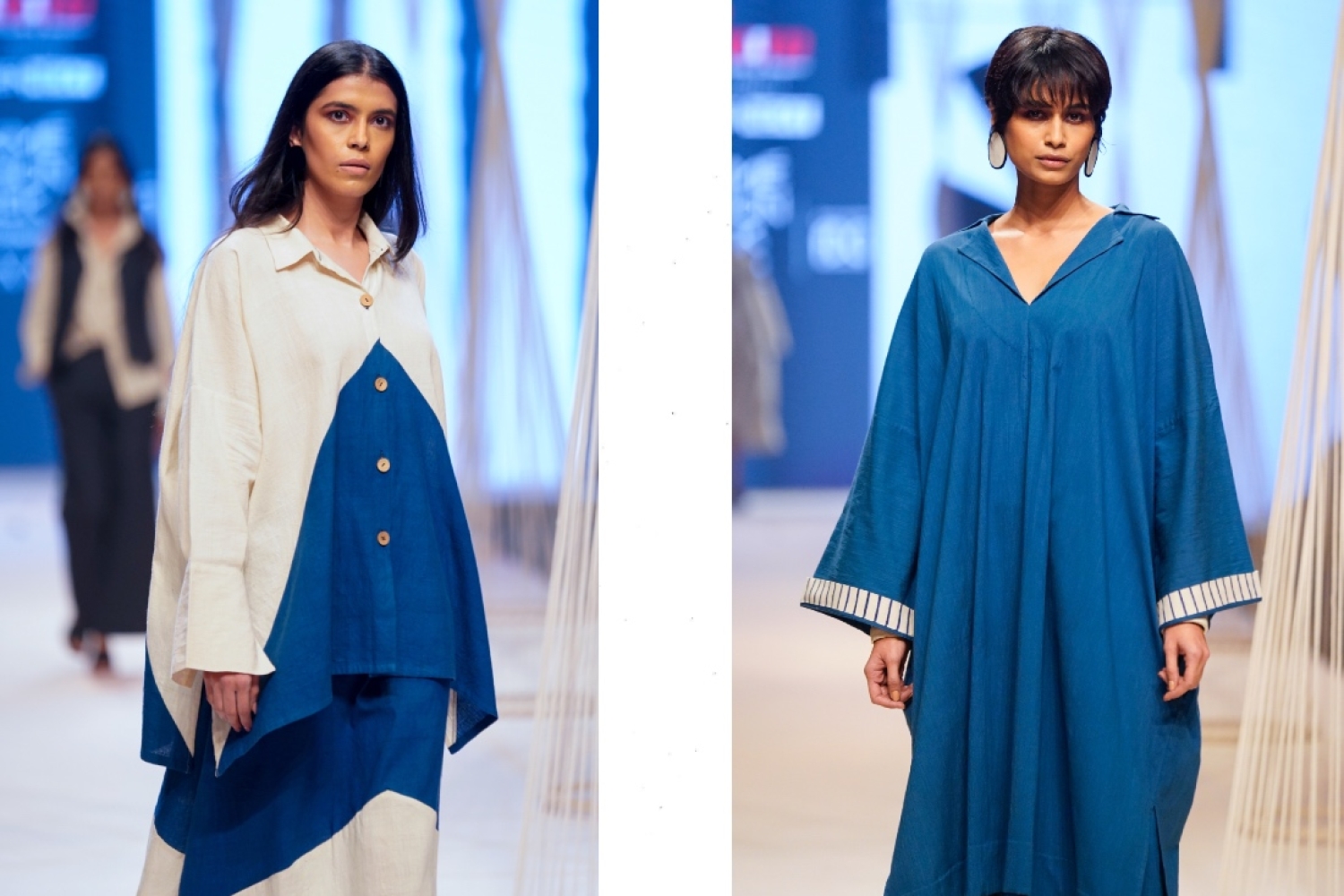 Founder of the label stoïque, Arshna Raj had always wanted to be around fashion. She remembers watching her mother sew and being awestruck by it. Her mother would construct garments for Arshna and her siblings, while she would take over the leftover scrap fabric and hand sew outfits for her dolls. The designer's affinity for fashion hasn't faded ever since, and it now exists as an outlet for her to express herself.
When it comes to her personal philosophy, Arshna is rather rooted in nostalgia, enamoured by the idea of a simpler life and finding beauty in the ordinary, and this translates into her art, photography, and the garments she makes. Trying to build a community centred around people, the arts and culture with her label, stoïque is her bridge between human psychology and design. Her curiosity around emotions finds itself rendered in reality through the pieces she creates. During the pandemic, Arshna also ran an Indian wear label in her city which taught her a lot about managing her own setup, eventually leading her to work on stoïque. Below, the young entrepreneur tells us more about her practice and process.
The Practice
Our clothing is designed keeping in mind new age women, who are confident, have a unique personal taste, and can make our clothes their own. We often confuse dressiness with discomfort. I'd really like to question why can't one feel comfortable and feel as beautiful as ever. Our clothes are very simple, minimalistic and relevant. For us, emotion forms the basis of everything that we do or create. The decisions to choose the silhouettes and cuts that we have are made to empower women to own their bodies and wear what truly makes them feel good.
I would also say that functionality and durability stand at our core — the clothing we make should also last the wearer many years to come. We believe in trans seasonality and produce fewer pieces in our collections, with each having its own significance. The first collection we launched was called Genesis which spoke a lot about roots and finding one's own space. The current collection, Rising, is an extension and continuation in the sense that I feel as a human I'm evolving and stoïque is evolving with me, we're going places and rising together.
The Collection
With Rising, I knew it had to be an extension of the first collection, not in terms of the silhouettes or colours but in terms of its appeal. The way we design our pieces is rooted in minimalism, but the garments are still very bold and have an edge to them. I did not want to lose out on sensuality and sophistication for this collection and had decided that we would collaborate with more artisans with every subsequent offering of ours. We added khadi sourced from the South of India this season. We've attempted to make clothing that doesn't restrict the flow of the body and is dictated by the wearer. Inspired by the emotions of longing for home and finding meaning, we knew this collection too would embrace the simpler things in life.
The Process
I take a lot of inspiration from my own emotions and what I'm feeling at the moment. During Covid, we all had to come back home and this made me feel that the city that I came back to was very different from the one that I had left. Things had changed, but I think I was still the same. I didn't feel at home despite the fact that I was surrounded by people I grew up with — I felt like a misfit of sorts longing for what existed before I had left.
Once my inspiration strikes, it translates into colours and silhouettes. I come up with the mood of the collection and then I go on to sketch about two to three hundred styles, out of which only fifty are actually created. There's a lot of hit and trial that goes in, we like to play around with colour combinations, we make samples on muslins, then construct actual samples and shoot with them. I am rather visual by nature so once the samples are created, we end up making multiple changes before the piece is finalised. I'm very hands on when it comes to design and deeply involved in the construction of every little detail.
The Fashion of Now
I don't think fashion is a separate entity per se, it's merely a reflection of what's going on in the world. So when it comes to the future, I think inclusivity and authenticity is the way forward. We need more kindness and we need to be nicer to the people we work with, and when it comes to fashion, I'd say it's important to have fun with what's being created.
Text Unnati Saini
Date 06-12-2022