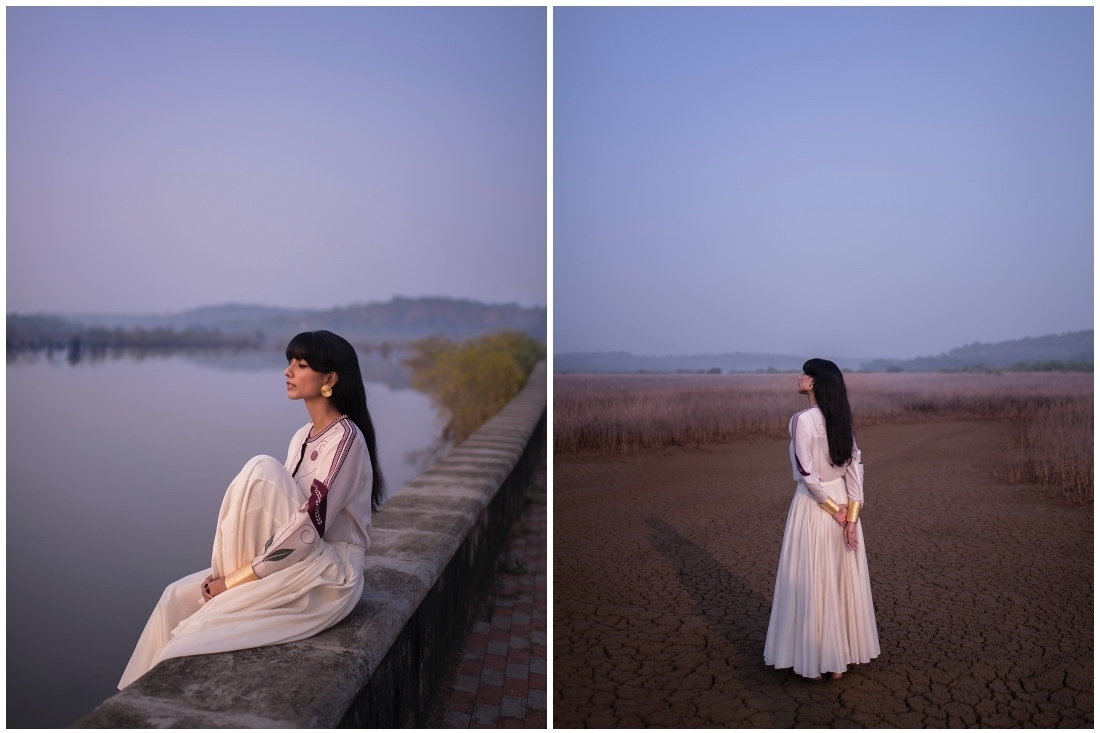 Priyanka Modi, creative director of the label AMPM, grew up surrounded by textiles. From a very young age, she was acquainted with a wide range of homegrown weaves, from cashmere to pure silks and cottons. Her travels across the country have helped her amass incredible knowledge about traditional textiles, different kinds of drapes and fits. She formalised this knowledge further with a degree in design, first from Pearl Academy and later from the London College of Fashion. At AMPM, the designer believes in primarily using a wide variety of natural fabrics, ranging from pure cotton to chanderi.
Made to inspire, the label's latest offering is art-i-culate, an extremely personal and intimate project. By fondly recounting their journeys, the creators behind the series provide a glimpse of themselves — a moment in time never seen before. Every emotion, every movement that you see, articulates their story. Some of the creators include Karuna Reddy, a potter, renowned filmmaker Guneet Monga, chef Chinu Vaze and multidisciplinary artist Rhea Gupte, amongst others.
We're in conversation with Priyanka Modi about this on-going series, the fashion of now and more.
At a time like this, what motivates you to create?
Simply, the arts. My work has always reflected inspiration from various art forms from India and around the world. It is because art is an expression that evolves my work and fuels my creativity. Even with the art-i-culate series, it was deeply personal to me to tell the stories of art and the artists behind them. It was created with the hope that this series enriches the lives of everyone who gets to experience it. That it sparks a little inspiration, a little creativity, for the great minds out there waiting for it. Just as it did for me.
After all these years in the industry, how do you think your craft has evolved and what is it now that you aspire towards?
What started as a passion project gradually evolved into an almost 20-year-old omnichannel brand. When Ankur and I established AMPM in 2002, the Indian market was filled with opulence of designer wear and mass-produced economical fashion. With AMPM, we wanted to bridge this gap with clothes that were fuss-free, versatile, and timeless. These attributes were seamlessly translated into effortless feminine silhouettes, innovative colour palettes and reimagined artistry, which continue to shape the brand's narrative today. In the last two decades, I think our craft has evolved a lot. We have learned, unlearned and learned again. Whether it is about the Indian market, the business of fashion or our own strengths and weaknesses. The customer and her evolution over the years has played a big role in what we have created at AMPM.
If you observe our collections closely, you will notice it. While there are recurring themes like season's inspirations, patterns, colour palettes and silhouettes, you will also observe things we've experimented with but did not carry them further, for example, our occasion-wear line. In hindsight, this process was very important to our journey. Adapting to what the audiences and I truly resonated with and editing the excess. Now, our goals have truly aligned with our vision. All of us at AMPM are aspiring towards making it a global luxury and lifestyle brand. And while we do that, it is our aim every day to strive towards making the brand conscious, purpose-driven and mindful.
Tell us more about art-i-culate. What did the curatorial process look like and what is it that you wish to achieve with the endeavour?
Made with love, art-i-culate is an anthology series, where we bring our audience intimate accounts of artists from different disciplines. I had seen Jai Khanna's work at his solo show some time ago and observed how beautifully he had taken a traditionally busy and colourful art form, and depicted it so minimally, so emotively. I was unable to meet him for nearly two years and finally met him this year, in 2021, and found it was true that just like I had thought, he had fully and freely expressed himself in his work. His deep devotion, enthralling inspirations and infectious enthusiasm, truly captured my attention, just like his art, and for the first time, instead of telling our story I wanted to tell his story and the story of other artists and creators like him.
Art-i-culate is an extension of my vision to start a lifelong conversation with artists, creators, dreamers and thinkers. It's my attempt to recognise and understand art, in all its forms. Everyone's artistic journey is different, the inspiration is different, and the purpose is different.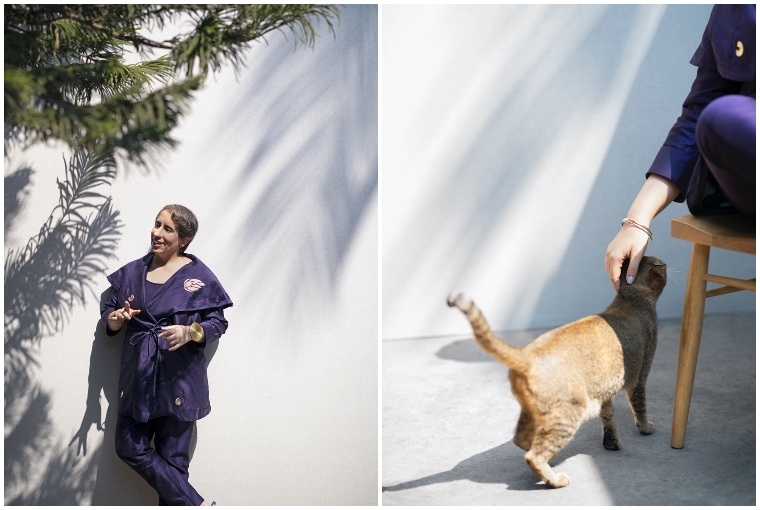 Take us through the creative process for this collection.
Being a Marwari myself, I've experienced Rajasthan in many different ways throughout my life. I have travelled there, lived there, been schooled there, but the one thing that's remained a constant has been my sense of awe at the sheer width and variation of art, craft, topography and culture that this desert land has to offer. So many times over nearly two decades, I've thought of exploring Rajasthan. And every single time I was overwhelmed by the number of possibilities it presented and the fact that I'd have to whittle it down to fit into a collection. So I kept pushing it for the future. For most of us, it took an unforeseen global event to realise that we cannot wait for a perfect time for things to happen; and how out of control we truly are regarding our own lives.
For the first time, AMPM's inspiration has come from the land of majestic palaces, rugged forts, golden sand and a scorching sun. We have brought Rajasthan to life through the panoramic lens of Aārthai. A name coined by us, it is the culmination of two words — 'art' a recurring source of inspiration and 'athai,'a Marwari origin word meaning 'here'. Aārthai simply means 'art lies here'.
Finally what do you think the fashion of now should look like?
Now more than ever, fashion needs to become more mindful, versatile and timeless.
Text Unnati Saini
Date 14-04-2021