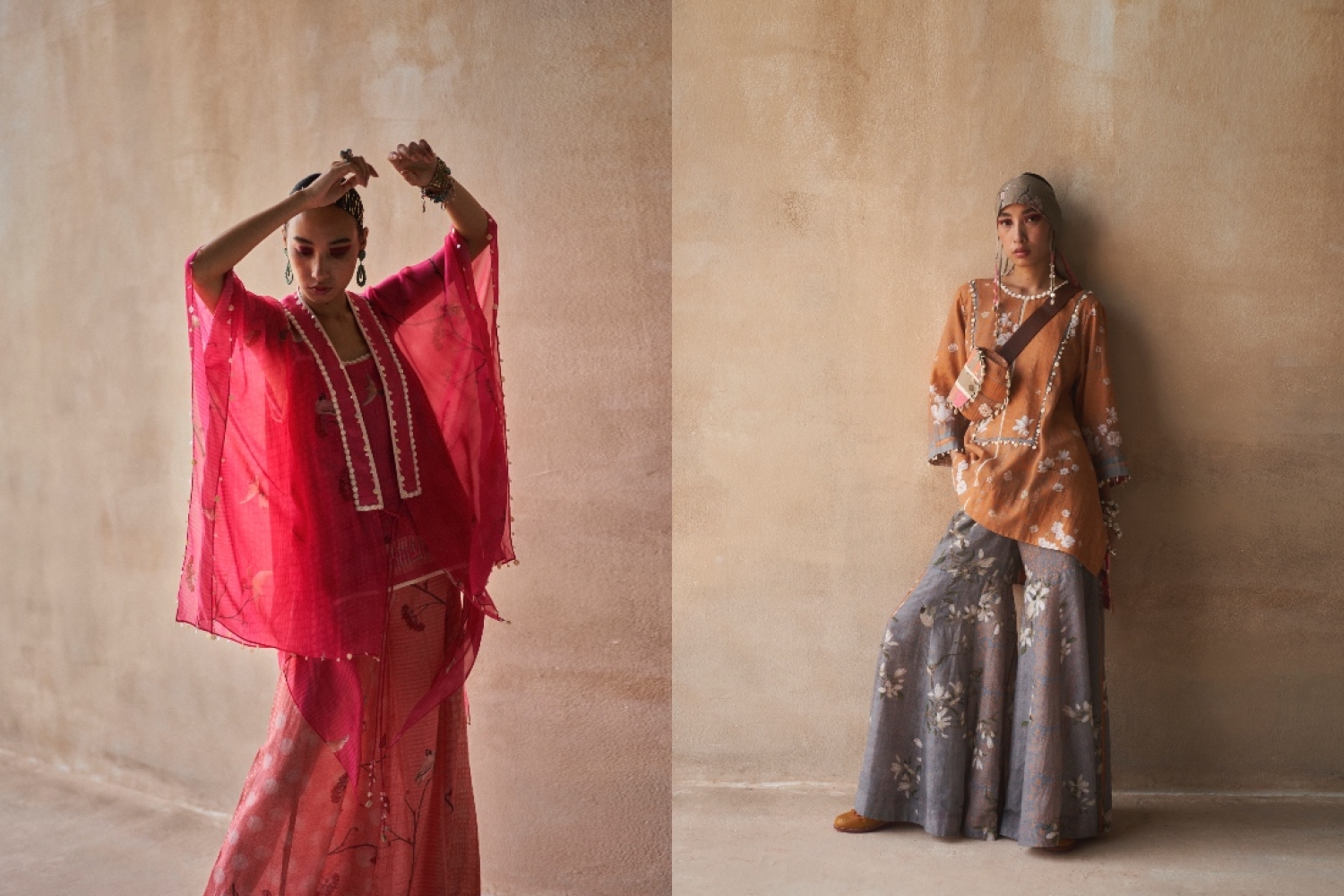 After working with the best draper, Tarun Tahiliani, for over fifteen years, his prodigy Aseem Kapoor has started his own eponymous label. He re-imagines natural textures and tribal motifs for a modern lifestyle, with a nod to the Wabi-Sabi aesthetic, celebrating imperfection and simplicity. While doing so, Aseem Kapoor also delves into contemporary Indian style, and through design, pays homage to the country's newfound confidence in its sartorial heritage and expressions. Committed to sustainable design, the label offers clothes that are season-less and champion long-standing craft practices, both in technique and aesthetics. They capture the effortless, natural beauty of tribal and folk modes of dressing that are practical and decorative, personal and symbolic.
More about the label and Aseem below:
Beginnings
Experimentation with design started at a very tender age, when I drew tirelessly for hours, sitting in quite corners of my humble school. Being a silent kid, I was always secluded and aloof but very focused on anything creative. This obviously pushed me to study design at the National Institute of Fashion Technology, where I understood the technicalities involved in something as abstract as design.
Time at Tarun Tahiliani
I was hired immediately after graduation for menswear at Tarun Tahiliani. I studied the practices of an established atelier while learning the craft from the master draper of India. I spent those fifteen years learning and experiencing the nitty-gritties of design process under TT (that's what he is lovingly called). However, I would say that the biggest learing from my time over there is appreciating the differences between an artist and a designer. Designers are artists in some way, but understanding your consumers' needs and building up on that, keeping your aesthetic intact with help of best business practices and Design SOPs, gave me a deep understand of fashion as business. Rising over the years, I got the chance to the head Tahiliani's design atelier, overseeing both ready-to-wear womenswear and menswear collections.
The Label
The idea of having my own label has been brewing inside my head since I graduated from NIFT and started working professionally back in 2003. I was always looking for my peculiar voice and a unique story to tell. Having the time off during the lockdown gave me a lot of glaring clarities on my priorities and vision. The new heights of stillness we all reached during quarantine time made the whole creative process very spiritual. There was clarity on the basic priorities of us as humans and our integral need for reflecting inwards.
This dream became a reality when I met my ideation partner and the label's Co- founder, Pooja Haldar, who helped channelise an idea into a brand. She has a deep understanding of the human body, seminal to the creation of the brand's signature silhouettes. Hence, the label Aseem Kapoor was born in late 2020. I always wanted to express my own voice in design without being an oversell. The eponymous label was launched in late 2020, in the midst of the pandemic, which will always reflect in the brand's identity as being embedded in the delicious ambiguity of the human experience.
The Latest Collection
'I wanted a perfect ending. Now I've learned, the hard way, that some poems don't rhyme, and some stories don't have a clear beginning, middle, and end. Life is about not knowing, having to change, taking the moment and making the best of it, without knowing what's going to happen next. Delicious Ambiguity.' ― Gilda Rander
ART CLASS, the nostalgia of a simpler time. This collection captures that small, daily joy, that comes alive in a collection by bringing India's craft history, contemporary layering, and a palette of ash, haldi, neel, and sindoor, together in a labour of love.
The Future
With its ideas and design philosophy rooted in the practice of local crafts, weaves, and silhouettes, label Aseem Kapoor aims to create contemporary designs that straddle the divide between the past and the future. The brand plans to expand into menswear, home, bridal and yoga lines, in the near future.

Text Hansika Lohani Mehtani
Date 12-11-2021