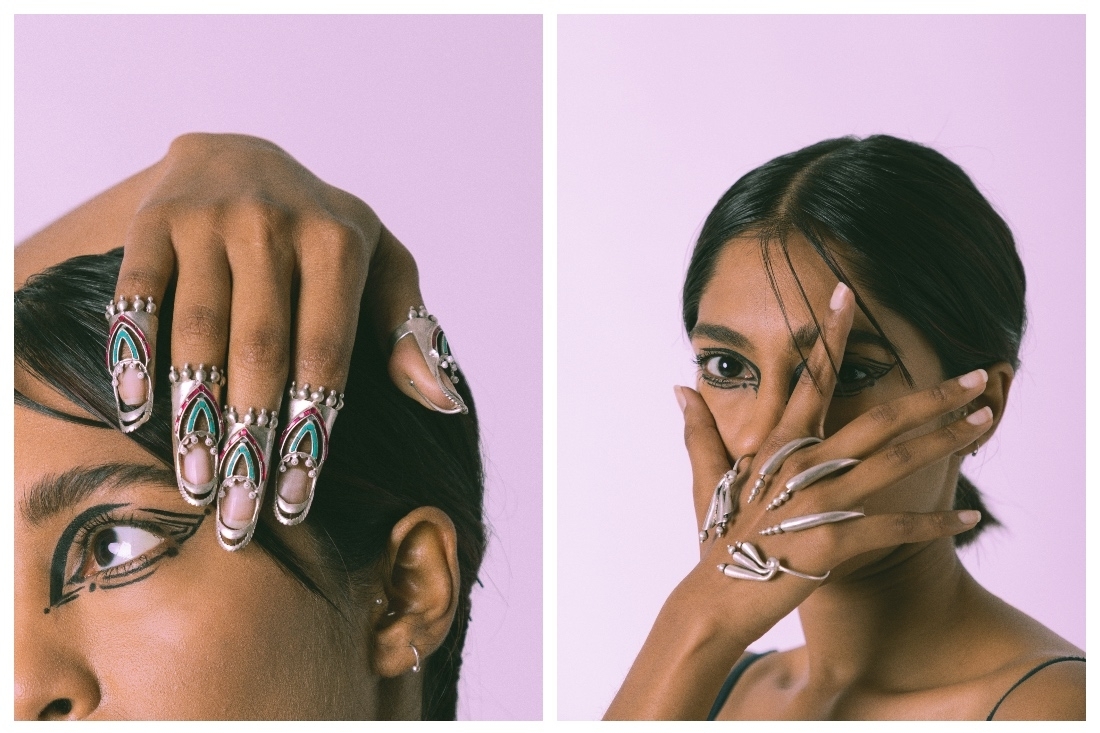 Fierce, feminine and fun are some of the adjectives that pop into one's when head looking at the unique pieces of label Bhavya Ramesh's jewellery line. With a background in engineering, the founder of her eponymous jewellery label, Bhavya always found solace in design. A means of self-expression, the designer had always been passionate towards the field. Intrigued by shapes, forms, textiles and even architecture, she began her journey by collecting quirky pieces while travelling. She spent a great deal of time researching the history and origin of gypsies of northern Karnataka and remote Rajasthan. What she managed to stumble upon was inspiration in the form of exquisite art pieces, passed on through generations. There was no looking back from there and hence began Bhavya Ramesh, the label.
Bhavya tells us more about her process, the intensity of her narratives and more:
The Label
I wanted it to be anything but mediocre. I've always known that I thrive in a self-motivating and self-regulating environment. I started the label with the intention to create pieces that not only helps people embrace their bold selves, but also lets them experience design by interacting with it. The label is always committed to encouraging self-expression, by upholding the power of human touch through supporting local artisans practicing traditional art forms.
The Narrative
I believe that we are all storytellers and that our very own lives are stories. A narrative allows me to have a shared purpose with the customer and this relationship shifts them from being a consumer to a co-creator. If anything, I want my pieces to play a supporting act every time you play a leading role in your life.
The Creative Process
My phone camera is my undying source of inspiration. I let all the shapes and forms that I come across in my day-to-day life take space in my head, and then I play with them. Interactions between me and my environment are what I usually express on paper. And the best part — I'm a noob sketcher.
The Sustainable Blueprint
Starting from the very first step of procuring the metal, we try to keep our process as ethical as possible. Other than sourcing silver bars from government certified banks, a major portion of the metal is also sourced from jewellery collected by native tribes in and around Rajasthan. This is then recycled and standardised to 92.5 Sterling silver. However, we have a long way to go to be fully sustainable and we are consciously trying hard.
The Pandemic and Beyond
The pandemic has been nothing but an awful time for the growth of the brand. Our artisans in Jaipur have been terribly affected by the pandemic and we are doing everything to keep them safe. However, these times have shown the importance of a digital presence more than ever.

Since the brand has been fiercely feminine all the way. We are working on an entire collection that is specially designed for men. Can't wait to show the world what we have in store.