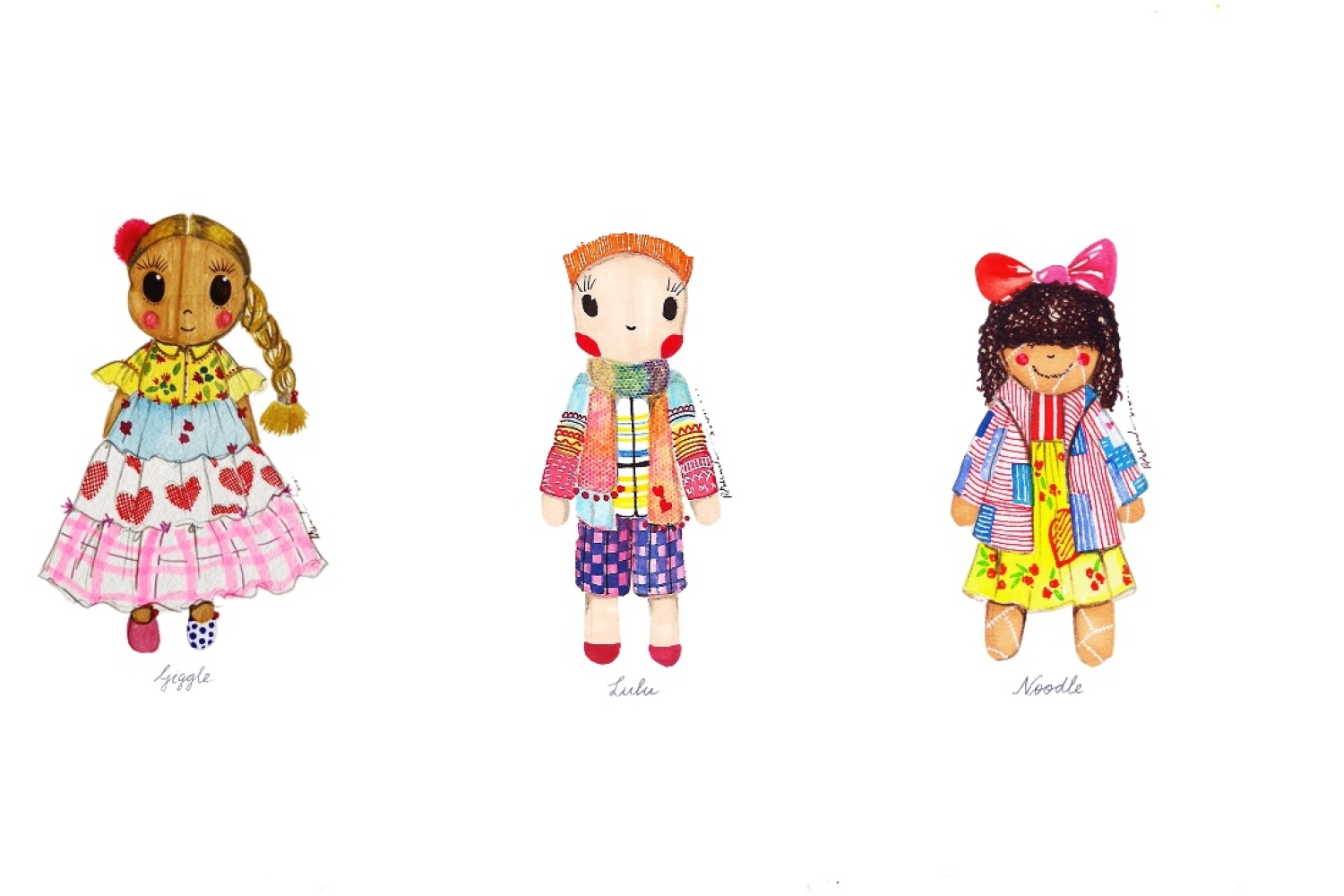 Celebrating 13 Years of péro
Dressmaker Aneeth Arora is someone who has always believed in creating a narrative that evokes nostalgia for traditional crafts. The collections that emerge are reminiscent of indigenous cultures but reflect the mindset of modernity.
péro has come together with Richard Gomes to celebrate and co-create ten lovely, custom-illustrated rag doll characters. For these illustrations, their media ranged from photo ink, watercolours and transparent colour ink, to pigment ink and coloured gel pens. A Delhi-based queer designer and illustrator, Richard is a NIFT graduate, trying to make life more beautiful by spreading smiles through their art and illustrations. Accustomed to loneliness since childhood, they found refuge in art. They have incorporated their personal style called LOLA into each of these dolls and their illustrations have been rendered as prints and elaborate 3-D embroideries using beads, sequins, threads and recycled fabrics with the help of péro's skilled craftspeople. péro has also launched a small line of rag dolls called Mini, where they have translated these illustrations into stuffed 3D dolls of varied sizes. These have been used on clothes as brooches and for upcycling caps and shoes. We catch up with Aneeth to know more about the label's thirteenth year celebration, amongst other things.
To begin with, what was your vision and the initial plans for the thirteenth year celebration. What did you have in mind?
So we had recently completely our decade and a decade is always something that calls for a celebration. Since we celebrate péro's birthday every year, and we were entering into our teens, this was a special one for us. This was also the time when things were coming back to normal after the multiple lockdowns and covid, so we felt that it is time to celebrate again. I remember the lockdown had happened right after our tenth year celebration, rather in the midst of it. We just wanted to celebrate again.
Tell us about how the collaboration with Richard Gomes came about.
I would say Richard has been a silent observer in our journey. He had seen one of our ramp shows and managed to do an illustration that we weren't aware of initially. Once we posted it, the response was very warm. I am also personally intrigued by his style of work. He had sketched for us during the Fall/Winter '18 collection. I remember we used to illustrate back when I was studying at NIFT, however, post that, it rarely ever happened. So when we posted his work, he felt rather encouraged and even went on to write to us about collaborating. We commissioned a full season of illustrations with him — he recreated all our looks and that was the first instance when we worked with him. Since then, Richard has been a part of all our shows and he would illustrate off and on.
For our tenth year celebration, our association with Richard was strengthened when he made ten rag dolls for us. Considering he had observed our work season after season, we wanted the rag dolls to feature textiles from our collections. While he was creating these illustrations, we didn't have anything major in our minds. It was a fun exercise and was meant for our archives considering he was documenting the fabrics of the previous seasons, but when I actually saw his work, there was so much potential. We expanded the project and worked on different versions of it in terms of miniature dolls and 3D dolls, and eventually the project became a part of our Fall/ Winter '21 collection and we called it Mini. We rendered the dolls in whichever form we could in terms of prints and embroidery.
You've seen the changing discourse of fashion given your experience. What do you think is the purpose of it right now and what do you think we are immediately lacking?
I think the biggest change has come about already. People are looking at buying less and investing in luxury pieces. Designers are also conscious about what they're making and how much they're making. Buyers are also conscious about what they're buying. I think this pandemic was definitely a turning point in a lot of ways. It made people pause and wonder. We thought that since our thirteenth year came immediately after all this, it was important to acknowledge the change in our mindset as well. We've come to the realisation that this year is very different from our first decade. This year onwards, it'll be a different journey for us. Our perspective, with which we create, has most certainly shifted.
What would you say is your biggest learning so far, something that you'd like to pass on to the next generation?
I think, to the younger generation, I would really like to say that it is only about honesty and being original. I think when you're doing something from your heart then there is no one else who can come close to what you're doing.
Finally, what's keeping you busy right now?
While we're currently working on our Resort collection for Spring/Summer '23, we're also eagerly looking forward to launching our home collection in September in Paris. That is pretty much what the team is extremely excited about at the moment.

This article is an all exclusive from our July EZ. To read more such articles, follow the link here.

Text Unnati Saini
Date 01-08-2022