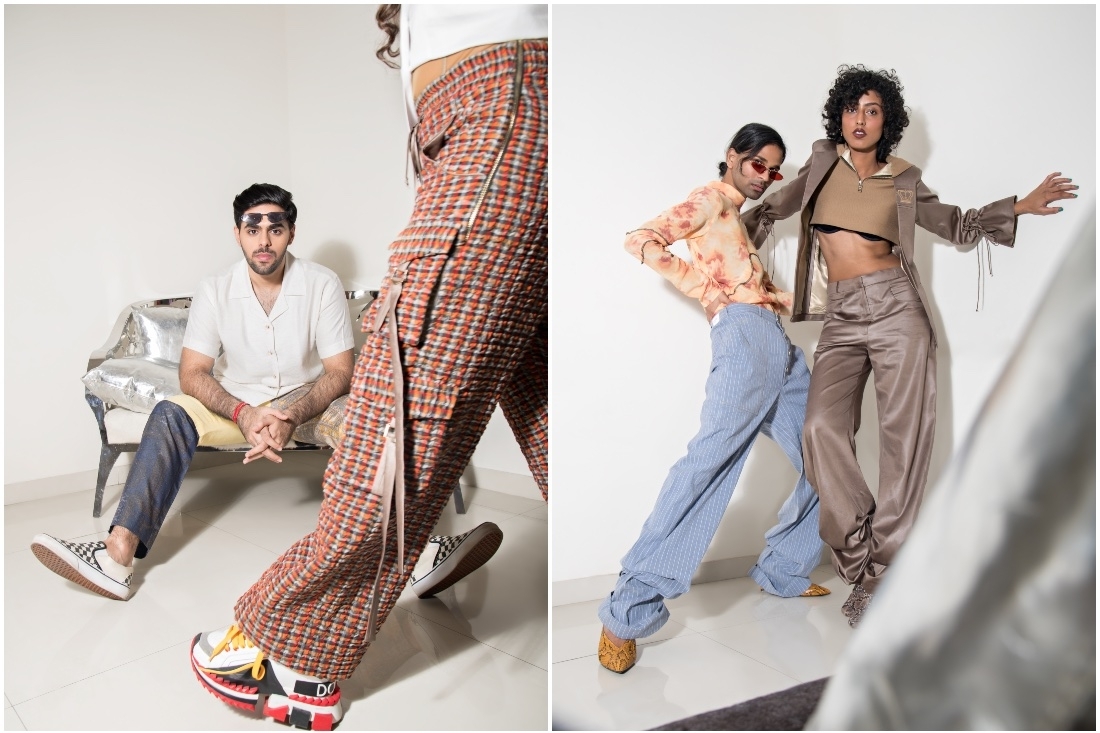 COTH, aka Czar Of The Hood, is not just a streetwear brand promoting club culture and partying, it's much more than that because they have a voice that they aren't afraid to use. The label believes in rallying for the future and feels they have a responsibility to bring about change, addressing one stereotype at a time, because everyone has a CZAR/ina within them. Brainchild of Sanchi Arora, who spent six years studying Fashion Design and Management at Istituto Marangoni, London, and was inspired by the street culture and diversity in London and really wanted to bring a piece of it back home to India. Upon her return in 2018 she began working with her father, who runs a men's occasion-wear brand, while simultaneously researching on and building COTH. The brand is also helmed by Sanchi's sister Manvi Arora, who is currently pursuing her final year in Fashion Styling at Istituto Marangoni, Paris. The younger Arora brings forth GENZ ideas and global perspective to the label. COTH is as they describe it, a diverse cocktail of a contemporary brand with modern values and traditional craftsmanship.
When COTH was finally ready to be revealed to the world, the sister duo hit the pandemic! Yet they didn't let that discourage them, and strived to continue to work hard and support the society as much as they could with the first drop. We're in conversation with Sanchi about the label, her inspiration, process and more.
Tell us a little about yourself and what led you towards design and fashion.
I was born and brought up in Mumbai. As a child I've always lived between textiles as my main family business is textile trading. Our usual dinner table conversations revolved around fashion, which I always wanted to be involved in, giving my opinions on the endless textile samples that my dad and granddad would go through in the merchandising process. Our warehouse was my playground. Amidst endless rolls of textiles, I'd spend hours getting creative, cutting up scraps to make dolls' outfits (like every little girl) or just creating tents with the rolls and napping between them. This served as an outlet to my education in fashion.
I pursued my foundation in fashion studies from London College of Fashion, where my interest in fashion design was re-enforced, so I went on to do my B.A. in Fashion Design from Istituto Marangoni, London. After completing my B.A. I went on to continue with my Masters in Luxury Brand Management, as I knew I eventually wanted to start my own label. Having witnessed things go south and come back up for creative people within my family, it was crucial for me to focus on the business side of the label as much as the creative side.
What motivated you to come up with your own label.
Having lived in London for six years, I noticed two completely contrasting niches of fashion enthusiasts at university or fashion weeks, one that was always put together head to toe and one that was effortless and chic at the same time.
That life in London made me fall in love with street culture and how it vastly varies in every 'hood', whether it's within London, or here in Bombay, and I unknowingly got inclined towards streetwear as a by product of it. I want my label to make everyone feel comfortable and confident in their own skin. I want to bring a sense of belonging with fashion. The only labels we put on our clothes are COTH. My vision for the future is for fashion to forget any stereotypes that have ever existed, and my label is a tiny step towards that vision.
Tell us about how things work at the label. Take us through the process of creation.
The process starts with going through endless dead-stock textiles from my parent firm, in order to give them a new life, reduce wastage, and keep our carbon footprint at the minimum. Because of this, we only have limited quantities in a particular style. After our inspiration concept and textiles are selected, we create endless designs and samples, and try them out on different body types and genders. This is one of the most important steps for me as I want my collections to make everyone feel confident and comfortable, irrespective of their body type, sexuality, gender or religion.
What is it that inspires you in the present moment? Also take us through your own creative process.
In the words of Grace Coddington 'Always keep your eyes open. Keep watching. Because whatever you see can inspire you.' I get my inspiration from conversations, things happening in the social and political environment, or something as tiny as my current state of mind.
My current creative process revolves around reminding myself to stop aiming for perfection, and let the brand grow, evolve and unfold its own story with time. I am not the easiest person to work with, in terms of my expectations from myself and my team and it is usually a challenge to get everyone on the same page to match my personal DNA, values and aesthetic, but instead of letting that get to me, I am a 100% involved and control every aspect of the brand, whether its social media content or pattern cutting.
How have things been during the pandemic and what do you think is coming up next in the future?
I think there has been a massive change in the ever-evolving fashion industry, and we have been forced to pause and be more mindful of our choices. Fashion is really unfolding to be more than just a means to cover-up, it has the power to stir up conversations, make statements and bring awareness to any other issues and we are so here for it!


Date 15-02-2021