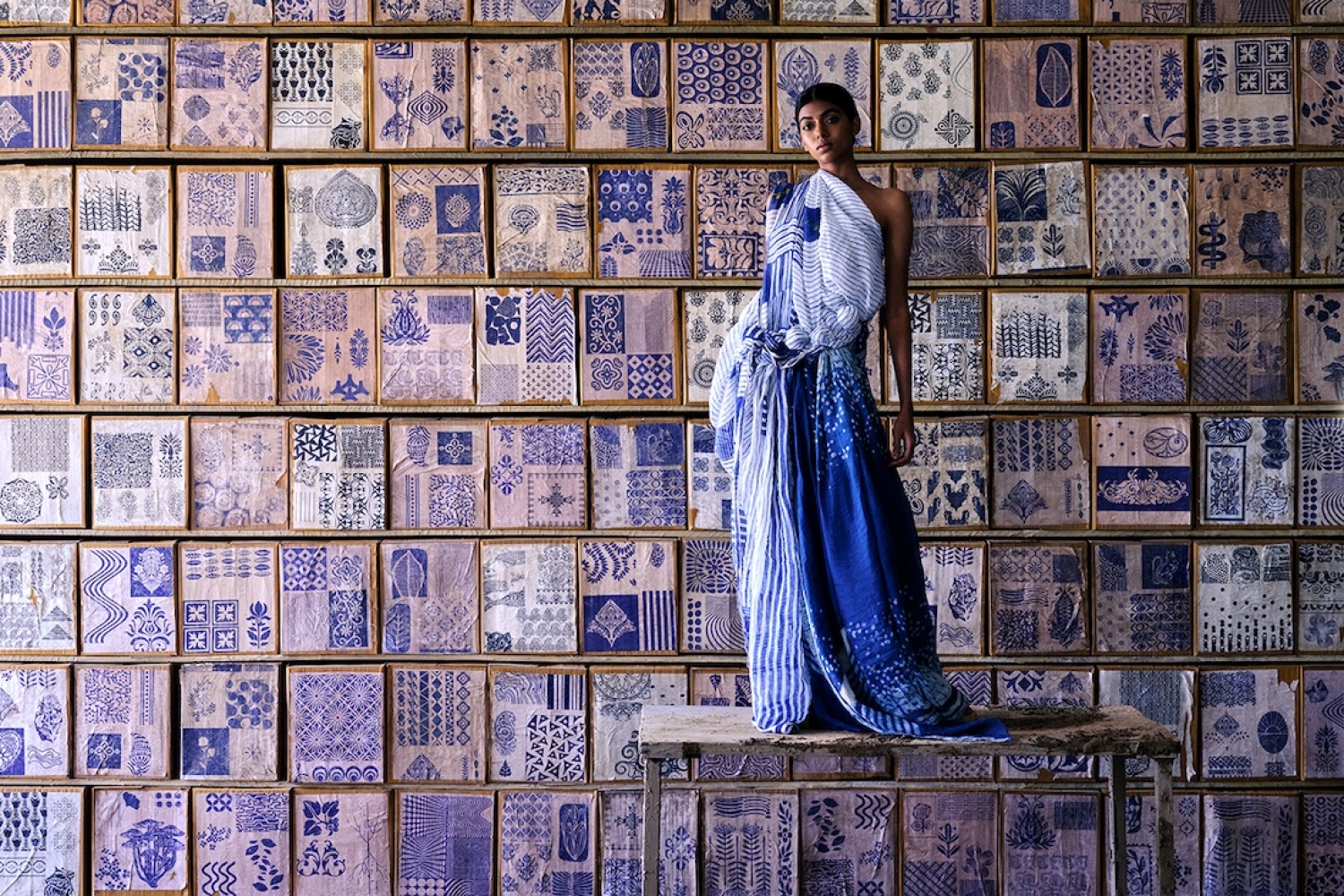 It isn't ever so often that one gets to physically replicate the craft seen on Indian textiles. They're commonly highly specialised skills, take years of experience and practice, and are not easily accessible to the layperson. So, when team Anavila invited us for a tactile experience with dabu, a form of block printing that is rather labour intensive yet sustainable in nature, I couldn't refuse the opportunity. Helmed by master artisan Mahesh Dosaya and his daughter, the latter also the custodian of his craft, the workshop took place at the Anavila headquarters on a bright afternoon in Gurgaon.
Dabu, which stems out of the hindi word dabana or to press, is a complex technique that originates from Rajasthan and makes use of local resources like mud, gum, lime and waste wheat chaff. It has a complete reliance on what nature has to offer. It involves various stages of washing and printing for the prints to show up on the fabric. While the idea of block printing may have seemed comparatively easier to my inexperienced eye as opposed to any other form of embroidery, it wasn't until I actually indulged in the process that I realised the technicality involved. There's a certain pressure and slant with which the block dipped in a wet paste of mud has to be lifted off from the fabric for the design to come through. What follows is the sprinkling of dried sawdust on the wet print to avoid smudging. Once thoroughly dried, the process of dyeing begins.
Apart from the ever so enthusiastic Mahesh ji, running around to help us novices with the process, designer Anavila Misra, dressed in a fresh summer print from the Dabu collection itself, was helping us around through the workshop as well. On being asked about her association with the master artisan, she told me, " Bagru, a town in India, has been in my thoughts for a long time. My very dear friend Indira Ben from Pune, who has worked with tussar silk in the same region for a long time, told me beautiful stories of the chippas in this region and their mastery over natural dyes. Last year, I visited this cluster with my studio colleagues and went to a few workshops. My first visit to Shri Mahesh Dosaya's workspace was magical. Sawdust and mud on the floor, beautiful printed muslin fabrics on the tables, and the happy banter of women artisans were all like a dream that I didn't want to come out of. It was truly an experience that I wanted to work with and take forward to create something that had the essence of simplicity. This combined with the infectious enthusiasm and mastery of Shri Mahesh Dosaya, paved the way for our association."
When it came to some of her initial thoughts for this easy breezy collection, the designer's focal point was mud. She was fascinated by how it could help produce something so delicate. Further inspired by the passion and willingness of the artisans to collaborate, team Anavila started working on their spring summer collection. "In my view, this craft, when practiced with passion, turns into a meditative process of creation, something divine that takes you closer to mother nature. As everything is done by hand, there are limitless possibilities to experiment and create."
While the creative process for us at the workshop was rather simple and peaceful with all the help we were provided, things were slightly different for the actual collection. To begin with, Bagru became their base for all the reference work. The team was determined to speak in their own language yet had to stay true to the craft and craftsmanship. "We stayed very close to the colour story the artisans usually work with, though our motif language is very lyrical and floral — it is all derived from daily life in and around Bagru. Motifs like khejri and boriya are derived from local flora and boond and balu are immersed in the culture of Rajasthan. Once our paper designs were done, we had a long meeting with Shri Mahesh and our block maker, Mr Guddu Khan. They improvised our designs before converting them into blocks as per the repeats and flow of a particular motif. After the blocks were ready, there was a phase of extensive sampling, and then production."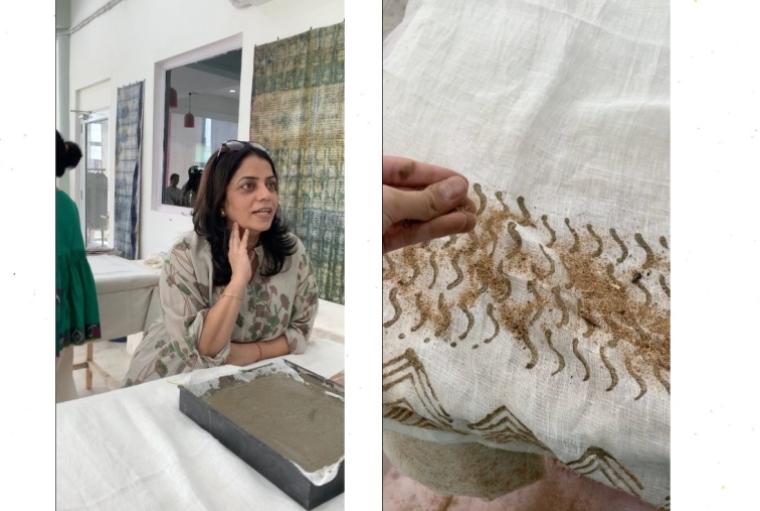 L: Designer Anavila
R: Sprinkling sawdust on the block print
One of Anavila's takeaways from the process involved something that is also a topic of conversation present heavily in the curent discourse around fashion pan India — the extent of the alliance of a designer with artisans. "One has to work with an open mind while working with crafts and artisans. The skill set of the artisans guides one through the whole process, which is indeed collaborative."
While my amateur self was able to craft an indigo dabu dupatta, albeit wonky and asymmetrical, by the end of the workshop, what made my day was observing the sheer passion with which the master artisan spoke about this unique form of block printing.
Words Unnati Saini
Date 12-05-2023