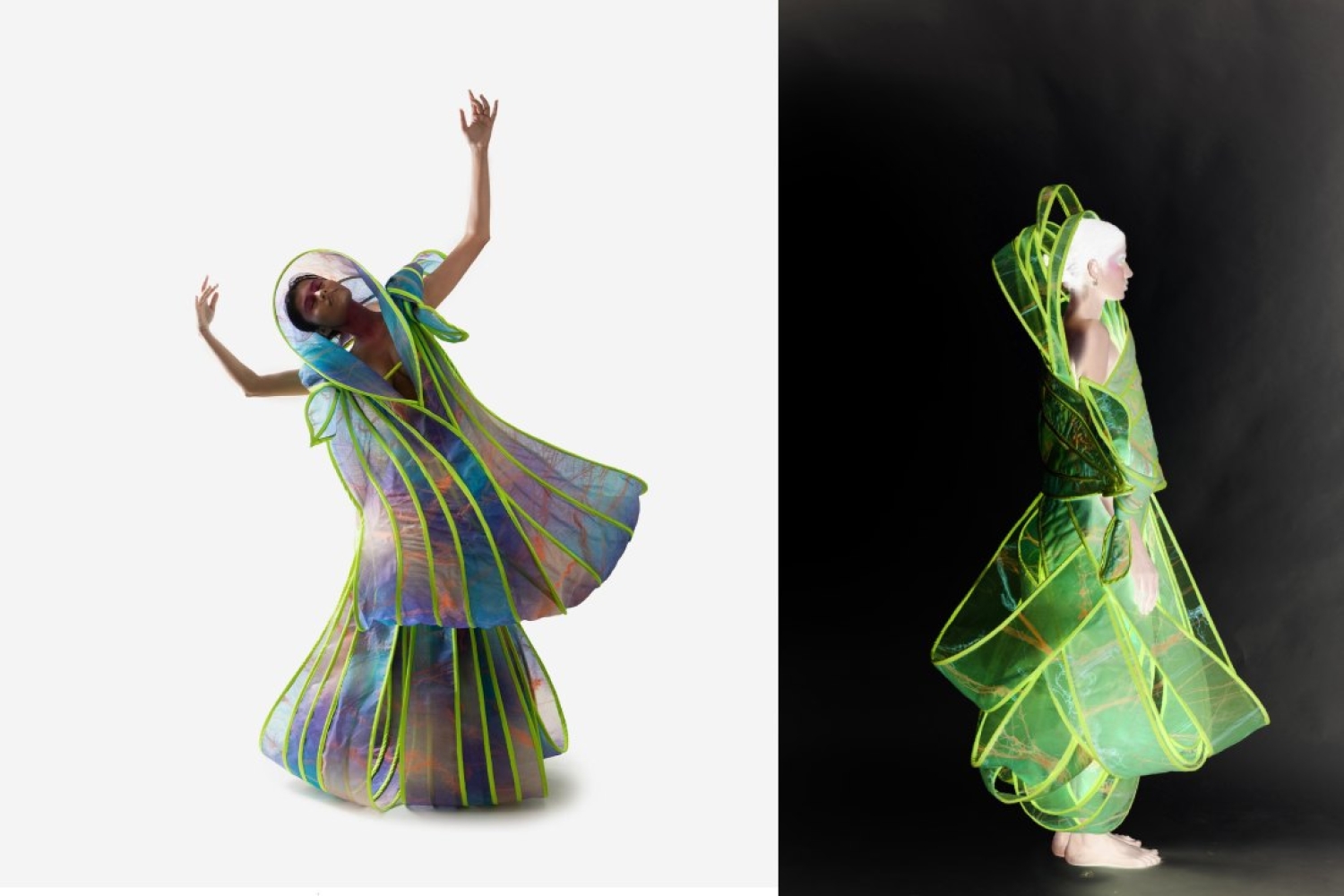 Growing up in a small town inspired designer Dhruv Bandil to develop a creative consciousness. Over the years he found joy in the little gestures of self expression he observed, be it the manner in which women draped their sarees, the garments in local tableaux and sculptures at temples— all of which were responsible for pushing him towards fashion. "The unsatiated hunger to create is what keeps me going. I went to the National Institute of Fashion Technology, Mumbai to pursue my Bachelor of Design in Fashion. I have always admired one of the most prominent names in Indian fashion — Manish Arora. After graduating from NIFT, I was fortunate to join his design team," he explains. It was during his time in Arora's team did Dhruv realize the vitality of group effort in the seemingly individualistic world of fashion.
For the young designer, who is also all set to pursue a Masters in Womenswear from Central Saint Martins in the near future, his practice is a mirror to his imagination, culture and experiences. He is fierce about his commitment to innovate and conceptualise while challenging anatomy with hyperbolic silhouettes, providing an alternative to our existing reality. "I believe that every design project emits energy that can be felt and my role as a creative is to translate that energy into a 3D form. I am currently working on developing my aesthetics and pushing the boundaries of Indian contemporary art through clothing."
As someone whose practice stands right at the intersection of fashion and the arts, the designer's tendency to experiment stems from his utmost respect for creative expression. His ultimate goal lies in being able to contribute to the aesthetic vocabulary that drives our world today, possible through a design language that remains authentic to his true self. When it comes to the process of his avant-garde practice, Dhruv likes to stay rooted in instinct. With every new project of his he tries to channel the energy he may have felt strongly during some experience of his life that had an impact on him. "It starts with a concept, something that feels right to me. Based on this, I further continue working on multifocal explorations and based on a lot of trial and error the final range is created. I rarely sketch at the beginning as it could be quite delusional."
His new collection, Threshold of Vrindavan Widows, draws from his childhood in Morena and his family's frequent visit to the religious town of Vrindavan which also happens to be the asylum for widows across the country. As the widows wait for death and their reunion with the almighty, the young designer wishes to capture the essence of this reunion through his designs. "Death is their ultimate euphoria, liberating them from their earthly form and ushering them into a tidal wave of celestial energies." The fashion of now for the designer's sensibility is easily defined. It revolves around self-expression, now more than ever, establishing a certain je ne sais quoi that is hard for him to ignore translating to and filling within him, a reservoir of . This uniqueness translates into a strong sense of self-assurance and joy.
This article is an all exclusive from our February EZ. To read more such articles, follow the link here.

Text Unnati Saini
Date 03-03-2023