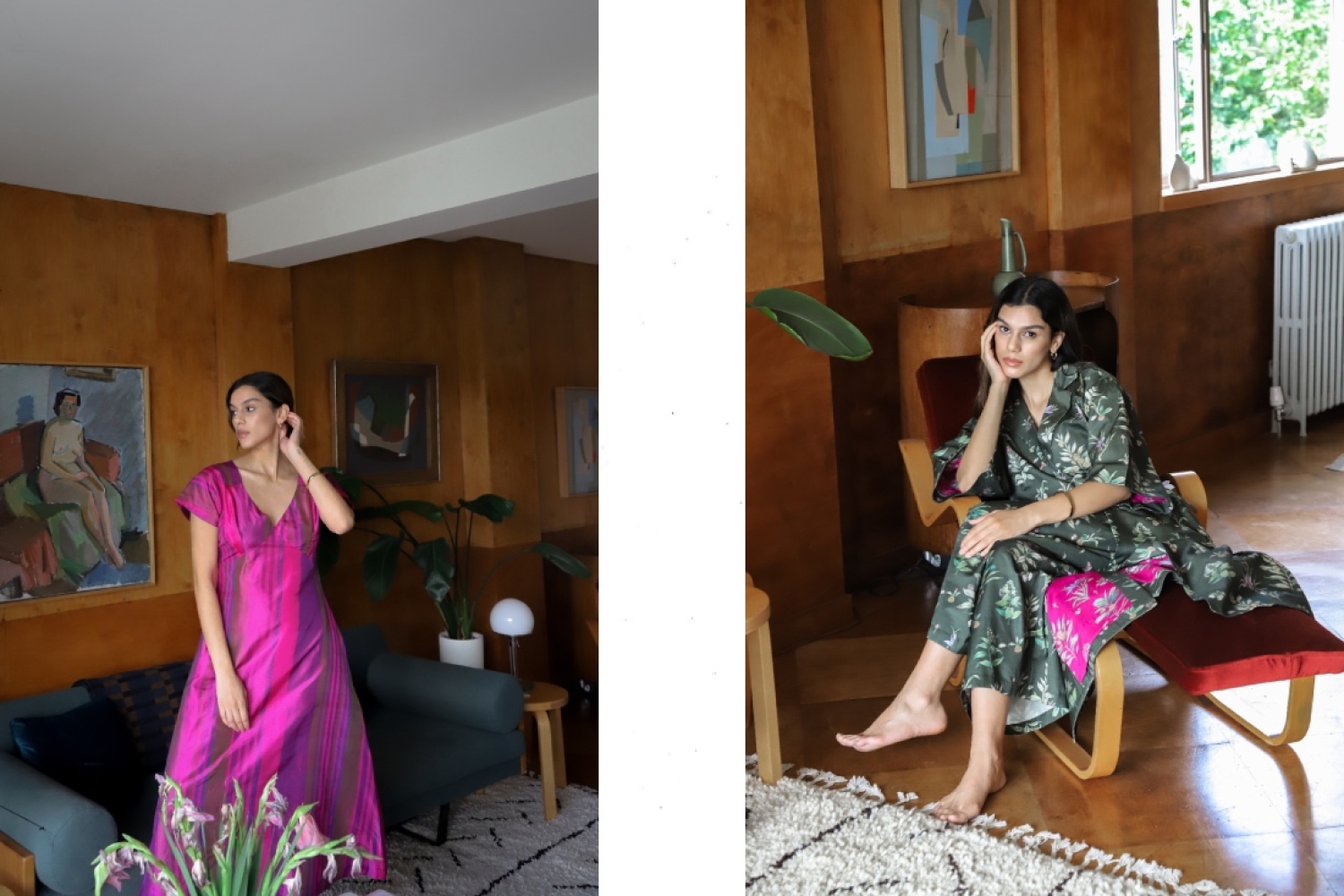 Label November Noon's latest drop Doraha, was conceptualised with the intent of globalising the Indian handwoven textiles. Staying true to their ethos of contemporising the traditional weave for the woman of today, and popularising the idea of silk as everyday wear, Doraha was created in collaboration with Priyanka Kaul, who shot the campaign in London. The visual story embodies her love for the arts, handlooms, and desire to reconnect with her roots. The collection is carefully crafted using homegrown silks and champions interchangeable, versatile, and uncomplicated pieces. "I've been on a fashion design hiatus for quite a while, and touching handwoven silk again reminded me how superior the textile is," adds Priyanka. "The vibrancy, versatility, and strength of this textile is like no other."
Below, the founder of the label, Deepak Shah, gives us insight into the collection's making and more.
Priyanka Kaul x November Noon
The inspiration behind this collection is multi-fold. But, the collaboration with Priyanka sets the tone for Doraha. She seeks inspiration from several Indian artists, specifically Baroda-based extraordinaire Nilima Sheikh. Nilima's depiction of transient geographies, nature, and, more importantly, women, compelled Priyanka to create a campaign that's meditative, self-reflective and finds beauty in the unadorned, concrete surroundings of the Isokon Building, built in 1934.
The Sensibility
The sleek, organic, and modern sensibility of Isokon — once home to celebrated personalities like Agatha Christie and Walter Gropius, founder of the Bauhaus, among many others — has synergy with the pared-down pieces from Doraha. The collection leans towards an aesthetic which is rigorously crafted but relaxed in practice, whether it's streamlined ankle-length dresses rendered in fuchsia or matching separates printed with botanical motifs.
The Takeaway
We want our audience to understand the underlying story of this collection, and to know more about Indian artists and varied art forms. This collection aimed to reach out to wider audiences and accustom them to Indian crafts and textiles. We want silks to become a staple, and for each woman to hand it down to the upcoming generations.
The Future
We are exploring another collaboration with Priyanka Kaul. At the moment, we are in the research phase, finding the right talents, and working on this big launch, which is to be revealed in the first half of 2023.
Words Unnati Saini
Date 05-01-2023