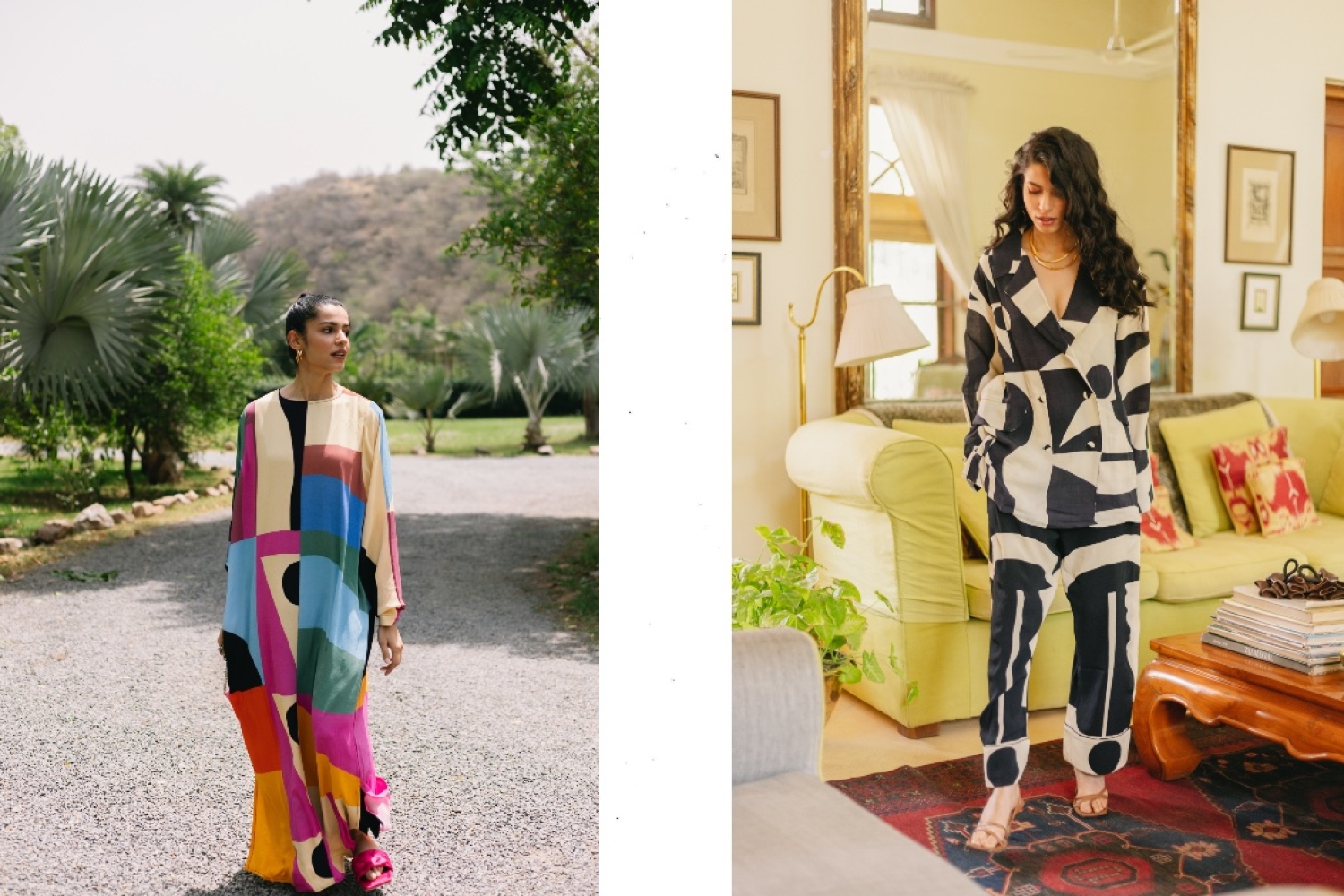 It was finally at the age of thirty when the founder of Drawn decided to launch her label and fulfill her childhood dreams. Coming from a marketing background, Rhea Bhattarcharyas's professional happiness was always centred in and around fashion. It was her crippling phobia of math that stopped her from applying to the entrance exam for design school. Once she graduated with a degree in Political Science, she found a way to be close to fashion in the best way she could — she started interning as a writer with fashion magazines. Then, she went on to work in entertainment PR and digital marketing which gave her the opportunity to work closely with some incredibly tal- ented designers and stylists. So, when it came to her label Drawn, Rhea was very clear with what she wanted. She also relied on her experience as a consumer which she believes stands as her strongest differentiator, setting the label apart from others. Below, Rhea tells us about her inspiration, new collection and more.
THE PRACTICE
We focus on elevating the 'everyday'. Taking tried and tested wardrobe staples and upping the ante. I couldn't think of a better way to do that than to commission artists to create artwork that we could print on these silhouettes. Can you imagine the joy of pulling out a beautiful printed shirt from your closet and knowing exactly who drew that print, the stories and inspiration behind it, every brushstroke carefully placed there for a reason. It's such a unique experience. It is the heart and soul of the brand and also the inspiration behind our name. The oversized shirt, a breezy summer dress, these are styles that we wear most often and cherish for the comfort they bring us. We wanted to make them feel even more special.
THE NEW COLLECTION
Every collection is inspired by the artists with whom we collaborate. For this drop we decided to take a walk down memory lane with retro-inspired prints and patterns. We kicked-off our Spring Summer 2022 collection with the 'Summer Siesta' print drawn by the incredibly talented Tanya Timble. We knew we wanted to do something for the 'Year of the Tiger' and Tanya's Instagram feed was our colour palette. Once we received Tanya's work, everything else flowed from there. We added a print to complement hers that was inspired by mid-century modern art and interior design. It's a playful collection of statement dresses and easy going separates, with a huge focus on frills and sleeves. Definitely not one for the faint hearted, we're out to prove a point this summer.
THE COLOUR PALETTE
Our mood boards and colour palettes are also inspired by the artists with whom we collaborate. A lot of Tanya's works are inspired by traditional Indian miniature paintings. She takes her colour inspirations from the city of Jaipur, so you will see a lot of bright pinks, blues and reds throughout this collection. As a brand, our focus is never on what is trending or in style for the season. Despite the fact that printed clothing is so in-season and trend focused, it brings me so much joy to see our customers wear something they purchased two years ago and still get asked from where they got that dress.
THE PROCESS
It always starts with hours of scouring the internet, look- ing for the next artist collaboration. The minute I find something interesting I can immediately imagine the possibilities and that's my favourite part. Something that would look great on a sleeve or a big dress, who will wear it, how will we shoot it — everything is art inspired and the artist is always the starting point. We develop close to twelve to fifteen silhouettes and launch a final edit of three to four in each print.

This article is an all exclusive from our July EZ. To read more such articles, follow the link here.

Text Unnati Saini
Date 02-08-2022